Valhalla's Bender pulls switcheroo from SDSU to Wazzu
Updated: January 26, 2016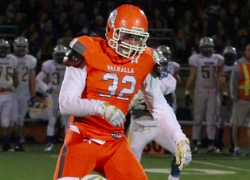 Daniel Bender de-committed from SDSU on Tuesday and announced he would attend Washington State.
2016 4-YEAR COLLEGE FOOTBALL STANDOUTS
By Bill Dickens
© East County Sports.com
SAN DIEGO (1-26-16) — Valhalla graduate DANIEL BENDER, a defensive end, pulled a last minute switch when he signed with Washington State Monday evening (Jan. 25), after de-committing from San Diego State.
"I'm grateful for all of my opportunities and I'm excited to announce I'll be playing for Washington State," the Valhalla standout said.
Washington State has been wooing Bender for quite some time, but it wasn't until this weekend that they extended an offer to the 6-foot-4, 225-pounder while he was on an official visit to San Diego State. Bender also had offers from Wyoming, Nevada, Northern Arizona and Sacramento State with interest from Washington and Duke.
As a senior, Bender racked up 74 tackles, nine sacks, eight batted passes, four forced fumbles and an interception he returned for a touchdown. It was also just the second year Bender has played on the defensive line, previously lining up at safety and tight end during his freshman and sophomore seasons, respectively.
A quick look at Bender's senior season highlights shows an extremely athletic defensive end, who could also project as a rush linebacker at the next level. Think: Dylan Hanser. His speed jumps off the film, but it's his physicality that's really exciting. While not the biggest defensive end in terms of weight, Bender plays with a mean streak.
A redshirt season is likely in the cards for Bender given his lack of experience at the position, but the tools are definitely there. Overall, Washington State has made it a point to get faster on defense and Bender will provide that wherever he lines up. His long frame should allow him to add some good weight and not lose much of anything in terms of speed, so that's promising.
Bender is the fourth commit from the San Diego area joining Helix linebackers JIHAD WOODS and MASON VINYARD and Patrick Henry receiver Dezmon Patmon.