Ruiz, Wolf Pack grab control late against Highlanders
Updated: January 30, 2016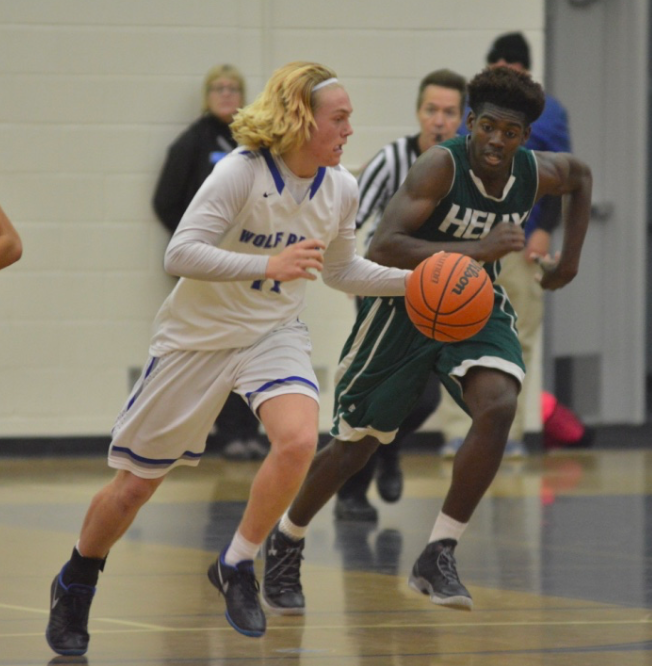 Bryce Parsons races up the court for West Hills Friday night against visiting Helix. / photo by Ramon Scott
2015-16 EAST COUNTY PREP BOYS BASKETBALL
By Chris Davis
© East County Sports.com
SANTEE (1-30-16) — With a second place tie opportunity on the line, the West Hills Wolf Pack made sure that the Helix Highlanders did not get in their way.  As a result of the Wolf Pack's 50-42 victory over Helix on Friday (Jan. 29), the Pack is tied with Valhalla for second place in the Grossmont Hills League, one game behind Grossmont.
The Highlanders' JAYLEN ARNOLD had a double-double of 20 points and 10 rebounds, but it was a quiet double-double.  The one who had a "loud" double-double was West Hills' KYLE RUIZ.  Ruiz had a 14-point, 12-rebound night that saw him come up big in the second half when the Pack needed him the most.
At the end of the first quarter, it was West Hills that was up by a single marker 11-10.
The second quarter saw both teams swap the lead. With 2:31 remaining until halftime, Helix was up by two points, 20-18, when the Pack's NATHAN BALL was fouled.  He hit both free throws to tie it up at 20.  Arnold came right down the floor and hit a three pointer to give the lead back to the Highlanders.
Helix held onto that lead until literally the final .2 seconds of the half.  That is when MARQUELL COOL's layup fell through the net for what equated to a halftime buzzer beater and a West Hills 24-23 lead.
The third quarter is when BRYCE PARSONS stepped up to help out the Wolf Pack. It was then that he scored six of his eight points.  That was just about half of the team's points in that quarter.
Ruiz took control of the game in the fourth quarter as he had three points (all from the line) and had five rebounds.
Arnold for Helix on the other end of the floor wasn't doing too bad himself.  He accounted for all of Helix's seven points.  He surpassed Ruiz however on the boards as he had six rebounds.
Helix will take the weekend off and will resume action on Tuesday when they travel to Rancho San Diego to take on Valhalla.
West Hills will play La Jolla Country Day, at San Ysidro high, at 8:00 p.m. tonight Saturday (Jan. 30).
Helix: Jaylen Arnold 20 (10 reb, 1 stl), Justin Flisher 10 (6 reb), Amari Green 6 (4 reb, 1 stl, 1 blk), Dylan Lee 2 (6 reb, 2 ast), Brandyn Parker 2 (3 reb, 1 stl), Carson Baker (4 reb, 3 stl, 3 ast), Isaiah Wooden (1 reb, 2 stl, 1 ast), Ilyas Beltz (1 reb, 1 ast).
West Hills:  Kyle Ruiz 14 (12 reb, 1 stl, 3 ast, 2 blk), Bryce Parsons 8 (4 reb, 1 stl), Marquell Cool 5 (2 reb, 2 stl), Nathan Ball 5 (1 stl), Chris Moyer 4 (8 reb, 1 stl, 3 ast, 4 blk), Marco Ovies 3 (2 reb, 1 stl, 5 ast), D'Ante Hill 3 (1 reb), Cesar Curet 2 (2 reb), Miguel Nava 2 (1 reb), Cameron Berry (2 reb).