Sultans' cushion slows pressing Vaqueros
Updated: January 30, 2016
2015-16 EAST COUNTY PREP BOYS BASKETBALL
By Adam Paul
© East County Sports.com
LAKESIDE (1-30-16) — In the latest version of the East County chronicles of the Border War, the Santana Sultans visited the El Capitan Vaqueros out in Lakeside and in a typical physical contest, it was the visitors taking the contest 54-47.
Both teams had to have the win to stay in the Grossmont Valley race and early on it looked like it would be another close contest as the Vaqueros led 8-7 after one period of play.  However the fortunes would change as the Sultans would use a 17-2 run to end the half to take a 24-10 lead into the locker room.
Things in the second half looked bleak for the Vaqueros as they couldn't get any type of offense going. The Sultans were able to clamp down and hold El Capitan scoreless almost 10 minutes going back to the 3:30 minute mark of the second quarter. The Sultans thanks to this defensive advantage extended their lead to 29-12 due to a 24-6 run.  The Sultans extended their lead further and with about 2 minutes to go in the third led 44-22.
Santana on the night was led offensively by three players as FRANKIE GUTIERREZ was able to slash his way to a double-double of 12 points and 15 rebounds, SAGE HICKS who had not touched double digit points in awhile was able to as he poured in 10 points and TRENT BAUGH who also punched in 10 points.
Both teams in the third period combined for 35 points as the Sultans took the quarter 20-15.  Things got a little interesting in the fourth quarter as the Vaqueros switched up their defense and started to press the Sultans, who couldn't handle it and which led to the Vaqueros inching their way back into the game.
El Capitan's scoring duo of KADE KYGAR who canned 20 points including 3 treys, and DONALD IRVIN who scored 11 points including 3 triples, did their best to steer the Vaqueros back as they were able to outscore the Sultans 22-10 in the fourth but it wasn't enough.
The victory pushed Santana back to .500 at 2-2 in league and El Capitan fell to 1-3 in league. With everything that happened Friday night, the league is anyone's to win.
Santana:  Frankie Gutierrez 12 (15 reb, 5 ast, 3 stl), Trent Baugh 10 (9 reb, 1 ast), Sage Hicks 10 (3 reb, 1 ast, 1 blk), Mitchell Miller 7 (6 reb, 3 stl, 5 ast), Anthony Romero 5 (4 reb, 2 ast, 1 stl), Taylor Rivers 4 (2 reb, 1 stl), John Bobof 2 (2 reb), Cooper Mendoza 2.
El Capitan:  Kade Kygar 20 (5 reb, 2 ast), Donald Irvin 11 (3 reb), Dominic Iudiciani 5 (6 reb, 2 ast, 1 stl, 4 blk), Ren Neuhoff 5 (2 reb), Brendon Head 3 (1 reb), Danny Estrada 2 (4 reb, 1 stl), Devin Dulay 2 (2 reb, 2 ast), Colton Sandoval (1 stl).
GRANITE HILLS 68, MOUNT MIGUEL 54 — Granite Hills received an all-star caliber performance from RYAN KELLY Friday night (Jan. 29) as the host Eagles knocked off Mount Miguel 68-54. Kelly scored a game high 26-points and brought down 18 rebounds to help the Eagles' cause as well. Kelly credited the Eagles crowd with his high octane performance headed into the weekend:
"The crowd was pumped tonight they really got me going out there, they were loud the whole night and making the game fun" Kelly said of the Blue and White faithful.
JORDEN ROGERS had a big night for the Eagles as well, collecting 18-points of his own on 7-8 shooting from the floor, including 3-4 from long range.
"Jorden's my boy, he doesn't normally even play that much but we couldn't take him out tonight once he was in there. He made big plays for us tonight," Kelly said of his teammate's big night.
Mount Miguel jumped out to an 8-0 lead to start the night before DAVID SETTERBERG scored the first five Eagles points and cut the Matadors lead to 10-5 midway through the first quarter. Granite Hills took their first lead at 14-12 on a Ryan Kelly layup and then Kelly hit a free throw to go ahead 15-12 just before the start of the second quarter. Little did the Matadors know they wouldn't see the lead again for the rest of the night.
DARIAN NORWOOD had 20-points and five blocks on the night but was significantly aided by senior TREVON ALLEN on the offensive end for the Matadors. Allen had 17 points to go along with five blocks of his own, however no other Matadors were in double figures.
With the outstanding night from Kelly on both ends of the floor Friday night the question was, which does he prefer? "Oh I like offense, I like getting buckets, putting up the points. Defense is fun and I like getting rebounds and stuff but it's not as fun as scoring points," Kelly clarified when asked about his preference on the hardwood.
Granite Hills expanded its lead to as much as 18 points in the third quarter when a CAMERON SPITZER layup enlarged the gap to 48-30. The Matadors closed to as close as 9 with a Trevon Allen three-pointer in the fourth quarter, but it was too little too late for Mount Miguel who dropped to 0-3 in Grossmont Valley League play.
Granite Hills will head to El Cajon Valley next Tuesday (Feb. 2) to take on the Braves while Mount Miguel plays host to the Santana Sultans. Both games are scheduled for 6:00 pm.
Granite Hills:  Ryan Kelly 26 (18 reb, 3 stl, 2 ast, 1 blk), Jorden Rogers 18 (3 reb, 1 ast, 1 stl), David Setterberg 12 (2 reb, 2 blk, 1 ast), Cameron Spitzer 10 (2 reb, 2 ast, 1 blk), Dylan Garcia 2 (2 reb, 2 stl, 1 ast, 1 blk), Darien Cossio (1 reb), Jacob Burton (8 reb, 4 blk, 1 ast), Erin Swinson (2 reb), Mario Mezo (1 reb)
Mount Miguel:  Darian Norwood 20 (5 reb, 5 blk, 3 ast, 1 stl), Trevon Allen 17 (5 reb, 5 blk, 3 ast), Trannell Hudson 9 (3 reb, 2 stl, 1 ast), Devon Brown 6 (4 reb), Marquis Neal 2 (3 reb, 2 ast, 1 stl), Taj Tucker 3 reb, 3 ast), Andres Cox (3 reb, 1 ast), Justice Chima 2 (reb, 1 stl).
— James McHugh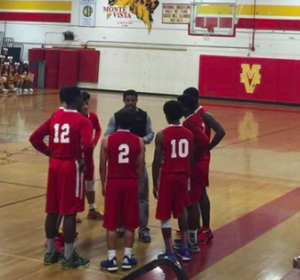 MONTE VISTA 79, EL CAJON VALLEY 40 – The Monarchs who lost four players due to eligibility, still found a way to reach the win column in Friday night's (Jan. 29) Grossmont Valley League encounter.
SHAI STEVENSON carried the charge for the Monarchs with 23 points, 7 rebounds, 4 assists and 5 steals, while DEONDRE McHAYLE added 17 points and 9 rebounds during the victory march.
Mr. BO RANKINS chipped in with 18 markers and 8 rebounds.
El CajonValley was handicapped by playing without 6-foot-7 post player RONNE READUS was sidelined due to administrative disciplinary reasons. His return is indefinite.
In his absence the Braves used a balanced attack led by AHMAD SULYMAN, who scored 11 points and JEREMIAH DAVIS who scored 9.
Monte Vista put the game away with a 34-point first quarter. Leading 34-20 by halftime, and 75-36 after three periods.

Monte Vista:  Shai Stevenson 23 (7 reb, 4 ast, 5 stl), Deondre McHayle 17 (9 reb, 2 ast, 5 stl, 1 blk), Tre Owens 9 (4 reb, 11 ast), Bo Rankins 7 (8 reb, 1 stl), Terry Bone 7 (3 reb, 4 ast), Adrian Bass 2 (3 reb, 1 stl), Kelton Vun 2 (2 stl), Tre Koita 1 (3 reb).

El Cajon Valley:  Ahmad Sulyman 11 (2 reb, 1 ast), Jeremiah Davis 9, Hasan Alhasan 6 (1 reb), Hussein Al-anezi 5 (1 reb), Dmir Witherspoon 4 (7 reb, 1 ast), Ali Alsawafi 4 (2 reb),
— Bill Dickens
CHRISTIAN 51, POINT LOMA 47 – The Patriots pulled out a victory as LAYNE LARSEN nailed a 3-pointer that tied the game at 47-47 with 45 seconds remaining Friday night (Jan. 29).
He broke the tie with a 3-point bucket with 15 seconds left in the Central League encounter.
Then TRAVIS BALLARD, who finished with 15 points, 12 rebounds and 6 blocks clinched the victory with a free throw.

Christian:  Layne Larsen 20 (4 reb, 1 stl), Travis Ballard 15 (12 reb, 1 stl, 6 blk), David Todd Jeremiah 7 (4 reb, 2 ast, 1 stl), Dominic Bristol 3 (1 ast, 1 stl), Jacob Sandusky 3 (1 reb).
— Bill Dickens