Valhalla's Portillo to play in International Bowl at AT&T
Updated: February 2, 2016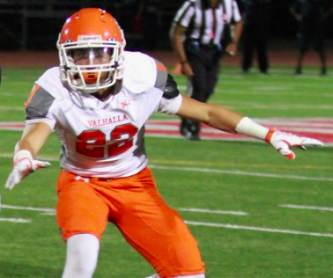 Portillo
2015 EAST COUNTY PREP FOOTBALL
By Bill Dickens
© East County Sports.com
EL CAJON (2-3-16) — Valhalla defensive back ANTHONY PORTILLO has been selected to play in the seventh annual International Bowl against the Canadian National team at luxurious AT&T Stadium, home of the Dallas Cowboys, in Arlington, Texas.
The 6-foot, 175-pound, 16 year old junior will play on the USA Football National 18U Select Team in a game that kicks off on Friday (Feb. 5). It will be broadcast on ESPN3.
Portillo was a 12-game starter for the Norsemen and an All-League Honorable Mention in East County's Grossmont Hills League.
The two-week International Bowl series will feature practices, activities, jamborees and games for four high school-aged U.S. National Teams as well as U.S. Select Teams. Games are Sunday, Jan. 31; Wednesday, Feb. 3; and Friday, Feb. 5, at AT&T Stadium, home of the Dallas Cowboys. The games are a collaboration of USA Football and Football Canada – the sport's national governing bodies in each country – along with the International Federation of American Football, featuring top student-athletes in football's greatest annual international competition.