Foothillers take round one from Wolf Pack
Updated: February 3, 2016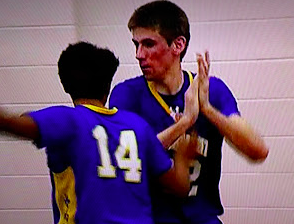 Grossmont's Tommy Rutherford reacts after blocking the final shot attempt of the game.
2015-16 EAST COUNTY PREP BOYS BASKETBALL
By Bill Dickens
© East County Sports.com
SANTEE (2-3-16) — The scorecard will show that 6-foot-10 Grossmont senior TOMMY RUTHERFORD scored 41 points, grabbed 19 rebounds, dished 4 assists and made one steal in Tuesday's (Feb. 2) Grossmont Hills League contest in Santee.
But the outcome of the game could easily have been determined on a blocked shot by Rutherford in the final second that salvaged a 61-58 victory for the undefeated Grossmont Hills League leading Grossmont Foothillers at West Hills.
Said Rutherford of his game-saving block, "At first I was afraid I might have fouled him, but when I came up the guy put a spin on me and I just hoped I could get the ball and nothing else. Once the game ended I knew I hadn't fouled him."
The referees agreed.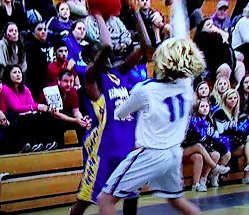 Rutherford was not boastful by his hefty scoring total, which accounted for two-thirds of the Grossmont scoring attack. He was almost critical of his personal effort.
"I should have had a lot more than I did," he admitted, noting that he was only 11 for 20 from the free throw line.
"I don't know why I missed so many but I think it was just me being tired," he said.
By the same token, Rutherford should have been pleased that he landed 15 of 20 shooting from the field (75 percent).
"This was our biggest game of the year," Rutherford said. "My teammates got me the ball in good position."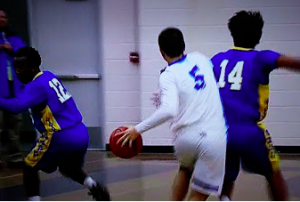 Grossmont coach FRANK FOGGIANO might have been biting his nails but wouldn't admit it as his Foothillers raised their record to 4-0, 19-3. The Foothillers are ranked No. 9 in the San Diego Section.
One of the major contributors for Grossmont was HUNTER GAINES, who scored 5 points in the fourth quarter, and finished with 8 points including 2 three-pointers.
"People like to think Tommy is our only player," said Gaines. "We have a lot of guys that can shoot the ball and we try to take the pressure off Tommy, in fact we appreciate having him on our ball club. There's no jealousy here. This was a big win for us because it gave us some breathing room."
The win gives the Foothillers a 2-game lead over Valhalla, West Hills and Helix.
"The best thing about this team is, our guys are buying into our offensive philosophy, which is get the ball inside to Tommy," Foggiano said. "There are a lot of teams out there that wouldn't follow that philosophy. Our kids do."
West Hills, which fell behind 17-7 in the early going, created five ties. MARCO OVIES hit a bucket to tie it 52-52 in the middle of the fourth quarter, and another bucket to hold Grossmont's advantage at 55-54. He also hit a free throw to make it 57-55.
MARQUELL COOL hit a 3-pointer to cut the Foothillers' lead to 60-58.
MATT MURRAY dropped in a free throw for Grossmont to make it 61-58, and West Hills was unable to counter.
BRYCE PARSONS played like he was 6-foot-7 as he garnered 14 points, 8 rebounds,  3 assists and 2 blocks for West Hills.
"He's a great player," Rutherford said of Parsons. "Never gives up."
Ovies and Cool finished with 10 points apiece.
Grossmont:  Tommy Rutherford 41 (19 reb, 4 ast, 1 stl, 2 blk), Hunter Gaines 8 (1 ast), Matt Murray 3 (5 reb, 2 ast), Branik Brown 3 (2 reb, 2 ast, 1 stl), Dayveion Crawford 2 (3 reb), Jacob Niskey 2 (2 reb), Ryan Shirley 1 (1 reb, 2 ast), Alex Lilliard 1, Jonah Hebel (1 reb).
West Hills:  Bryce Parsons 14 (8 reb, 3 ast, 2 blk), Marquell Cool 10 (2 reb, 2 ast, 2 stl, 1 blk), Marco Ovies 10 (4 ast), Cameron Barry 7 (4 reb, 1 ast, 3 stl), D'Ante Hill 5 (1 reb, 1 stl), Nathan Ball 5 (1 reb, 1 stl), Kyle Ruiz 3 (1 reb, 1 ast), Cesar Curet 2 (3 reb, 1 ast), Chris Moyer 2 (2 reb), Miguel Nava (1 ast, 1 stl, 2 blk).