Scotties win on Arnold's last-second shot
2015-16 EAST COUNTY PREP BOYS BASKETBALL
By Bill Dickens
© East County Sports.com
RANCHO SAN DIEGO (2-3-16) — The Highlanders clawed back into the Grossmont Hills League race with a last second 64-62 victory over host Valhalla in Tuesday's (Feb. 2) league encounter.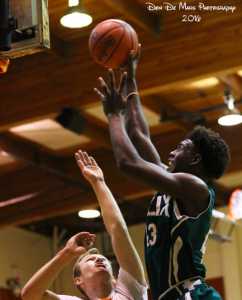 But the excitement hardly ended with the final score. Valhalla trailed throughout the contest until the final second. The Norsemen tied the game 61-61 on a 3-point bucket by JOHN MURAD with 15 seconds to play. Overtime appeared in the offing, but it never got that far.
MATTHEW SAKO hit the second of two free throw chances to give Valhalla only its second lead of the game, 62-61.
But Helix countered quickly with a long inbound pass from Valhalla transfer CARSON BAKER to JAYLEN ARNOLD. The Highlanders' junior, who had a career high of 20 points, nailed a 3-pointer at the buzzer with 1.4 seconds remaining.
It was hardly a picturesque bucket, but it got the job done.
"He squared up but eventually was off-balance as he fell back when he threw up the game winner," said Valhalla assistant coach DON ROLLINS.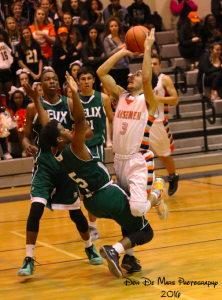 Baker, who is projected as the Highlanders' starting quarterback next season, finished with 11 points on 4-for-6 shooting and dished 8 assists.
MALIK TAMBWE pitched in 14 points, grabbed 4 rebounds, made 2 assists and had one steal and a block.
It was a frustrating loss for the Norsemen, who were playing chase almost from the outset.
JOHN MURAD finished with 18 points – more than half of them coming on 4 three-pointers, NATHAN YOUSIF turned in his usual steady 14 points and COLE HENDERSON collected 12 points, 7 rebounds and 3 blocks.
Helix:  Jaylen Arnold 20 (7 reb, 3 ast, 1 blk), Malik Tambwe 14 (4 reb, 2 ast, 1 stl, 2 blk), Carson Baker 11 (3 reb, 8 ast, 1 stl), Dylan Lee 9 (3 reb, 2 ast, 1 stl), Justin Flisher 7 (5 reb, 1 ast, 1 stl), Amari Green 3 (5 reb, 2 ast, 1 stl), Ilyas Beltz (1 reb, 1 ast), Brandyn Parker (1 ast).
Valhalla:  John Murad 18 (2 reb, 3 ast, 1 stl), Nathan Yousif 14 (2 reb, 2 ast, 2 stl), Cole Henderson 12 (7 reb, 1 ast, 2 stl, 3 blk), Jordan Ellis 8 (3 reb, 5 ast, 2 stl), Matthew Sako 7 (5 reb, 1 stl), Trey Schimke 3 (3 reb), Kai Komaki 2, Malique Shaw (4 reb, 1 blk).
— Bill Dickens, EastCountySports.com
---
Didn't see this coming😶 pic.twitter.com/xVxw3opmG6

— Trae (@trevonejames) February 3, 2016
---
SANTANA 53, MOUNT MIGUEL 51 – Santana's SAGE HICKS scored only 2 points in Tuesday's (Feb. 2) Grossmont Valley League game played in Spring Valley.
But it was the biggest shot of the game. Hicks hit a 10-footer off the glass with 5 seconds remaining, giving the Sultans the 2-point victory.
Mount Miguel countered with desperation wide open 3-point shot at the buzzer but it missed the mark.
Trailing most of the game, Mount Miguel made a comeback bid in the fourth quarter, outscoring the Sultans 12-8. But that did little to impress Mount Miguel coach JAY ROWLETT, whose Matadors did not hit a single 3-point shot all night.
"When it's time to make a big play, we can't make the play," Rowlett said. "We just gave this game away."
Santana (3-2, 11-9 overall) climbed to within a half game of the Grossmont Valley League lead behind co-leaders Granite Hills and Monte Vista.
TREVON ALLEN had a double-double of 15 points and 10 rebounds for Mount Miguel, which fell to 1-4, 11-10 GVL.
DARIAN NORWOOD added 12 points for the Matadors and newcomer JAMES ALLEN pitched in with 10 points and 4 steals.
ANTHONY ROMERO tossed in 15 points and FRANKIE GUTIERREZ added 12 and 8 rebounds for Santana.
Santana:  Anthony Romero 15 (1 reb, 1 ast), Frankie Gutierrez 12 (8 reb, 6 ast, 1 stl, 1 blk), Daulton Barry 8 (3 reb, 6 ast), Trent Baugh 7 (5 reb, 1 stl), Mitchell Miller 4 (4 reb, 2 ast, 1 stl, 1 blk), Taylor Rivers 3 (3 reb, 1 blk), Cooper Mendoza 2, Sage Hicks 2 (2 reb, 4 ast, 1 blk), Noah Nunez (1 ast), John Bobof (1 reb, 1 ast, 1 stl).
Mount Miguel:  Trevon Allen 17 (10 reb, 1 stl), Darian Norwood 12 (7 reb, 2 ast, 1 stl), James Allen 10 (2 reb, 1 ast, 4 stl), Taj Tucker 8 (1 stl), Devon Brown 4 (4 reb, 1 stl), Marquis Neal (2 reb, 2 ast), Andres Cox (1 reb, 1 ast, 2 stl), Chris Thompson (1 reb).
— Bill Dickens, EastCountySports.com
MONTE VISTA 82, EL CAPITAN 50 – The Monte Vista Monarchs traveled to Lakeside to take on the El Capitan Vaqueros and were able to come away with the wire to wire 82-50 victory in Grossmont Valley league play, Tuesday (Feb. 2).
After a close contest in the first period as it was 16-8 in favor of the Monarchs, the second period saw both teams going back and forth but the Monarchs were able to take a 33-20 lead into the break.
It was a high-powered offensive night for the Monarchs as a trio led them to the 30-plus point victory. The evening for Monte Vista included a monster scoring night and a pair of double-doubles.  SHAI STEVENSON had the monster night of 33 points while DEONDRE McHAYLE poured in his double-double of 17 points including three long rangers and 12 rebounds while BO RANKINS had the other double-double of 12 points and 10 rebounds.
Another aspect that went well for the Monarchs was the passing game as TRE OWENS dished out double digits of 12 assists.
The second half was pretty much all Monarchs as they outscored the Vaqueros 47-30. On the other side of the ball, the defense really stepped up for the Monarchs as they were able to hold both KADE KYGAR and DONALD IRVIN to less than double digits of scoring.
"We were up 19 after three quarters, McHayle nailed 3 threes which led us to be able to stretch out the lead and we just kept going from there, the closest the score was 12-14 points in the third quarter," said Monarch coach MIKE TULLY.
"It was a good win but it isn't over as we will start second round of league play on Friday." said Tully.
Monte Vista: Shai Stevenson 33 (8 reb, 2 ast, 6 stl), Deondre McHayle 17 (12 reb, 4 ast, 3 stl), Bo Rankins 12 (10 reb, 3 stl), Tre Owens 9 (3 reb, 12 ast, 3 stl), Derrick Wiley 5 (5 reb), Terry Bone 4 (5 reb, 1 ast, 2 stl), Dylan Koita (2 reb), Tre Koita (2 ast, 4 reb)
El Capitan:  No information provided.
— Adam Paul, EastCountySports.com
GRANITE HILLS 91, EL CAJON VALLEY 60 – The Granite Hills Eagles scored a season high in dispatching the El Cajon Valley Braves in Tuesday's (Feb. 2) Grossmont Valley League action.
Ten Eagles flew in a scoring pattern, led by DAVID SETTERBERG's 19 points and 10 rebounds.
RYAN KELLY had a solid shooting night where he hit 6 of 12 from the field and 5 of 5 free throws for 17 points to go along with 7 rebounds and 3 assists.
CAMERON SPITZER punched in 16 points on 7 of 14 shooting including a pair of threes. He also logged 8 assists.
DARIEN COSSIO spun in a pair of treys and finished with 11 points, while UCLA bound JACOB BURTON muscled in 9 points and corralled 13 rebounds.
"We attacked the basket well, had good ball movement and dominated inside," said Granite Hills coach RANDY ANDERSON.
The Eagles share the league lead with Monte Vista at 4-1, and are 11-9 overall. They were 33 of 70 from the floor for 47.1 percent; they were almost as accurate from beyond the arc where they hit 9 of 21 for 43 percent. The Eagles' magic also included 17 offensive rebounds and 17 assists.
For El Cajon Valley, which was missing one of its key players, AHMAD SULYMAN stepped up to hit 25 points in the losing effort. He hit 9 of 17 from the floor but struggled from the 3-point distance as did the rest of his teammates.
GREG JONES added 13 points for El Cajon Valley, while ALI ALSAWAFI and DANIEL STOKES had 8 assists apiece.
El Cajon Valley was a mere 3-for-19 from 3-point range but made 17 of 18 free throws.
"I was really very, very proud of my guys tonight, more so in this loss than in our win versus El Capitan," said Braves coach SCOTTY JAMES. "They are going to practice every day and working hard.
"We need to cut down on turnovers and stop the bleeding earlier."
Granite Hills:  David Setterberg 19 (10 reb, 2 ast, 1 stl), Ryan Kelly 17 (7 reb, 3 ast), Cameron Spitzer 16 (2 reb, 8 ast, 1 stl), Darien Cossio 11 (3 reb, 2 ast, 1 stl, 1 blk), Jacob Burton 9 (13 reb, 1 ast), Jorden Rogers 6 (1 ast), Dylan Garcia 5 (5 reb, 1 stl), Wyatt Mason 4 (1 reb), Marcos Mezo 3 (3 reb), Erin Swinson 1, Tony Hsieh (1 stl).
El Cajon Valley:  Ahmad Sulyman 25 (2 reb), Greg Jones 13 (2 reb, 1 stl), Ali Alsawafi 9 (8 reb), Hasan Alhasan 6 (1 reb), Hussein Al-anezi 5 (1 reb), Daniel Stokes 2 (8 reb), Dmir Witherspoon (2 reb).
— Bill Dickens, EastCountySports.com
CHRISTIAN 70, CLAIREMONT 54 – TRAVIS BALLARD battered Clairemont for 31 points and 24 rebounds to carry Christian to a sound thrashing of the Chieftains in Tuesday's (Feb. 2) Central League activity.
The victory left the Patriots at 5-2 (15-7 overall), tied with Madison for second place.
KYLE STOWERS also turned in a double-double with 16 points and 15 rebounds as well as 5 assists in the Patriots' romp.
DAVID TODD JEREMIAH contributed 10 rebounds for the Patriots.
Only three games remain in the Central League season, which leaves the Patriots battling Madison for the runner-up spot. Kearny is the circuit's runaway leader with a 7-0 league mark and a 22-3 ledger. They are ranked No. 7 in the county.
Christian:  Travis Ballard 31 (24 reb, 2 ast, 1 stl, 1 blk), Kyle Stowers 16 (15 reb, 5 ast, 1 stl), Layne Larsen 8 (2 reb, 4 ast, 1 stl), David Todd Jeremiah 6 (10 reb, 4 ast, 1 stl, 1 blk), Dominic Bristol 4 (2 reb), Jackson Larson 2 (1 reb), Joe Vrzich 2 (1 reb), Jacob Sandusky 1 (1 reb).
— Bill Dickens, EastCountySports.com