Foothillers silence Valhalla's Hills challenge
Updated: February 6, 2016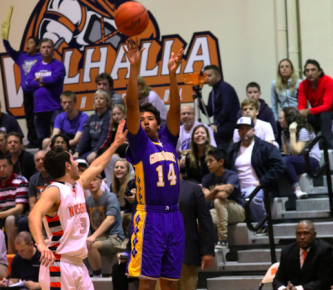 Grossmont's Hunter Gaines lets a three-pointer fly against Valhalla on Friday night. / Don DeMars Photography
2015-16 EAST COUNTY PREP BOYS BASKETBALL
By James McHugh
© East County Sports.com
RANCHO SAN DIEGO (2-6-16) – Valhalla controlled the scoreboard for most of the night on Friday (Feb. 5) in front of a raucous crowd at home, but TOMMY RUTHERFORD and the Grossmont Foothillers found a way to steal Thor's Thunder and remain unbeaten in league play.
Grossmont used a 15-8 fourth quarter to take the night cap of the Foothiller-Norsemen doubleheader 56-53 at Valhalla High School.
With a playoff-like atmosphere Valhalla and Grossmont remained close the entire night. UC Irvine-bound Rutherford led all scorers with 26 points on the night and pulled down 17 rebounds as well. Rutherford did struggle from the line for much of the night, connecting on 4-8 total from the charity stripe. When the game was on the line however Rutherford came through, hitting 2-2 to give Grossmont a 54-53 lead with under a minute to play.
Valhalla had a few attempts to tie or win the game late, but a physical Rutherford block ended the Norsemen's first attempt, a turnover ended the second and desperation three from COLE HENDERSON nearly found the bottom of the basket at the buzzer, which would have forced overtime. It wasn't in the stars for Valhalla though.
The Norsemen received a balanced effort on the floor as JOHN MURAD led the scoring for Valhalla with 16-points on 6-13 shooting, including two long range shots late in the game and 2-2 from the free throw line. Henderson finished the night with 14 points on 4-15 shooting.
Shooting in general wasn't strong on the night for Valhalla. The Norsemen finished 18-51 from the field and 6-19 from three point range. Rutherford had a lot to do with that.
"He does it all," Grossmont coach FRANK FOGGIANO said of his senior in the middle "He stopped a lot of their drives just being in there, you could see they didn't want to go in there with Tommy standing in the middle."
Grossmont didn't fare much better on the shooting end, however they did pick up 28 points in the paint on a number of high percentage shots. For the game the Foothillers connected on just 20-50 from the floor and 5-19 from beyond the arc.
Grossmont did find timely points when needed. MATT MURRAY who finished the night with 11 points on 4-16 shooting saw a number of open looks, but simply couldn't get the bounces to go.
"I thought Matt played well on the high post tonight. He got a lot of open looks there and that's what we need out of him in our offense," Foggiano said of Murray's night.
HUNTER GAINES showed up at just the right moment for Grossmont, hitting a big three point shot to open the fourth quarter for Grossmont then knocking down two free throws down the stretch for the Foothiller's final two points.
Gaines went to the line with 3.3 seconds to play after a somewhat odd series of events. Officials signaled a foul on MATTHEW SAKO of Valhalla, which would have been Sako's fifth and eliminating foul. Sako was nowhere near the play in question however and the scoring table did not buzz Sako out during Grossmont's free throws.
After the free throws a heated discussion at the table ended with officials correcting their call and distributing the call to the correct player. Valhalla then turned the ball over after a scramble on the floor. Hunter Gaines hit both free throws to force Cole Henderson's last second heave which rimmed out and allowed the Foothillers to march on without a blemish on their league record.
Grossmont: Tommy Rutherford 26 (17 reb, 3 blk, 1 ast, 1 stl), Branik Brown 9 (2 ast, 2 reb), Matt Murray 11 (7 reb, 2 ast), Hunter Gaines 8 (1 ast), Dayveion Crawford 1 (3 reb, 2 ast, 1 blk), Jacob Niskey 1, Ryan Shirley (4 reb, 1 ast), Jonah Hebel (1 reb).
Valhalla:  John Murad 16 (6 reb, 2 ast, 1 blk), Cole Henderson 14 (7 reb, 2 ast, 2 blk), Nathan Yousif 9 (3 reb, 1 ast, 1 blk), Jordan Ellis 5 (3 reb, 3 ast, 1 blk), Trey Schimke 4 (1 reb), Matthew Sako 4 (3 reb, 1 ast), Malique Shaw 1 (2 reb), Kai Komaki (1 reb).