FCHS could be headed for state road after loss at Mater Dei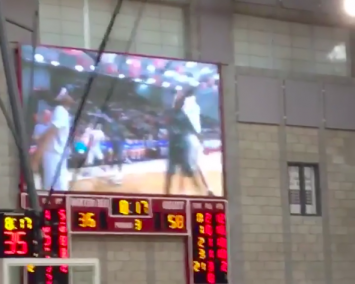 2015-16 EAST COUNTY PREP BOYS BASKETBALL
By James McHugh
© East County Sports.com
SANTA ANA – (2-6-16) – Things didn't go the way they were supposed to for the Foothills Christian Knights on Saturday (Feb. 6). Foothills Christian went to perennial national powerhouse Mater Dei of Santa Ana as a higher seed in the state rankings, perhaps the only San Diego Section school to ever be in such a scenario.
Unfortunately for the Knights, their knock down shooting did not take the trip up Hwy 5 North with them. Foothills lost for just the fourth time this season, falling 61-53 at Mater Dei in the Nike Extravaganza.
A lackluster first quarter all but doomed the Knights' hopes of a signature victory. UCLA bound T.J. LEAF had seven of the Knights' nine first quarter points as the Monarchs jumped out to an 18-9 lead early.
Foothills rebounded in the second quarter, outscoring Mater Dei 12-6 and cut the Monarchs' lead to 24-21 just before the break when Leaf nailed a three pointer with just a few ticks on the clock. Leaf finished the night with 27 points and 14 rebounds, but only three other Knights joined in the scoring effort.
JORDAN VAN OMMERING had eight points on the night, including another near buzzer beater which closed out the third quarter. The Monarchs had built a 12-point lead however and Van Ommering's late third quarter tally narrowed that lead to 43-35.
The Knights failed to make a big push in the fourth quarter. NIKKO PARANADA and OMAJE SMITH each contributed to the Knights scoring late, finishing with 11 and seven points respectively. It was too little too late for the Knights however who saw eight different Monarchs contribute to the winning cause on the offensive end for Mater Dei.
M.J. Cage Jr. the son of San Diego State Aztecs great Michael Cage finished with 20 points to lead the scoring for Mater Dei.
The loss will likely have state playoff implications should Foothills Christian manage to capture the San Diego Section Open Division title this season. With Chino Hills and Bishop Montgomery of Torrance currently slated as the #1 and #2 teams in the state, the loss could possibly demote the San Diego Section's Champion to a No. 5 seed and an opening round road game in the state's most elite division.
For now the Knights will focus on getting ready for the San Diego Section Open Division playoffs which are likely to include Cathedral Catholic, Saint Augustine, Torrey Pines and then a few teams from the grouping of Army Navy, Poway, Kearny, Mission Bay, San Marcos, and possibly Grossmont.
Foothills Christian:  T. J. Leaf 27 (14 reb), Nikko Paranada 11, Jordan Van Ommering 8, Omajae Smith 7.
HELIX 61, PATRICK HENRY 58 – Led by JAYLEN ARNOLD's double-double of 14 points and 11 rebounds, the Helix Highlanders toppled the Henry Patriots in a non-league encounter on Saturday (Feb. 6) in Allied Gardens.
Arnold nailed 6 of 12 shots from the field.
One of the most impressive numbers of the night was coined by AMARI GREEN, who scored only one point yet dished 8 assists and corralled 5 rebounds.
Joining the double-double parade was MALIK TAMBWE with 11 points and 10 rebounds, while JUSTIN FLISHER poured in 11 points and grabbed 8 rebounds for Helix which hoisted its record to 14-9.
The Highlanders held a 33-22 lead by intermission, but wound up scrambling at the end of the game. Helix has won 9 of its last 11 starts.
Helix:  Jaylen Arnold 14 (11 reb, 5 ast, 2 stl, 1 blk), Dylan Lee 14 (5 reb, 1 ast, 2 stl), Justin Flisher 11 (8 reb, 1 ast), Malik Tambwe 11 (10 reb, 3 ast, 2 stl, 2 blk), Carson Baker 9 (7 reb, 2 ast), Amari Green 1 (5 reb, 8 ast, 1 stl), Isaiah Wooden 1 (1 ast), Ilyas Beltz (2 ast).
BISHOP'S 77, MOUNT MIGUEL 57 – Bishop's bounced out to a 24-12 lead over the Matadors in Saturday's (Feb. 6) Coaches vs. Cancer contest in La Jolla.
Mount Miguel was playing catch-up from the out-go.
DEVON BROWN drilled in 5 treys for the Matadors to finish with 15 points. He also grabbed 6 rebounds.
TAJ TUCKER also nailed 5 treys and finished with 14 points and 4 assists.
Mount Miguel was again playing without the help of injured DARIAN NORWOOD, an offensive stalwart.
The Matadors had a pretty good offensive scheme but were playing with players out of position.
"We were out of sync," said Matadors coach JAY ROWLETT. "We had people playing where they weren't used to."
Mount Miguel:  Devon Brown 15 (6 reb, 1 ast), Taj Tucker 14 (1 reb, 4 ast), Trevon Allen 8 (6 reb, 1 stl), Marquis Neal 8 (1 reb, 2 ast), James Allen 7 (4 reb, 3 stl), Andres Cox 3 (2 ast, 1 stl), Justice Chima 2 (2 reb), Chris Thompson (1 reb, 1 stl).