Highlanders' balanced attack buries Mustangs
Updated: February 16, 2016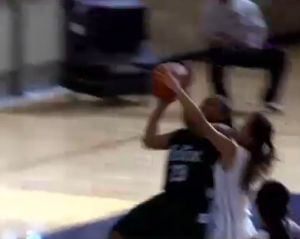 2015-16 EAST COUNTY PREP GIRLS BASKETBALL
By Bill Dickens
© East County Sports.com
CHULA VISTA (2-16-16) — Three Highlanders rolled in double figures with 10 points apiece in Monday's (Feb. 15) President's Day Classic at Mater Dei High.
The offensive onslaught by Helix (7-13) led to a 56-31 victory over the Mustangs (4-20).
TAYLOR GARRETT, DANIELLE SIMMONS and CAM OWENS popped in 10 points each.
Helix: Taylor Garrett 10, Danielle Simmons 10, Cam Owens 10, Taliah Hooker 9, Olivia Missouria 9, Kaliah King 4, Marina Smith 2, Janae White 2.
MONTGOMERY 51, GRANITE HILLS 38 – The Eagles' loss to Montgomery (18-6) snapped a four-game winning streak on Monday (Feb. 15) in the President's Day Classic at Mater Dei High, but will have little if any effect on the final week of the regular season.
"We were up by eight, then down five at halftime," Granite Hills' coach CURTIS NORWOOD recalled. "We came back in the second half and took the lead for awhile, but couldn't maintain it. We had very inconsistent play."
The Eagles (14-11) will take on Mount Miguel in Spring Valley on Friday (Feb. 19) for the GVL title.
In the first round meeting between these two teams the Eagles prevailed 40-37. It was only the third loss in league competition in the ROBBIE SANDOVAL tenure at Mount Miguel.
No scoring or stats available.