Highlanders finish on equal footing with Wolf Pack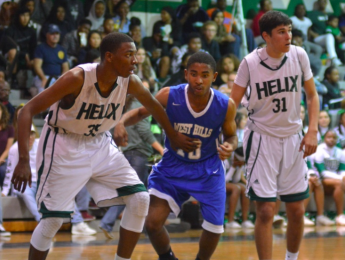 Helix's Malik Tambwe (35) goes to box out West Hills' Marquell Cool Friday night in La Mesa.
2015-16 EAST COUNTY PREP BOYS BASKETBALL
By Ramon Scott
© EastCountySports.com
LA MESA (2-20-16) — The West Hills Wolf Pack may – or may not – have known that a championship was appearing to emerge within their grasp Friday night (Feb. 19) at Helix, as the Grossmont Foothillers stumbled early and trailed their opponent – Steele Canyon – by double digits at halftime at the Cougars' gym.
But Helix led 31-19 at halftime and held off a mild fourth quarter challenge from visiting West Hills, eliminating any chance for the Wolf Pack to grab a share of the Grossmont Hills League title. Instead, the Highlanders earned a second-place tie with their Friday night foes with a 63-56 win.
It was the Highlanders keeping things on track on Senior Night, jumping out to a 15-9 lead after one period.
Helix extended the edge to 51-32 after three periods, but the Wolf Pack clawed back with a 24-12 surge in the fourth, but time nearly always appeared in the Highlanders' favor late.
CARSON BAKER led the Highlanders with 17 points and 10 rebounds, while teammates DYLAN LEE added 15 points and 7 rebounds, and JAYLEN ARNOLD had 13 points and 6 rebounds. Baker, Arnold and AMARI GREEN had 4 assists apiece.
The Foothillers went on to win their game anyway despite the early deficit, which rendered a West Hills win meaningless in the scenario for the championship.
The Highlanders were still hanging on for a reasonably comfortable edge, but West Hills' started their rally and closed to 53-41. Another short spurt by the Pack brought it to 59-52. Another deficit had West Hills trailing 62-56, but by that time the Pack was already in fouling mode.
Helix shot 58 percent from the floor (22 of 38 shots).
For West Hills, BRYCE PARSONS paved the way with 17 points an 9 rebounds.
CAMERON BARRY pitched in with 11 points and 3 steals.
The Pack, which ordinarily live on the 3-point shot, connected only 3 times in 15 shots from long distance.
Helix:  Carson Baker 17 (10 reb, 4 ast, 2 stl), Dylan Lee 15 (7 reb, 4 ast, 2 stl, 1 blk), Jaylen Arnold 13 (6 reb, 4 ast, 1 stl, 1 blk), Malik Tambwe 6 (6 reb, 2 ast, 2 stl, 3 blk), Justin Flisher 6 (4 reb, 2 ast, 1 stl), Amari Green 6 (4 reb, 4 ast), Isaiah Wooden (1 reb).
West Hills:  Bryce Parsons 17 (9 reb, 2 ast), Cameron Barry 11 (2 reb, 2 ast, 3 stl), Marquell Cool 7 (1 reb, 1 ast, 1 stl, 1 blk), D'Ante Hill 5 (2 stl), Chris Moyer 4 (4 reb), Marco Ovies 3 (2 ast), Spencer Moyer 2 (1 reb, 2 stl), Kyle Ruiz (4 reb, 1 stl), Miguel Nava  (2 reb, 2 stl).
---
Great win on senior night for @HelixScotties! Here is @jaylen_quatro on his great performance pic.twitter.com/vkxHna8JLH

— Frenchie (@austin_k12) February 20, 2016