Griffins' Grubbe, former Matador Hector get PCAC weekly honor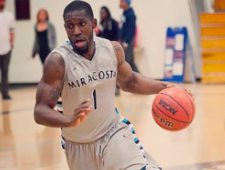 MiraCosta's Travell Hector, from Mount Miguel High School
2016 GROSSMONT COLLEGE BASEBALL
By Chris Davis
© East County Sports.com
SAN DIEGO (2-23-16) — Two East County products are sharing the Pacific Coast Athletic Conference Men's athlete of the week honors for the week ending Feb. 21, 2016.
Mount Miguel product TRAVELL HECTOR (MiraCosta basketball guard) and Grossmont pitcher CRAIG GRUBBE (University City) were given the honor from the PCAC Offices on Monday (Feb. 22).
Hector, scored ten points and assisted on nine other Spartan baskets against Mt. San Jacinto on Wednesday (Feb. 17).  Two nights later, the 6-foot-2 Naval veteran posted a 23 point, six assist, five rebound stat line against Grossmont.
Travell was named to the second team All-PCAC North team on Sunday.  The sophomore is doing very well in the classroom as well.  He has a 4.0 grade point average and has been on the President's List all three semesters he has been enrolled at the Oceanside campus.
MiraCosta made the CCAA men's basketball playoffs as the 16th seed and will host 17th seeded Glendale Community College on Wednesday (Feb. 24) in the first round of the Southern California regional playoffs.  Grossmont was originally the 17th seed, but with a seeding rule stating that conference opponents cannot face each other in the first two rounds, the Griffins and Vaqueros were flip-flopped.
In Grossmont's second game on Saturday (Feb. 20) the sophomore threw a four-hit shutout against West Los Angeles.  Included in the shutout was 13 strikeouts and only walked one.
Grossmont's baseball team will travel to Chaffey on Tuesday (Feb. 23) prior to beginning PCAC play on Saturday (Feb. 27).