Scotties sack Jaguars for playoff win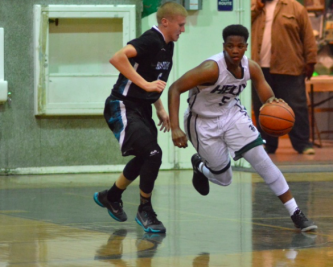 Helix's Amari Green eludes pressure from a Valley Center player Wednesday night.
2015-16 EAST COUNTY PREP BOYS BASKETBALL
SDCIF Playoffs – Quarterfinals
By Bill Dickens
© East County Sports.com
LA MESA (2-25-16) — The Helix Highlanders gang tackled visiting Valley Center in Wednesday's (Feb. 24) first round of the San Diego CIF Division II playoffs.
That is, football players JAYLEN ARNOLD, CARSON BAKER and ISAIAH WOODEN combined for 27 points and 17 rebounds, 9 assists, 5 steals and 2 blocks in the 61-45 playoff knockout of the Jaguars.
Perennial playoff power Helix raced to a 20-9 advantage and went on to lead by as many as 15 points in the early going as the Highlanders eliminated Valley Center from the playoffs.
The 6-foot-4 Arnold, a tight end-safety for the football team, netted 16 points, pulled down 9 rebounds, dished 6 assists and recorded a steal and a block against the Jaguars (17-12).
"We had a size advantage on them, so we knew we could pound it inside," noted Arnold, who was 6-for-14 shooting from the floor. But he also had a soft touch as he delivered six scoring passes.
"I'd rather do that and win the game than to score a bunch of points and lose," he added. "But I went post and we were able to spread it out against their 1-3-1 zone. We penetrated and got a lot of shots."
Helix posted 17 assists, which helped six players score seven points or more.
"I have a lot of friends on this team – there's a lot of chemistry here," said Baker, a transfer from Valhalla. "We move the ball well and have a lot of fun on the court."
"I think the biggest difference offensively this game was our patience," said Baker, the sophomore quarterback of the Highlanders' football team. "They ran a 1-3-1 at us and we used our zone beater to our advantage."
"You have to give credit to Jaylen, who always seems to find the open guy."
The Highlanders led 37-22 and then eventually put the game away from the free throw line.
AMARI GREEN nailed 5 of 6 free throws in the fourth quarter for Helix.
The Highlanders were 9-for-13 down the stretch to protect the victory and advance to Saturday's (Feb. 27) semifinals at La Jolla at 7 p.m.
When these teams met in the first game of the season the Vikings riddled the Highlanders 55-30.
Of course, Helix was missing three of its starters in that lopsided debacle due to football commitments.
Helix:  Jaylen Arnold 16 (9 reb, 6 ast, 1 stl, 1 blk), Justin Flisher 11 (9 reb, 2 stl), Carson Baker 11 (7 reb, 3 ast, 2 stl, 1 blk), Dylan Lee 9 (9 reb, 4 ast, 1 blk), Amari Green 7 (5 reb, 3 ast), Malik Tambwe 7 (3 reb, 1 ast, 1 stl), Isaiah Wooden (1 reb).