Colts rally to win photo finish over Valhalla
Updated: February 27, 2016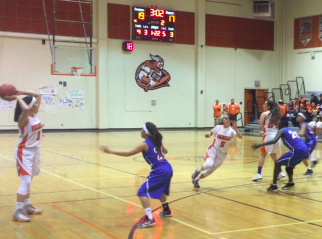 Valhalla starts a play during the first half against Crawford Friday night at The Thunderdome.
2015-16 PREP GIRLS BASKETBALL – SDCIF PLAYOFFS QUARTERFINALS
By Adam Paul
© East County Sports.com
EL CAJON — In San Diego CIF Division IV quarterfinals action Friday (Feb. 26) in Rancho San Diego the visiting No. 6 seeded Colts came in and clomped their way to a 41-39 victory over the No. 3 seeded Valhalla Norsemen to move on to the semifinals.
Things early on were looking good for Valhalla as they were able to roar out to an early 16-10 lead over the Colts after the first period of play.  The second period was a little different as the Colts limited Valhalla to only 4 points as the Norsemen couldn't buy a bucket despite having plenty of opportunities. Held to only 4 points in the quarter, Valhalla still led at the break by a slim margin of 20-17.
Leading the way for Valhalla was TIANA SILVER who poured in 13 points including a couple of treys and MOLLY LINDSAY who crashed her way to 9 boards and BIANCA GORGES who pushed in 9 points and grabbed 6 rebounds.
Despite these efforts for Valhalla, Crawford in the second half was able to outscore Valhalla 24-19 for the entire second half.  The fourth quarter was a barn burner in that both teams went back and forth with their opportunities.  Unfortunately Valhalla ran into some bad luck as with 4:24 remaining, Lindsay was called for her fifth and eliminating foul via a charge call which could have been called either way.  At the time, the Norsemen were leading 35-33.
The excitement reared itself when with about 2 minutes left MIRANDA ALKATIB nailed a go-ahead three pointer for Valhalla to give them a 39-36 lead. The crowd went bonkers but unfortunately this was only short lived as the Colts would receive a jolt of their own as ten seconds later they would nail a game-tying three-pointer to knot the score at 39-39.  Not too long after the Colts would take a 41-39 lead on a layup.
Now trailing by a basket and under a minute left in the contest, the Norsemen had an opportunity to try and tie the game in regulation but unfortunately couldn't convert.
Valhalla:  Tiana Silver 13 (3 reb, 3 ast, 2 stl), Bianca Gorges 9 (6 reb, 1 ast, 2 stl), Miranda Alkatib 5 (1 reb), Alexa Somo 4 (3 reb, 2 ast, 2 stl), Michelle Maroki 3 (1 reb, 1 stl), Melanie Yousif 3 (6 reb, 1 ast, 3 stl), Molly Lindsay 2 (9 reb).