Foothillers are unstoppable machine against High Tech
Updated: February 27, 2016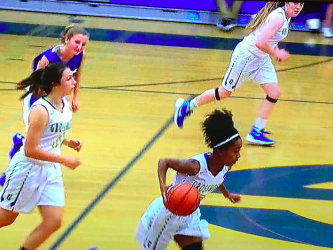 Grossmont's SYMONE GRIFFITH leads a break following a steal on Friday night against High Tech North County.
2015-16 PREP GIRLS BASKETBALL – SAN DIEGO CIF DIVISION IV QUARTERFINALS
By Bill Dickens
© East County Sports.com
EL CAJON (2-27-16) — Grossmont coach GRACE CAMPBELL labeled Friday's (Feb. 26) San Diego CIF Division IV 66-42 quarterfinal victory over visiting High Tech High of North County "the best we've played all season – hands down."
The Foothillers went on a 20-point roll over the Raptors in the first quarter to erase an early 2-0 High Tech lead in the first six minutes.
Junior TAISHA SILAS scored 8 of her team high 25 points in the opening quarter of a game, which rapidly became a rout.
"I told SYMONE (GRIFFITH) we have to eat and win this game," said Silas, who nailed 10 of 23 shots and 5 of 11 from long distance.
"I've always been a long range shooter," Silas stated. "That's been my strength. I even made a few crazy shots in this game even though I forced them."
Grossmont hiked its advantage to 33-8 and 45-16 by intermission. The Hillers' relentless attack concluded at the end of the third quarter with Grossmont leading 60-27. At that point Campbell emptied the bench.
The Grossmont regulars shot 45 percent (27 of 60) from the field. The reserves weren't so deadly as they were 2 of 17.
Another amazing stat is Grossmont took only two charity shots in the game, with Griffith making one of two free throws.
The Foothillers racked up 40 rebounds, chalked up 15 steals and blocked 6 shots.
Six-foot-one LYDIA HALCOTT nailed 6 of 10 shots from the field for 12 points, but was even more effective in the defensive paint, hauling down 8 rebounds, blocking 2 shots and notching 4 steals.
Not to be overlooked was the defensive work of 5-11 sophomore EMILY BARNES who punched in 6 points, grabbed 8 rebounds and rejected 3 shots.
"Defense is my game," Barnes said.
It was her job and that of Halcott to patrol the Raptors' scoring machine Mikayla Kricsalusi, who hammered down game highs of 29 points and cleared 14 rebounds.
"You had to stay on her because she was so good at rolling off the pick for a layup," Barnes noted. "But we did block some shots. I like to do that."
After Grossmont built a large lead in the early going, Barnes admitted the game face remained unchanged.
"You can't change your emotions, no matter how big the cushion is – you have to keep playing."
Added Silas, "See that wall over there? That's where we're going to put this year's championship flag. We all deserve credit for that."
But Grossmont is not finished as Grossmont will host Holtville on Tuesday (Mar. 1) in a semifinal game.
Grossmont:  Taisha Silas 25 (9 reb, 2 ast, 2 stl, 1 blk), Lydia Halcott 12 (8 reb, 4 stl, 2 blk), Athena Sotelo 7 (2 reb, 1 ast), Emily Barnes 6 (8 reb, 2 ast, 1 stl, 3 blk), Symone Griffith 5 (2 reb, 5 ast, 2 stl), Candace Henderson 4 (1 reb, 1 ast, 3 stl), Salina Hernandez 3 (1 reb, 1 stl), Ragina Turner 2 (2 reb, 1 stl), Noel Luezader 2 (3 reb), Jazmine Lee (2 reb), Grace Cerrado (2 reb), Jonelle Russaw (1 stl).