Wolf Pack move into semifinals by defeating Henry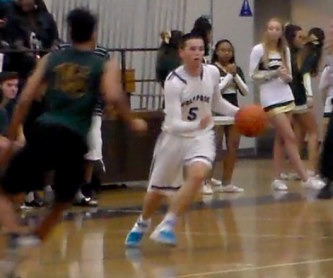 Kyle Ruiz brings the ball up for West Hills Saturday night.
2015-16 EAST COUNTY PREP BOYS BASKETBALL
By Bill Dickens
© East County Sports.com
SANTEE (2-28-16) — Thanks to a series of scoring bursts by West Hills, the Wolf Pack overpowered Patrick Henry 58-41 Saturday night (Feb. 27) in a Division II San Diego CIF quarterfinal contest.
The Wolf Pack (23-6) is the lone Grossmont Conference boys team still alive in the post-season playoffs. The Pack will host La Jolla (18-10) in Tuesday's (Mar. 1) semifinals at 7 p.m.  The Vikings advanced by defeating another Grossmont team, Helix, also on Saturday.
"We've seen Helix twice, and we'd like a chance to see somebody else," said West Hills' floor leader MARCO OVIES, who finished with 8 points and 4 assists against Patrick Henry, and also logged 2 treys.
The Wolf Pack barged in front 26-15 midway through the second quarter against the Patriots. But the Patriots refused to fold as they slashed West Hills' advantage to 28-27 in the third quarter.
Two free throws by D'ANTE HILL stretched West Hills' advantage to 39-32 and launched the onslaught with 2:12 remaining in the third. From there the runaway was on.
"We had our moments," said KYLE RUIZ, who tallied 9 points and bagged 8 rebounds and hit 2 threes. "In a game like this there's always going to be pressure, so it was a matter of keeping our confidence."
Hard-nosed forward BRYCE PARSONS punched in 13 points and collected 15 rebounds against a tall Patrick Henry lineup.
"Last year we lost in the quarterfinals to La Jolla Country Day, so we really wanted to win this one after what happened last year," Parsons said. "We didn't want to get knocked out of the playoffs early."
Parsons said the Wolf Pack's main objective was attempting to harness Henry's 6-foot-5 Zach Savage, who scored 13 points and grabbed 11 rebounds.
"The key for us was quit giving up offensive rebounds," added Parsons. "But once we took that away we had better control of the game."
Smooth handling point guard CAMERON BARRY finished with 8 points, 4 rebounds, 3 assists and 6 steals.
"Once again I think our defense decided the issue," said Barry. "I think our offense was also potent as well, like it has been all season for our team. You can't focus on any one guy. We definitely have a bond and so many options."
West Hills:  Bryce Parsons 13 (15 reb, 3 ast), 2 stl), Cesar Curet 10 (3 reb), Kyle Ruiz 9 (8 reb, 2 ast, 1 stl), Cameron Barry 8 (4 reb, 3 ast, 6 stl), Marco Ovies 8 (2 reb, 4 ast, 2 stl), Miguel Nava 4 (3 reb, 1 ast, 1 stl, 2 blk), Spencer Moyer 2 (2 reb), Marquell Cool 2 (3 reb, 1 ast, 2 stl), D'Ante Hill 2.