Starr rising: Knights' sophomore shines in semifinal win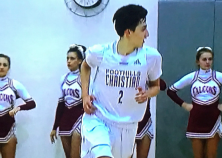 2015-16 PREP BOYS BASKETBALL – SDCIF PLAYOFFS
By James McHugh
© East County Sports.com
RANCHO SAN DIEGO (3-3-16) – The Foothills Christian Knights are headed to the Championship game of the CIF San Diego Section's Open Division this Saturday (Mar. 5) at USD's Jenny Craig Pavilion.
Foothills Christian used a dominating second half performance and sophomore JORDAN STARR's finest outing of the season to topple No. 4 Torrey Pines 71-42 Wednesday night (Mar. 2) before a packed house at Cuyamaca College.
Starr connected on 8-of-9 shots from the field and drained each of his four free throw attempts for a game high 20 points on the night. A number of Starr's points came on cuts through the Falcon's defense on passes from senior teammate T.J. LEAF. Leaf turned in a triple double of 19 points, 12 rebounds and 11 assists.
The Knights shut down Torrey Pines' big man Jake Gilliam who finished the night with just four points and had five of his shots blocked by Leaf. Leaf had seven total blocks on the night.
In the first half Torrey Pines stayed with the Knights step for step until the final two minutes of the second quarter. A Jackson Strong three pointer gave Torrey Pines a one point lead at 22-21 before the Knights embarked on an 8-0 run to close out the half. A dunk from Leaf, a jumper from NIKKO PARANADA and then a three pointer from JORDAN VAN OMMERING started the run. OMAJAE SMITH finished things with a jumper just before the buzzer ended the Falcon's misery.
In the second half the Knights went on a romp through the Falcons defense and blew the game wide open. Leaf's presence in the middle and the strong play of Starr opened up the outside for nearly every Knight in uniform. DANIEL HOFFMAN, JAREN NAFARRETE and KALE BALDADO each hit three pointers.
Jordan Starr humbly credited his big night to the scouting report of assistant coach TROY LEAF and the Falcons defense, or lack thereof. "They just weren't covering me," Starr said of his lights out shooting night. "Troy (Leaf) practiced that with me during the week, just cutting to the basket and finishing without much pressure. He watched them play Army-Navy and he said that's what they were going to do, and that's exactly what they did."
Torrey Pines was attempting to limit Leaf's presence in the paint, which did not exactly go as planned, but once the other Knights joined Starr and Leaf and started knocking down shots from the outside, there was too much confusion over who to defend.
Foothills Christian connected on 7-14 shots from beyond the arc and Leaf had three of those misses in the first quarter alone. Jackson Strong was the only Falcon to finish in double figures with 10-points on the night and Jake Gilliam was limited to three rebounds.
Foothills Christian now moves on to the matchup that San Diego hoops fans have been clamoring for all season long, a date with the Cathedral Catholic Dons and junior Brandon McCoy. Game time is set for 8:05 PM Saturday night (Mar. 5) at USD.
Foothills Christian:  Jordan Starr 20 (5 reb, 2 ast, 2 blk, 2 stl), TJ Leaf 19 (12 reb, 11 ast, 7 blk, 1 stl), Jordan Van Ommering 8 (1 ast, 1 stl), Jaren Nafarrete 6 (2 ast, 2 stl), Omajae Smith 6 (4 reb, 1 stl), Nikko Paranada 4 (1 reb, 1 stl), Kale Baldado 5, Daniel Hoffman 3, TJ Lowery (1 reb), Connor George (1 reb), Luis Salgado (1 stl).