Foothillers' Foggiano can coach in regional playoff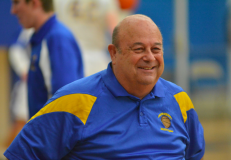 Grossmont High basketball coach Frank Foggiano
2015-16 PREP BASKETBALL –
SoCal Regional CIF Playoffs
By Bill Dickens
© East County Sports.com
EL CAJON (3-7-16) — Veteran coach FRANK FOGGIANO has been officially cleared to coach the Foothillers in Wednesday's (Mar. 9) first round of the SoCal Regional playoffs against La Salle in Pasadena at 7 p.m.
Foggiano had been tagged with his first two technical fouls of the season at Poway in an Open Division consolation game that led to his ejection. He could have been further eliminated from coaching the next game (at La Salle), but the powers that be overrode the officials' decision, making way for Foggiano to coach his first state playoff game in 40 years.
"I think I deserve and I'm glad I'm going to get this opportunity," said Foggiano, who has guided the Foothillers to a 22-7 record.
Another plus for the Foothillers is that 6-foot-9 TOMMY RUTHERFORD passed the "Foggiano test" in Monday's (Mar. 7) practice and will be in uniform against the La Salle Lancers (25-8).
"Tommy is back at 100 percent, and he proved that in Monday's practice," Foggiano said. "There is no swelling or black and blue of his ankle."
Rutherford carries a 25.2 scoring average coupled with a 20.9 rebounds per game along with 5 blocks per outing.
The Foothillers have won only one of five starts since Rutherford rolled his ankle on Feb. 15 in a practice session. That victory was a thrilling 73-72 win over Steele Canyon on Feb. 19.
The return of Rutherford cannot be measured exclusively on his stats.
"It gives us a sense of security now that Tommy's out there," Foggiano noted. "He makes everybody better. He made everybody look good the last time he was out there in practice."
His teammates would probably agree.
This has not been a one-man show, however, as MATT MURRAY along with others, has attempted to pick up the slack in Rutherford's absence. A hard-nosed transfer from North Carolina, Murray is averaging 7 points and 4.5 rebounds per game.
As for the Grossmont opponent, La Salle (25-8) defeated Campbell Hall 69-68 in their section semifinals. But then the Pasadena-based Lancers fell in the finals 58-56 to Viewpoint.
GIRLS
Also on Wed., Mar. 9, the SoCal Regional CIF Playoffs First Round gets underway on the girls side, as Crescenta Valley (24-9) visits Mount Miguel (21-11) at 7 for a Division II opener.
Crescenta Valley won its first-ever section title, capturing the Southern Section Division IA crown, beating the top-seed Mira Costa after finishing 2nd in the Pacific League during its regular season.
6-foot-3 senior Alisa Shinn had 14 points and 18 rebounds in the 37-36 section championship game win. Other Falcons' standouts include 5-foot-5 junior Polin Megerdichian, 5-foot-10 freshman Caity Bouchard and 5-foot-10 senior Josie Brocky.
The Falcons come into Spring Valley riding an 11-game winning streak.
Grossmont (25-5), meanwhile, will take to the freeway and travel to face L.A. Price (25-6), at 6.
Price rolled through Southern Section Division VI, winning in the playoffs, 100-17, 95-12, 84-30, 66-37, 62-40, and with a roster of only six players.
Sophomore Dawnyel Lair is the undeniable superstar of this talented group. She scored 35 points in the final against Jefferson-Bellarmine. Junior Nirvana Dawson is the co-anchor for the Knights, while Christabel Akanno is the rebounding machine and freshman Cierra Randel is also a double-digit per game scorer.