ROUNDUP: San, GH, EC, Val, SC, MV, Chr, MM, FC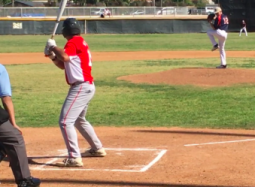 Valhalla delivers to Cathedral on Tuesday afternoon.
2016 EAST COUNTY PREP BASEBALL
By Bill Dickens
© East County Sports.com
CHULA VISTA (3-16-16) — The Santana Sultans continued to prove that they are a Top 10 team in Tuesday's (Mar. 15) Hilltop-Lolita's Tournament encounter.
The Sultans skated past host Bonita Vista 6-4 in a game that wasn't as close as the final score.
Santana (3-1) took a 6-0 lead behind the shutout pitching of DAULTON BARRY, who walked two and struck out nine.
The Sultans, however, began to crumble in the seventh inning as the Barons scored four times.
It took three Santana relievers to put out the fire. JACOB ODENKIRK got the final three outs to log the save.
In their offensive breakout Santana scored in the opening frame on a triple by TRISTEN SALINAS and a groundout by REECE HERNANDEZ.
In the second inning Odenkirk singled and stole two bases to score Santana's second run. JERRY ALESI walked and stole a base, and scored on a base hit by MITCHELL MILLER. Salinas followed with a line drive double for an RBI.
In the fourth inning for the Sultans Hernandez delivered an RBI single and NOAH NUNEZ produced an RBI double.

GRANITE HILLS 1, RANCHO BUENA VISTA 0 (11 inn.) – In a marathon pitching duel that stretched over 11 innings, host Granite Hills came away with a 1-0 victory with a walkoff single by BLAKE ST. CLAIR in the 11th inning of Tuesday's (Mar. 15) Hilltop-Lolita's Tournament encounter.
ANDREW BROWN handcuffed the Longhorns on two hits while striking out 10 in an eight inning outing.
Reliever JOSH VERDON followed suit as he surrendered only two hits with one strikeout in three innings.
St. Clair accounted for two of the Eagles nine hits.
Granite Hills put a runner in scoring position in the second inning on a single by Josh Verdon, who later stole second base.
—Bill Dickens, © EastCountySports.com
LA COSTA CANYON 10, EL CAPITAN 0 – After outscoring its first three opponents by a seventeen to one margin in the Hilltop-Lolita's Tournament, the Vaqueros took one on the chin, delivered by La Costa Canyon on Tuesday (Mar. 15) in North County.
It was a twin killing for the Mavericks as the Vaqueros could muster only singles by KENNY OLHAUSER and TRISTAN DUNCAN on the offensive side.
It was a similar story on the pitching side as LCC's Brendan Kawaja pitched a complete game two-hitter for the Mavericks (3-1).
Duncan was roughed up for seven hits and five earned runs in three innings as he suffered his first loss in two decisions.
Vaquero's reliever BAILEY ROBERSON allowed one run on two hits in one inning, and BLAKE PEYTON surrendered only one hit and no earned runs in two frames.
"They played a good game," said El Capitan coach CLAYTON CURO. "It was a dull day – nothing going on as far as our offense. I think it was because we had won three games in a row."
—Bill Dickens, © EastCountySports.com
CATHEDRAL CATHOLIC 4, VALHALLA 0 – The pitching-laden Cathedral Dons allowed only two hits and no earned runs as they slapped the locks on host Valhalla in Tuesday's (Mar. 15) Hilltop-Lolita's Tournament action.
The Dons broke a scoreless tie with two runs in the fifth inning and extended their advantage with two more in the sixth.
CASEY O'SULLIVAN, JARROD TARDIFF and RILEY O'SULLIVAN limited the Dons to three runs.
Cathedral received RBI from Quinn Hoffman, Jacob Allred, Patrick McLoughlin and Bradley Polinsky.
For Valhalla, the Norsemen were limited to two hits, singles by CJ BROWN and CALEB ST. CLAIR.
—Bill Dickens, © EastCountySports.com
POINT LOMA 11, STEELE CANYON 6 – In a game that turned out to be twofold, the visiting Steele Canyon Cougars appeared to be on a runaway victory over Point Loma in Tuesday's (Mar. 15) 35th Annual Pirate Baseball Classic held at Dana Middle School Complex.
The Cougars pounded out three runs in the first and tacked on three more in the second to take a 6-0 lead. In the first inning the key blow was a line drive triple down the right field line by AVERY TUCK to drive in two runs. Tuck then cruised home on a sacrifice fly by JOSH ESQUIBEL.
It was more of the same in the second frame. A double to left centerfield by TREVOR ROW set the Cougars' offense into motion again. JASE RUSSELL then sliced a single to right field, scoring Row. Tuck and Esquibel each delivered a run scoring single to make the game appear to belong to Steele Canyon.
After that, however, the helium went out of the balloon for Steele Canyon as the Cougars did not generate a single hit the rest of the game.
An eight run sixth inning by the Pointers (3-2) knocked the Cougars (2-3) off the deck.
—Bill Dickens, © EastCountySports.com
MAR VISTA 5, MONTE VISTA 3 – Host Monte Vista took an early 2-0 lead in the first inning and made it stand up through four frames in Tuesday's (Mar. 15) Bully's East Tournament encounter.
BRENDAN COLLIS hoisted a sacrifice fly to put the Monarchs (2-2) on the board, and JUAN GUTIERREZ slashed an RBI single to right field.
Monte Vista then went into stall mode until the final frame as the Mariners pulled in front 5-2.
In a last ditch effort for a comeback victory TAYLOR MARQUEZ tapped an infield single and then scampered to second on a base hit by ANTHONY ROSARIO. DIEGO SANDOVAL spanked a two-out single to centerfield, scoring Marquez. But Monte Vista could do no more.
"We had runners on, we just couldn't score anybody today," said Monarchs coach MATT ATKINSON. "Errors killed us, and five unearned runs."
JUSTIN SCHWEIZER struck out seven batters in 5 1/3 innings, and FRANK GUTIERREZ added another strikeout as Monte Vista did not issue a single walk.
—Bill Dickens, © EastCountySports.com
SAN YSIDRO 2, CHRISTIAN 1 – In a game that was suspended by rain on March 11, the visiting Christian High Patriots didn't do all that well in the sunshine on Tuesday (Mar. 15) in an Aztec-Foothiller Classic contest at San Ysidro.
"We were basically only one pitch away from winning the game the first time around," said Christian coach MIKE MITCHELL. "With two outs we threw two pitches that really hurt us in the fourth inning – we hit a guy and threw a wild pitch, when all we needed was one out. Then it started to pour rain and the umpires called the game at that point."
Four days later Luis Manzo hit a line drive base hit to give the Cougars a 2-0 lead in the fourth.
Christian did all its scoring in the sixth inning as JUSTIN LEDGERWOOD slammed a solo home run, which was his second longball of the season.
"We hit the ball all over the place but they seemed to make diving catches every time I turned around," Mitchell added.
JAKOB BECK accounted for two of the Patriots' five hits. CAMDEN BESSONE pounded a double but was stranded on the bases.
Patriots pitchers CHASE WEHSENER and LUKE GENTRY rationed the Cougars to five hits and one earned run in a losing cause.
—Bill Dickens, © EastCountySports.com
CASTLE PARK 6, MOUNT MIGUEL 1 – The Matadors took a 1-0 lead in the first inning without benefit of a hit in Tuesday's (Mar. 15) Bully's East Tournament contest in South Bay.
JOEL SANDOVAL drove in the Matadors' lone run with an infield ground ball.
In the game Mount Miguel totaled only two hits – singles by JOHNNY NICASIO and MIGUEL OROZCO. After that it was a virtually silent afternoon for the Spring Valley Nine.
"We started four freshmen and two sophomores," said Matadors coach LB HAVIRD. "We're on a learning curve. It's going to take us awhile to make it work."
Castle Park broke a 1-1 tie with three runs in the third inning.
Matadors starter TREVOR DARBY allowed only one run on one hit in his two innings as starting pitcher.
ANGEL ABARCA was hammered for two hits and five runs, and led to his own downfall with six walks.
NICO CAMACHO supplied two innings of one-hit shutout relief.
The Mount Miguel pitching trio gave up only four hits but issued 13 walks.
—Bill Dickens, © EastCountySports.com

ESCONDIDO 11, FOOTHILLS CHRISTIAN 4 – The Cougars knocked off Foothills Christian 11-4 in a Bully's East Tournament game to balance their record at 2-2.
No further information reported.
Tue., March 15
Hilltop/Lolita's Tournament
DONS 4, NORSEMEN 0
Cathedral Catholic (3-1) 000 022 0 – 4 10 0
Valhalla           (0-3) 000 000 0 – 0  2 4
Lunn, McLaughlin (7) and Polinsky. 
C O'Sullivan, Tardiff (6), R O'Sullivan (7) and Heider. 
WP-Lunn (1-1). Sv-McLaughlin (1). LP-C O'Sullivan (0-1).

SULTANS 6, BARONS 4
Santana      (3-1) 130 200 0 – 6 8 0
Bonita Vista (2-2) 000 000 4 – 4 8 0
Barry, Ellis (7), Mosburg (7), Odenkirk (7) and Mora. 
Montoya, Akino (4), Vargas (5) and Beilstein. 
WP-Barry (1-0). LP-Akino (0-1). Sv-Odenkirk (1).

MAVERICKS 10, VAQUEROS 0
El Capitan      (3-1) 000 000 0 –  0  2 1
La Costa Canyon (3-1) 203 410 x – 10 10 0
Duncan, Roberson (4), Peyton (5) and Moorman. Kawaja and Orr. 
WP-Kawaja (1-0). LP-Duncan (1-1). 

EAGLES 1, LONGHORNS 0 (11 inn.)
Rancho Buena Vista (0-4) 000 000 000 00 – 0 4 1
Granite Hills      (3-1) 000 000 000 01 – 1 9 1
(Two outs when winning run scored.)
Marinack, Moser (9) and Van Dam. Brown, JoVerdon (9) and Fenn. 
WP-JoVerdon (1-0). LP-Moser (0-1).
35th Annual Pirate Baseball Classic
POINTERS 11, COUGARS 6
Steele Canyon (2-3) 330 000 0 –  6  8 3
Point Loma    (3-2) 000 038 x – 11 11 0
Row, Fitch (5), Luban (6) and Arias, Blethen (4). 
Holly, Taniagua (2), Allen (6) and Bacon. 
WP-Allen (2-0). LP-Fitch (0-1).
Bully's East Tournament
MARINERS 5, MONARCHS 3
Mar Vista   (1-2) 000 032 0 – 5 6 3
Monte Vista (2-2) 200 000 1 – 3 7 5
Borst and Rice. Schweizer, FGutierrez (6) and Sandoval. 
WP-Borst (1-0). LP-Schweizer (1-1).
TROJANS 6, MATADORS 1
Mount Miguel  (0-4) 100 000 0 – 1 2 0
Castle Park (2-2-1) 013 200 x – 6 4 1
Darby, Abarca (3), Camacho (5) and Camacho, Orozco (3). 
Sessier, Luna (7) and Escalante. WP-Sessier. LP-Abarca (0-1).

Aztec-Foothiller Classic
COUGARS 2, PATRIOTS 1
(Resumption of game suspended on Mar. 11)
Christian  (1-3) 000 001 0 – 1 5 1
San Ysidro (1-2) 001 100 x – 2 5 0
Wehsener, Gentry (4) and Josephson. 
Cortez, Diaz (7) and Diaz, Lopez (7). 
WP-Cortez (1-0). LP-Wehsener (0-1). Sv-Diaz (1). 
HR-Ledgerwood (Chr-2) 6th, solo.
KNIGHTS 11, COUGARS 4
Escondido           (2-2)  4
Foothills Christian (2-2) 11
(No information was reported.)