Barkley, Pack get win over Helix in eight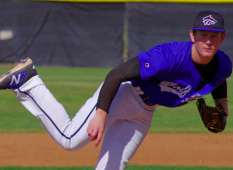 WHHS senior Aaron Barkley defeated Helix with 8-inn, 136-pitch complete game.
2016 EAST COUNTY PREP BASEBALL
By Bill Dickens
© East County Sports.com
SANTEE (3-15-16) — Host West Hills scored bookend runs – one in the third and one in the eighth – to stun Helix 2-1 in Monday's (Mar. 14) Aztec-Foothiller Classic.
Senior AARON BARKLEY scattered six hits over eight innings while striking out eight and walking only one to carry the Wolf Pack to its first win in four starts. He needed 136 pitches to complete the job.
Both of the Wolf Pack's runs were unearned but it was good enough to produce a victory.
Hits came at a premium as KEATON CHASE accounted for two of the Highlanders' six hits as CLAYTON LEWIS picked up two of the Wolf Pack's five safeties.
"We gave it away because we couldn't hit and we couldn't field," said Helix coach COLE HOLLAND.
That meant the Highlanders wasted a strong pitching effort by JACK STRONACH, who allowed only four hits and no earned runs in six innings.
Chase picked up the pace in the seventh and continued on in the eighth but was victimized by faulty Helix defense. He allowed only one hit in 1.2 innings. But an unearned run in the bottom of the eighth cost him the game.
"It's with great pleasure that I witnessed the beginning of what I hope to be one of the long lasting accomplishments of West Hills baseball 2016 team and baseball program," said Pack coach MICKEY DEUTSCHMAN. "The team won as a team on the field and in the dugout. What great support from all. It was as it should be."

Aztec-Foothiller Classic 
WOLF PACK 2, HIGHLANDERS 1
Helix      (2-1) 000 001 00 – 1 6 3
West Hills (1-3) 100 000 01 – 2 5 1
Stronach, Chase (7) and Isbell. Barkley and N/A. 
WP-Barkley (1-0). LP-Chase (0-1).