ROUNDUP: Val, Gro, Hel, GH, Chr, EC, San, SC, WH, MV, MM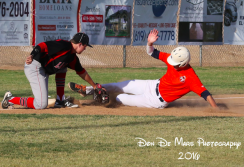 2016 EAST COUNTY PREP BASEBALL
By Bill Dickens
© East County Sports.com
EL CAJON (4-2-16) — The drought has ended for the Valhalla Norsemen, who clipped highly regarded La Jolla 9-3 in Friday's (Apr. 1) Bill Dickens-City East Classic.
After suffering a stunning 11-straight losses, the Norsemen rallied from a 2-0 deficit to vanquish the Vikings.
Senior COLE HENDERSON, who is bound for Nevada-Reno, carried the torch for Valhalla. In a complete game effort he allowed only 5 hits and one earned run while striking out 8.
Henderson was a double threat in Valhalla's initial victory as he collected two singles in four at bats. But he had plenty of help on the defensive end as the Norsemen did not commit an error and generated 11 hits.
Valhalla jumped in front 4-2 in the first inning. CJ BROWN walked and Henderson singled to left. BROCK MOSIER laced a 2-run double to left field to tie the game 2-2. Freshman RILEY O'SULLIVAN then hammered a tape measure drive that landed in front of the scoreboard on the football field to give Valhalla the lead to stay.
Clinging to a 4-3 lead the Norsemen added another tally in the fourth as LEWIS DIRKES singled in a run.
In the sixth frame to put the game away, CASEY O'SULLIVAN walked. Then with two outs, CALEB ST. CLAIR singled to left. Dirkes smacked an RBI single to right, scoring O'Sullivan. Dirkes scored on a throwing error and Brown followed with an RBI single to center.
*
GROSSMONT 10, CATHEDRAL 1 – Grossmont coach JORDAN ABRUZZO was aware that his team was struggling offensively, but admitted the Foothillers' woes could be blamed on a high caliber of competition this season.
However in Friday's (Apr. 1) Bill Dickens-City East Classic the Foothillers unloaded for four home runs against highly respected Cathedral Catholic at Joe Gizoni Field.
"We've been facing the Top 10 teams in the county," Abruzzo said. "And that has meant facing the pitching elite. We wanted that challenge and now our kids are comfortable facing the best arms in the Top 10."
CALVIN FARRIS slammed a solo home run in the second inning and went on to pitch six innings for his 3rd win in as many decisions, striking out 6 and walking only one.
The Foothillers broke loose for six runs in the third inning, using the longball for their springboard. EVAN McCARTHY hammered a 3-run homer over the right field fence.
The onslaught continued.
Back-to-back doubles by ADAM LOPEZ and JESSE GARCIA cashed in one run and JAYDEN LOMBARDO lifted a 3-run homer to make it 7-0.
In the fourth inning JAIME ARREOLA singled and Garcia was hit by a pitch. Farris slashed an RBI single as did Lombardo, and the rout was on.
Grossmont capped its power surge when Garcia hammered a solo home run in the sixth inning.
"We practice all week, trying to be aggressive at the plate," said Abruzzo. "And today I think we were. When we attack the plate we are successful."
By Bill Dickens, © EastCountySports.com
*
HELIX 7, ALEMANY 3
FOOTHILL 7, HELIX 4 – Helix coach COLE HOLLAND summed up the Highlanders' weeklong visit to the Righetti Spring Classic in Santa Maria by saying, "We're awfully tired, but at the same time we're awfully proud of reaching the finals."
The Highlanders won their fourth straight tournament game in Friday's (Apr. 1) semifinal, overcoming the Alemany Warriors by the clutch pitching of KEATON CHASE, who spun a complete game 4-hitter, striking out 8 in the process in his first pitching start.
Alemany jumped in front 3-0 in the top of the first, but Helix fought back from there.
The Warriors had no answer for UCLA-bound JACK STRONACH, who drove in 6 runs with a double and a home run. Stronach slugged a 3-run homer in the fifth inning.
In Friday night's championship game Helix faced the Santa Ana Foothill Knights, the defending champions of the tournament and fell behind after three innings.
After that the chase was on for the Highlanders (8-5).
In the title bout Helix trailed only 5-3 after six innings.
HUNTER ISBELL was 2-for-3 with an RBI, while CONNOR KONISHI was 2-for-4 and AUSTIN KOVALCHECK was 2-for-4 with a run scored.
Chase doubled and scored a run in the losing cause.
By Bill Dickens, © EastCountySports.com
*
GRANITE HILLS 10, MADISON 0 – When scouts think about the Granite Hills Eagles their attention turns to versatile DILLAN SHRUM. No question that Shrum is the leading candidate for the East County player of the year.
The double-threat senior who is carrying a batting average over .500 proved that he can also pitch with the best as he blanked the Warhawks in Friday's (Apr. 1) Bill Dickens-City East Classic.
Shrum struck out an East County high 14 batters as he posted his 3rd win in four decisions. He made the most of only 97 pitches. Twenty one of his pitches were first pitch strikes and that always proves to make a pitcher that much more effective.
After ANDREW BROWN reached base on an error in the second inning, BLAKE ST. CLAIR walked and the runners advanced on a passed ball. BRADY JOSLYN hit a ground ball single to score Brown.  TREVOR HAZELHURST ripped a scoring triple to right field to make it 3-0. TREVOR OMAHEN hit a sacrifice fly to score Hazelhurst.
In the fourth inning Granite Hills erupted for 2 runs as Hazelhurst and Shrum (double) both scored.
In the fifth St. Clair hit a line drive to left field, Hazelhurst grounded a single to right putting runners at the corners. JOSH VERDON reached on an error and St. Clair scored as did Hazelhurst.
Shrum finished 1-for-2 with a double and 2 runs scored. Hazelhurst was 2-for-2 with a triple, 3 runs scored and 2 RBI.
BRYCE STRICKLAND was 3-for-3 with a walk and 2 runs scored.
By Bill Dickens, © EastCountySports.com
*
CHRISTIAN 8, UNIVERSITY CITY 0 – If ever there were the epitome of an Unsung Hero, Christian junior CHASE WEHSENER would fit the bill.
No question he is as good a defensive first baseman as there is in the San Diego Section. He makes plays on batted balls that other guys in his position watch land in the outfield.
"Nobody even knows the kid," said Patriots coach MIKE MITCHELL.
At least, not yet.
Wehsener is a smooth fielder who rarely makes an error. He is not a one-dimension player, however, as he proved in shutting out University City on 6 hits while striking out 3 and walking none in Friday's (Apr. 1) Bill Dickens-City East Classic action.
In posting his second win in as many decisions, Wehsener delivered 58 strikes and 14 balls in a complete game effort. Talk about pinpoint control.
The Patriots took a 3-0 lead in the first inning, keyed by a 2-run double by JOHN GERSHOW.
In the fourth the Patriots doubled down as Wehsener lifted a scoring fly ball and ZACH HOGUIESSON singled in two runs.
Christian came out swinging in the fifth as GARRETT NIELSEN doubled and scored on a double by Gershow. After a single by JAKOB BECK, NATHAN JARVIS laced an RBI single.
By Bill Dickens, © EastCountySports.com
*
EL CAPITAN 7, PATRICK HENRY 6 – The Vaqueros rallied from a 6-3 deficit and won for only the second time in their last eight games in a back-and-forth affair that saw five lead changes in Friday's (Apr. 1) Bill Dickens-City East Classic.
The Vaqueros took the lead in the top of the seventh inning and held on for the victory. El Capitan scored the decisive run on an RBI single by TYLER LINDSAY with two out, plating JASON MOORMAN.
Moorman also doubled home a pair of runs in the fifth inning.
CHANCE COLSON got the win for the Vaqueros, as he allowed one run over 4 2/3 innings. Colson struck out one, walked none and gave up four hits.
In the top of the first, Patrick Henry grabbed the early lead, 3-0.
The Vaqueros scored three runs of their own in the bottom of the first, including a sacrifice fly by KENNY OLHAUSER and an RBI groundout from MYLES EMMERSON.
The Vaqueros added two in the fifth inning and two more in the seventh. In the fifth, the Vaqueros scored on the two-run double by Moorman, scoring VICTOR CARLINO and Olhauser.
Carlino singled, then scored the tying run in the bottom of the seventh on a Henry error.
El Capitan also finished with six stolen bases in the contest.
By Ramon Scott, © EastCountySports.com

*

SANTANA 6, SCRIPPS RANCH 1 – Versatile TRISTEN SALINAS spun a 5-hitter to carry Santana to a key victory over the Falcons in Friday's (Apr. 1) Bill Dickens-City East Classic contest.
The right-handed junior hurler allowed only one earned run and struck out 3 as he posted his third win in as many decisions.
BRANDON MOSBURG twirled a scoreless seventh inning.
A double threat, Salinas opened the game with a base hit. He advanced to second on a single by REECE HERNANDEZ. After NOAH NUNEZ walked to load the bases, JACOB ODENKIRK singled in a run and AIDAN RASMUSSON followed suit with a base hit.
Santana broke the game open with 4 markers in the second frame. NIKOLAS MORA singled, as did MITCHELL MILLER. Mora was cut down at third on a ground ball by Salinas. Hernandez reached base on an error to load the bases. Nunez singled in a run and a sacrifice fly by Odenkirk made it 4-0. JERRY ALESI kept the rally going with a run-scoring single and Rasmusson kept the Santana offense in motion with his second run-scoring hit.
Santana continued its surge for a berth in the tournament finals.
By Bill Dickens, © EastCountySports.com
*
ST. AUGUSTINE 7, STEELE CANYON 4– At Steele Canyon this season it's been all or nothing. The Cougars have scored 13 or more runs, four times.
However, when the Cougars fail to find the plate the results are not favorable, as was the case in Friday's (Apr. 1) Bill Dickens-City East Classic encounter against potentially number one ranked St. Augustine (10-2).
In some ways it was a frustrating setback for Steele Canyon, which took a 3-0 lead in the first inning. Two hit batters and a walk loaded the bases. JOSH ESQUIBEL, who accounted for both Steele Canyon hits and stole 3 bases, slashed an RBI single to give the Cougars the early lead.
SERGIO ALCARAZ hit a sacrifice fly to make it 2-0, and a throwing error by the catcher added a third tally.
After St. Augustine erupted for 5 runs in the third inning – buoyed by a 3-run homer by Nico Anderson – the Cougars countered with a single tally in the bottom of the frame. With two outs Esquibel singled, stole second and third and scored on a throwing error by the catcher.
After that the Cougars' bats went silent as nobody else garnered even a single hit.
By Bill Dickens, © EastCountySports.com
*
MIRA MESA 2, WEST HILLS 0 – Less than 24 hours after West Hills High pitching combined to throw a 3-hitter in an extra-inning ballgame, the arms of the Wolf Pack did even better on Friday (Apr. 1) against the Marauders in a Bill Dickens-City East Classic contest.
ZACH SANDOVAL was dominant for six innings, while AARON BARKLEY delivered a solid inning in his third outing of the week, combining on a 2-hitter against Mira Mesa. However, it was the Marauders who came away with a 2-0 victory in the Bill Dickens-City East Classic.
"For the second day in a row, we get outstanding pitching," West Hills coach MICKEY DEUTCHSMANN said. "But losing like this one will be hard to get over."
Mira Mesa utilized a pair of unearned runs to take advantage of a day when the Wolf Pack defense failed to deliver.
"I know Scripps Ranch was upset losing to us the other day, but we hit the ball to win it," Deutchsmann said. "In this game, we handed Mira Mesa both runs."
The Marauders, still without a basehit in the 4th inning, opened the scoring by an error, a hit batter, a ground out and then a two-out error.
In the 5th, Jake Ambrose dropped a two-out flare into right field for the initial Mira Mesa hit. The other safety came in the 6th when Barkley allowed a bunt to roll foul, but it stopped on the top of the chalk for an infield hit which later set-up a second run on the fourth West Hills error on the afternoon.
Meanwhile, Mira Mesa pitcher Dominic Medina retired the first eight Wolf Pack batters he faced until NOAH QUINTANA, the No. 9 hitter, stroked an opposite-field basehit to left. Medina (5 IP) and a pair of relievers finished with a 4-hit shutout.
In the pool standings, West Hills (2-1, 6-5 overall) dropped into second place behind 3-0 Santana, but the Sultans still need to play both 3-0 teams from the other pool – Point Loma and Mira Mesa.
Special to © EastCountySports.com

*
POINT LOMA 4, MONTE VISTA 3 (8 inn.) – Visiting Monte Vista could not maintain an early 2-0 lead against super-charged Point Loma in Friday's (Apr. 1) Bill Dickens-City East Classic action at Dana Middle School.
Fact is the Monarchs took the Pointers into the eighth inning before succumbing to a 1-run defeat.
"We had our chances," said Monte Vista coach MATT ATKINSON.
In the first inning FRANK GUTIERREZ doubled down the left field line and eventually scored on a passed ball.
An inning later the Monarchs were on the verge of taking a commanding lead. DIEGO SANDOVAL walked and advanced to second on a base hit by JON GULLEY. JUAN GUTIERREZ laid down a sacrifice bunt to load the bases. But Monte Vista got the minimum one run as BRYAN HARMON hit into a double play.
Ironically, Harmon finished the game 2-for-3 but failed to deliver in that situation.
Monte Vista tied the game in the sixth inning 3-3. ANDREW GONZALES walked and stole second. BRENDAN COLLIS singled and the relay from the outfield sailed over the catcher's head, allowing the Monarchs to tie it.
Point Loma put together three hits in the bottom of the eighth to claim the victory.
By Bill Dickens, © EastCountySports.com
*
FRANCIS PARKER 8, MOUNT MIGUEL 1 – The Matadors scored an unearned run on a line drive by AUSTIN ORTIZ at the third baseman, plating ANDREW MONTIJO, who had reached base on a walk in Friday's (Apr. 1) Bill Dickens-City East Classic contest at Francis Parker.
Mount Miguel reliever MIGUEL OROZCO allowed only one run and struck out 6 in 4 2/3 innings on the mound.
"Orozco pitched well," said Matadors coach LB HAVIRD. "He was definitely in control even though we were down 7-1. We played better defense today, made only one error. We played much, much better than we did before."
By Bill Dickens, © EastCountySports.com
Fri., April 1, 2016
Bill Dickens-City East Classic
NORSEMEN 9, VIKINGS 3 
La Jolla (10-3) 201 000 0 – 3  5 0
Valhalla (1-11) 400 104 x – 9 11 0
Henderson and Heider. 
Hammel, Wintringer (5), Partida (7) and Brown. 
WP-Henderson (1-2). LP-Hammel. 

PATRIOTS 8, CENTURIONS 0
Christian       (7-6) 300 320 0 – 8 9 2
University City (4-6) 000 000 0 – 0 6 1
Wehsener and Josephson. 
Waldichuk, Villalobos (4) and Owens. 
WP-Wehsener (2-0). LP-Waldichuk. 

SAINTS 7, COUGARS 4
St. Augustine  (10-2) 005 020 0 – 7 10 4
Steele Canyon (6-6-1) 301 000 0 – 4  2 0
Vinti, Stewart (1), Rhoades (7) and Wilson. 
Nadeau, Fitch (4), Newberry (6), Clark (7) and Arias. 
WP-Stewart. LP-Nadeau (0-2). Sv-Rhoades. 
HR-Anderson (StA) 3rd, two on.

FOOTHILLERS 10, DONS 1
Cathedral (9-4) 000 001 0 –  1  7 2
Grossmont (7-4) 016 201 x – 10 11 1
Chang, Miller (3), Nastrini (5) and Polinsky. 
Farris, Lopez (7) and Lombardo. 
WP-Farris (3-0). LP-Chang. 
HR-Farris (Gro-1) 2nd, solo; McCarthy (Gro-1) 3rd, two on; 
Lombardo (Gro-2) 3rd, one on; Garcia (Gro-2) 6th, solo; 
Brown (Cath) 6th, solo. 

POINTERS 4, MONARCHS 3 (8 inn.)
Monte Vista (3-8) 110 001 00 – 3  5 5
Point Loma  (8-4) 001 110 01 – 4 11 2
(One out when winning run scored.)
AGonzales, Rosario (6), JGutierrez (8) and DSandoval. 
Allen, Gomez (2), Lombardi (6) and Bacon. 
WP-Lombardi. LP-JGutierrez. 

EAGLES 10, WARHAWKS 0
Madison     (6-4-1) 000 000 0 –  0  4 4
Granite Hills (8-5) 040 240 x – 10 10 0
Little, Bovee (5), Henry (6) and Rainaldi. 
Shrum and Fenn. WP-Shrum (3-1). LP-Little. 

LANCERS 8, MATADORS 1
Mount Miguel   (2-9) 010 000 0 – 1  5 1
Francis Parker (6-5) 160 010 x – 8 10 2
Montijo, Orozco (2) and JSandoval. 
Hayes, Laumakis (6) and Campagna. 
WP-Hayes. LP-Montijo (2-3).

VAQUEROS 7, PATRIOTS 6
Patrick Henry (4-7) 302 100 0 - 6 13 1
El Capitan    (5-6) 300 020 2 - 7 7 1
(Two out when winning run scored.)
Hull, Pace (5), Demos (7) and N/A. 
Wannamaker, Colson (3) and N/A. WP-Colson. LP-Demos.
MARAUDERS 2, WOLF PACK 0
West Hills (6-5) 000 000 0 - 0 3 4
Mira Mesa (10-3) 000 101 x - 2 2 1
Sandoval, Barkley (6) and N/A. 
Medina, Huber (6), Bovee (7) and N/A. 
WP-Schubert. LP-Sandoval.
SULTANS 6, FALCONS 1
Santana       (9-2) 240 000 0 – 6 11 2
Scripps Ranch (7-5) 000 010 0 – 1  6 2
Salinas, Mossburg (7) and Mora. 
Ingeles, Corado (2), Nguyen (7) and Blake. 
WP-Salinas (3-0). LP-Ingeles.
Righetti Spring Classic
HIGHLANDERS 7, WARRIORS 3
Semifinal:
Alemany (5-7) 300 000 0 – 3 4 1
Helix   (8-4) 200 050 x – 7 8 1
Bollier, Morien (5), Traxel (5) and Shore. 
Chase and Isbell. WP-Chase (1-0). LP-Bollier.
Championship:
KNIGHTS 7, HIGHLANDERS 4
Foothill (10-4) 003 110 2 – 7 15 2 
Helix     (8-5) 100 111 0 – 4 11 2
Selby, Manzer (4), Magee (6) and Etchandy. 
Smelko, Blevins (6), Hernandez (7), Taylor (7) and Isbell. 
WP-Manzer. LP-Blevins (0-1). Sv-Magee.
← Previous Story
ROUNDUP: Hel, Chr, San, GH, WH, SC, Gro, EC, Val, MV, MM