Barr, Barkley star as Wolf Pack snap at Pointers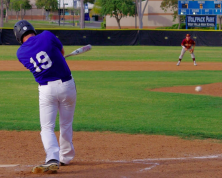 West Hills' Jeremiah Barr puts the ball in play against Point Loma on Tuesday in Santee. / photo by Zach Sandoval
2016 EAST COUNTY PREP BASEBALL
By Ramon Scott
© East County Sports.com
SANTEE (4-6-16) — The West Hills Wolf Pack are scrambling for a championship berth in the Bill Dickens-City East Classic. To reach the City title game, which is slated for Saturday (Apr. 9) at Point Loma's Dana Middle School at 11 a.m., the Wolf Pack must defeat Francis Parker in Thursday's final round of pool play.
Even at that, West Hills is a longshot. Despite a 3-1 record in tournament play the Wolf Pack has allowed 19 runs, which leaves them trailing undefeated Santana (4-0), which has surrendered 4 runs in four games.
The City side opponent will either be Mira Mesa or Point Loma, both of whom have 3-1 records going into Thursday's pool play finale.
JEREMIAH BARR had three hits, sparking the West Hills Wolf Pack to a 9-6 victory over Point Loma on Tuesday (Apr. 5) in the Bill Dickens-City East Classic in Santee.
Barr singled in the first and third innings and doubled in the sixth inning, as the lead stayed with West Hills after the third, when they scored five runs.
West Hills brought home one run in the fourth inning, and matched that run total in the fifth. In the fourth, West Hills scored on an error, bringing home AARON BARKLEY.
Four runs in the top of the sixth helped Point Loma close the deficit to 7-4. An RBI single, an RBI double, and a two-run error sparked Point Loma 's rally. The Point Loma threat came to an end when Barkley, the starting pitcher, coaxed fly out.
The Wolf Pack built upon their lead with two runs in the sixth, including a BRADEN SANFORD single, which scored RANDY JEWELL. Jewell and Sanford both had two RBI in the game.
After pushing across two runs in the top of the seventh, Barkley got the last out with a fly ball.
Barkley went the distance, allowing four earned runs, while striking out eight and walking one.
CLAYTON LEWIS added an RBI hit for the Wolf Pack, while DEVIN CURRIONE also drove in a run.
WOLF PACK 9, POINTERS 6
Point Loma (8-5) 000 004 2 – 6  6 2
West Hills (7-5) 005 112 x – 9 11 6 
Barkley and Sanford. Derry, Lombardi (3) and catcher N/A. 
WP-Barkley (4-0). LP-Derry.