ROUNDUP: Vaqueros win in 11; Eagles' loss puts title game in flux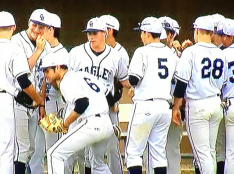 Granite Hills takes the field on Saturday against the Dons.
2016 EAST COUNTY PREP BASEBALL
By Bill Dickens
© East County Sports.com
LAKESIDE (4-10-16) — Solid pitching by TRISTAN DUNCAN, BAILEY ROBERSON and JUSTIN ZAMORA enabled El Capitan to squeeze out a marathon 11 inning  2-1 victory over visiting Madison in Saturday's (Apr. 9) Bill Dickens-City East Classic.
The Vaqueros pushed across the winning run with one out in the bottom of the 11th. MYLES EMMERSON singled and advanced to second on a bunt by Duncan. DYLAN WANNAMAKER got hit by a pitch and Zamora singled to load the bases.
That set the stage for CHANCE COLSON's base hit down the left field line to create the walkoff win.
Duncan and Company allowed only 3 hits and one run while striking out 11 over 11 frames.
"Tristan was outstanding," said El Capitan coach CLAYTON CURO of Duncan, who struck out 9 and allowed only 2 hits in seven innings. "That's the best I've ever seen him throw."
One of the key defensive efforts provided by El Capitan was delivered by left-handed junior reliever Roberson who picked off a runner in the eighth and again in the ninth.
El Capitan pounded out 12 hits with nine Vaqueros contributing to the offensive assault, including 3 by leadoff man DAWSON McCLANAHAN.
Both teams scored in the first inning. The Vaqueros tied the Warhawks as McClanahan singled, advanced on a throwing error and scored on a groundout by VICTOR CARLINO.
*
CATHEDRAL CATHOLIC 3, GRANITE HILLS 1 – Despite losing to the visiting Dons of Cathedral Catholic on Saturday (Apr. 9), there is a chance that the Granite Hills Eagles will receive a berth in the championship game of the Bill Dickens-City East Classic.
The Eagles will be battling Grossmont on paper for the title bout in a tournament supposedly determined by fewest runs allowed. Each of these teams has allowed only 17 runs while winning 3 of 5 games. The only difference is the Foothillers scored 33 runs and the Eagles tallied 32.
The jury is still out on this one – including which teams will advance to the finals and when the game will be played due to inclement weather.
In Saturday's (Apr. 9) loss to Cathedral the Eagles wasted a complete game effort by DILLAN SHRUM, who allowed 7 hits and 2 earned runs while striking out 9 and walking none.
Granite Hills avoided a shutout in the fifth inning on a groundout by BRADY JOSLYN which scored BLAKE ST. CLAIR, who had reached base on an error.
The Eagles' meager offensive attack consisted of singles by JAKE FENN and ANDREW BROWN.
ST. AUGUSTINE at VALHALLA – was postponed by wet ground. The schedule is adjusted on a day-to-day basis due to the rainy weather.
By Bill Dickens, © EastCountySports.com
Sat., Apr. 9, 2016
Bill Dickens-City East Classic
VAQUEROS 2, WARHAWKS 1 (11 inn.) 
Madison    (7-6-1) 100 000 000 00 – 1  3 1 
El Capitan   (7-6) 100 000 000 01 – 2 12 1
Lantz, Bovee (8) and Rainaldi. 
Duncan, Roberson (8), Zamora (10) and Moorman. 
WP-Zamoro (1-0). LP-Bovee.  

DONS 3, EAGLES 1 
Cathedral Catholic (12-4) 100 100 1 – 3 7 1
Granite Hills       (9-6) 000 010 0 – 1 2 1
Price and Polinsky. Shrum and Fenn. 
WP-Price. LP-Shrum (3-2).