ROUNDUP: Cougars, Wolf Pack, Sultans take league wins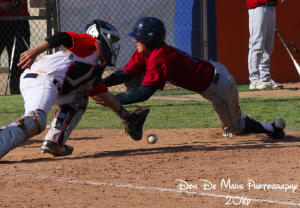 2016 EAST COUNTY PREP BASEBALL
By Bill Dickens
© EastCountySports.com
EL CAJON – MATTHEW BAGDASAR drove in 2 runs, as did JOSH ESQUIBEL for Steele Canyon as the Cougars vanquished Valhalla, 7-3, Tuesday afternoon (Apr. 26) in a Grossmont Hills League contest.
The victory allowed the Cougars (9-10-1, 2-3 GHL) to move into a tie for 4th place in the Grossmont Hills League.
The visiting Norsemen took the early lead as COLE HOWARD laid down a bunt single and scored on an RBI double to left field by RILEY O'SULLIVAN.
Steele Canyon rebounded to take the lead with 3 runs in the 3rd inning. The Cougars played short ball as KANE FIEDLER and JASE RUSSELL put down bunt singles. AVERY TUCK reached base on an error, allowing Fiedler to score the tying run. JOSH ESQUIBEL then slashed an RBI single to left.
In the 4th inning the Cougars pushed across 2 more runs. MATTHEW BRINKMEIER placed a bunt single down the third base line. That was the only hit for Steele Canyon in that frame, which raised the Cougars' lead to 5-1.
The Cougars again proved they can play short ball in the 5th inning. With one out TREVOR ROW singled to center and TANNER LOGAN followed suit with a base hit up the middle. Brinkmeier singled to right to score Logan. After that the Cougars turned on the speed as Brinkmeier stole second and Fiedler stole home.
In the 6th inning Valhalla bounced back for 2 runs thanks to two Steele Canyon errors. BROCK MOSIER doubled to center to score a run and a sacrifice fly by BLAKE ST. CLAIR scored another.
Steele Canyon pitchers NOAH NADEAU and TYLER LUBAN allowed only 4 hits, one earned run and struck out 3.
*
WEST HILLS 6, MOUNT MIGUEL 3 – The indefinite absence of senior JEREMIAH BARR, the Grossmont Valley League leader in home runs and RBI, means it's scramble time for the West Hills High coaching staff to conjure a new clean-up batter.
Less than 24 hours after losing one of their standout ballplayers with a knee injury, the Wolf Pack may have found an unexpected answer.
West Hills placed the "welcome" mat out for BRADEN SANFORD, who was summoned as the catcher for a bullpen running on fumes. He also delivered a key RBI double in the 7th inning for an important insurance run to propel the Wolf Pack past host Mount Miguel, 6-3, on Tuesday (Apr. 26).
The triumph moved West Hills (22-7 overall, 3-1 GVL) into sole possession of second place. The Matadors (4-13, 1-1), which had several chances to take the lead despite trailing throughout, dropped into a third-place tie with Monte Vista.
For Sanford, being counted on to hit behind AARON BARKLEY along with his defensive responsibilities behind the plate, just goes with the territory.
"You hate to see someone like Jeremiah go down and we hope to get him back before the season is over," said Sanford. "So for now, we're all playing for him."
After the Matadors scored three times in the 4th, NOAH QUINTANA entered to record the final out, then pitched two additional frames to eventually gain the victory.
When Quintana allowed the leadoff batter in the 7th to reach base, Barkley was called on to stop the next three batters for his CIFSDS leading third save of the season.
Barkley's family also announced that their son will sign scholarship papers with Mississippi Valley State later this week after taking a recruiting visit to the SWAC school over the weekend.
In the 7th, Barkley was hit by a pitch for the second time, placing runners on the corners. However, in protecting Barkley, Sanford doubled the left-field line, driving home ALEX MOORE (lead walk).
Early on, both sides loaded the bases with no one out in the 2nd. However, the lone run saw SAMMY SANDEZ's infield single to third base ring in a run.
Sandez also collected an RBI during a 4-run rally in the 3rd, part of his 3-fot-5 outing at the leadoff spot.
Barkley lined a single to left, part of his 4-for-5 day in reaching base (walk, 2 HBP), scoring on a basehit to center by DAN ALVAREZ. SAM HUGHES walked with the bases loaded to make it 3-0.
Sandez followed with his second RBI, then a wild pitch brought home RANDY JEWELL.
Mount Miguel's only runs were produced by first loading the bases on a walk, an error and a hit batsman in the 4th.
CHRIS CONWRIGHT received a bad-hot single to left, as the ball hit the lip of the grass and bounded high over the shortstop for a pair of RBI. RUBEN PRECIADO-TEJEDA later walked to force home another run before Quintana entered to coax a lazy fly out to center.
The Matadors also had two runners on base in the 6th, with their top hitter, catcher ANDREW MONTIJO, on deck. However, Quintana registered an inning-ending strikeout to avoid Montijo, who went 2-for-4
Montijo, a junior, is being looked at by several schools, including CSU San Bernardino.
– Special to EastCountySports.com
*
SANTANA 10, MONTE VISTA 3 – The 7th ranked Santana Sultans made it look easy as they mowed down Monte Vista in a Grossmont Valley League victory on Tuesday (Apr. 26) in Spring Valley.
Sultans senior DAULTON BARRY allowed only one earned run over six innings while striking out 6, improving his record to 4-1. His ERA stands at 1.32 over 49 innings this season.
BLAKE PRYOR supplied the offensive punch for Santana, going 2-for-2 with a single and a grand slam home run.
The Sultans snapped a 1-1 tie with 3 runs in the 4th inning. JERRY ALESI singled and scooted to second on a sacrifice bunt by NIK MORA. After BROCK ELLIS walked AIDAN RASMUSSON singled to score Alesi. TRISTEN SALINAS followed with a run scoring base hit and the Monarchs left the door open for an unearned run.
After Pryor's grand slam in the 5th the Sultans came out swinging in the 6th. NOAH NUNEZ slashed a base hit and scored on a double by JACOB ODENKIRK. Pryor capped the scoring with a run-scoring single.
Monte Vista picked up an early run on an RBI single by ANTHONY ROSARIO and closed out the game on a 2-run single by JOHN ELIA.
By Bill Dickens, © EastCountySports.com
*
FOOTHILLS CHRISTIAN vs. CLASSICAL ACADEMY – No report for this non-league game.
Grossmont Hills League
COUGARS 7, NORSEMEN 3
Steele Canyon   ab r h bi Valhalla      ab r h bi
Bagdasar lf      4 0 0 2  Dirkes ss      4 1 0 0
Russell 2b       4 1 1 0  CBrown dh      3 0 0 0
Tuck cf          3 1 0 0  Henderson 3b   3 1 0 1
Esquibel 1b      4 0 2 2  Mosier cf      3 0 1 0
Arias c          4 0 0 0  CSt. Clair 1b  2 0 0 1
Row dh           3 0 2 0  Howard lf      3 1 1 0
Logan 3b         4 2 2 0  Fiedler ss     3 3 1 0
CO'Sullivan 2b   3 0 0 0  Alcarez ph     1 0 1 0
RO'Sullivan rf   3 0 1 1  Brinkmeier rf  4 0 2 1
Hageman c        3 0 1 0
TOTALS         34 7 11 5  TOTALS        27 3 4 3

  Steele Canyon (9-10-1, 2-3) 003 220 0 – 7 11 3
  Valhalla        (1-18, 0-5) 010 002 0 – 3  4 3

GWRBI-None. 
E-Fiedler 2, Logan, CO'Sullivan 3. LOB-SC 4, Val 8. 2B-Mosier, RO'Sullivan, Row, Esquibel. SB-Dirkes, Fiedler, Esquibel, Brinkmeier. SF-CSt. Clair. 

PITCHING SUMMARY
Steele Canyon     ip  h  r er bb so
 Nadeau W(1-2)   5.1  3  3  1  0  3
 Luban           1.2  1  0  0  0  0
Valhalla
 Poe  L(0-6)     5.0  9  7  0  2  2
 Paape           2.0  2  0  0  0  0
WP-Nadeau.

Grossmont Valley League
SULTANS 10, MONARCHS 3
Santana      ab r h bi Monte Vista     ab r h bi
Salinas cf    4 0 1 1  FGutierrez 1b    3 0 0 0
Jackson ph    1 0 0 0  AGonzales ss     1 0 0 0
Hernandez 2b  4 0 0 0  Harlow ss        2 0 0 0
Roe ph        1 0 1 0  DGarcia 3b       3 1 1 0
Nunez rf      4 1 1 0  Collis p-1b      2 0 0 0
Calvert ph    1 0 0 0  Rosario 2b       3 1 1 1
Odenkirk lf   5 2 2 1  DSandoval c      3 1 0 0
Alesi 1b      3 3 2 0  Harmon rf        3 0 0 0
Mora c        1 1 0 0  Marquez cf       2 0 0 0
Ellis dh      1 1 0 0  Gulley lf        1 0 0 0
Pryor lf      2 1 2 5  Elia p           1 0 1 2
Miller 3b     4 0 2 1
Rasmusson ss  3 1 3 1
Allen-Fox ph  0 0 0 0
TOTALS     34 10 14 9  TOTALS          24 3 3 3

  Santana     (16-2, 3-0) 010 342 0 – 10 14 3
  Monte Vista (6-13, 2-3) 100 000 2 -  3  3 2

GWRBI-Rasmusson (1).
E-Rasmusson 2, Barry, DGarcia, AGonzales. LOB-Sant 10, MV 6. 2B-Odenkirk, DGarcia. HR-Pryor (1) 5th, grand slam. SB-Odenkirk. S-Moore 2.

PITCHING SUMMARY
Santana          ip  h  r er bb so
 Barry  W(4-1)  6.0  2  1  1  2  6
 Mosburg        1.0  1  2  0  2  0
Monte Vista
 Collis  L      3.1  7  3  3  1  0
 JGutierrez     1.0  3  4  0  2  0
 Elia           2.2  7  3  3  1  2
WP-Collis.

WOLF PACK 6, MATADORS 3
West Hills     ab r h bi Mount Miguel   ab r h bi
Sandez cf       5 0 3 2  Nicasio 2b      2 0 1 0
Lewis lf        1 0 0 0  Preciado lf     2 0 0 1
Craft lf        3 0 0 1  Montijo c       4 0 2 0
Barkley 3b-p    2 1 1 0  Orozco 3b       4 0 1 0
Currione c      2 0 0 0  Pate rf         3 1 0 0
Sanford c       2 0 1 1  Camacho p       4 1 1 0
Wilson 1b       4 2 1 0  Beauzec 1b      2 0 0 0
Alvarez 2b      1 1 1 1  JSandoval ss    2 1 1 0
Jewell ss       2 1 1 0  Conwright cf    3 0 1 2
Hughes dh       3 0 0 1
Carlin rf       2 0 0 0
Moore rf        0 1 0 0
TOTALS         27 6 8 6  TOTALS         26 3 7 3

  West Hills   (12-7, 4-1) 014 000 1 – 6 8 1
  Mount Miguel (4-14, 1-2) 000 300 0 – 3 7 0

GWRBI-Sandez (1).
E-Wilson. DP-MM 2. LOB-WH 13, MM 9. 2B-Jewell, Sanford. SB-Wilson, Sandez, JSandoval. S-Beauzec. 

PITCHING SUMMARY
West Hills        ip  h  r er bb so
 Mickelson       3.2  4  3  3  4  1
 Quintana W(1-0) 2.1  3  0  0  1  4
 Barkley Sv(3)   1.0  0  0  0  0  0
Mount Miguel
 Darby  L        2.2  5  5  5  6  5
 Camacho         4.1  3  1  1  3  0
HBP-by Darby (Barkley 2, Sanford, Moore), by Mickelson (JSandoval).

Non-League
FOOTHILLS CHRISTIAN vs. CLASSICAL ACADEMY – No report