Griffins clinch PCAC championship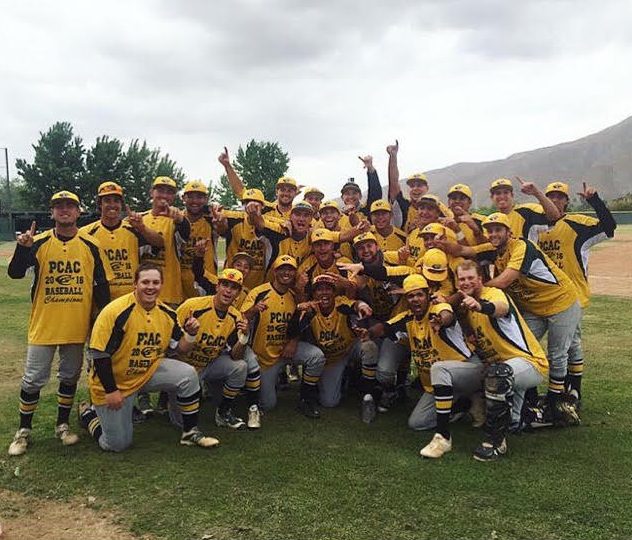 2016 Pacific Coast Athletic Conference champion Grossmont Griffins
2016 GROSSMONT COLLEGE BASEBALL
By Chris Davis
© East County Sports.com
HEMET (4-29-16) — Regardless of what happened at Morley Field between the 13th ranked Palomar Comets and the San Diego City Knights, the 15th ranked Grossmont College Griffins are your 2016 Pacific Coast Athletic Conference champions for baseball after a 11-3 triumph over Mt. San Jacinto Eagles to clinch it on Thursday (April 28).
CRAIG GRUBBE (University City) threw eight strong innings allowing six hits and two walks while surrendering only one earned run for the Griffins (25-10, 18-5 PCAC).  ALEC GODOY (Otay Ranch) came in and finished off the Eagles.
Offensively, for the second consecutive game every single starter got at least one hit as the Griffins pounded out 12 hits in the victory.  ANDRES RIOS (Mater Dei, San Diego) led the charge with three hits.
The green and gold started quickly as they put three up on the board in the top of the first.  CABOT VAN TIL (Patrick Henry) reached on a fielding error, the first of four for the Eagles (19-16, 15-8 PCAC).  TANNER PERRY (Steele Canyon) was hit by a pitch to move Van Til to second.  ROBERT BOSTEDT (Granite Hills) walked to load the bases with no outs.  After a strikeout, TRAVOR BEARD (San Clemente) hit a ball back to the pitcher to knock in Van Til for the first run of the day.  JUSTIN MITCHELL (Granite Hills) reached on another error, allowing Perry to score and Bostedt went to third.  Rios then had the only hit of the inning to right field to drive in Bostedt for the third and final run of the frame.
Mitchell led the top of the fourth with a triple down the right field line.  Rios singled to center field to bring him in along with a 4-0 Griffin lead.
Mt. San Jacinto scored a single run in the bottom of the fifth to make it 4-1 Grossmont.
That triggered something in the Griffins as they would go on to score seven runs over the course of the next three innings to make it 11-1 at the end of eight innings.
The bottom of the ninth saw the Eagles score twice.  Once on an error, then on a double play.  After a single and a walk to put runners on first and second, Godoy got the final out on a strikeout looking.
That also triggered something.  A joyous stream out of the Griffin dugout to celebrate the championship.
The Griffins will finish the regular season with a game at Noel Michelsen Field against the Eagles today (April 28) at 2:00 p.m.
Saturday, the Griffins will learn their playoff fate as that is when the playoff bracket will be released.
Conference Champs #briffins #dingerrrr pic.twitter.com/566kdBWT0M

— Craig Grubbe (@craigjgrubbe) April 29, 2016