Seau, Littleton sign free agent contracts with L.A. Rams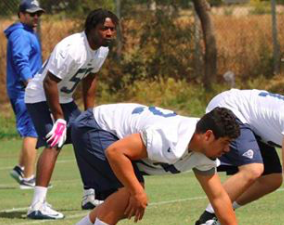 LB Cory Littleton and DE Ian Seau work out on their first day with the Los Angeles Rams
EAST COUNTY ALUMNI – LOCAL FOOTBALL PROS
© East County Sports.com
EL CAJON (5-7-16) — Defensive end IAN SEAU, a product of Grossmont College and Nevada-Reno and the nephew of the late Junior Seau, led the Mountain West Conference with 10 sacks and also had 18.5 tackles for loss in 2015, and has signed with the Los Angeles Rams as an undrafted free agent.
Despite that the 6-foot-3, 250 pound Seau is a bit undersized to play defensive end, the Los Angeles Rams believe he will have a chance to earn his way as a movable pass rushing piece.
In 2015, Seau was named first-team All-Mountain West, and became the first player in program history to be named to the All-MW first or second team in consecutive seasons.
Meanwhile, linebacker CORY LITTLETON, who toiled at Mount Miguel High and the University of Washington, has also signed with the Rams in a quest for a roster spot, likely through special teams, an area he's excelled in the past with 19 tackles there.
In his final year at Washington, Littleton received honorable mention All-Pac 12 notice as a Sam linebacker, racking up 65 stops, 11 for loss, and six sacks. He is seen as athletic with long arms and big hands.