West Hills' Strasburg is All-Star for second time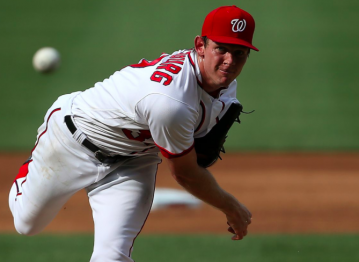 EastCountySports.com staff report
WASHINGTON, D.C. – The Washington Nationals' Stephen Strasburg was named to the National League All-Star team in an announcement made Tuesday evening.
Strasburg, who toiled on the hill at West Hills High and San Diego State,  is a statistically deserving and sentimentally appealing choice given the game will be played in his home town of San Diego.
Strasburg heads home to Petco Park for his first all-star appearance since 2012.
Before he signed his seven-year extension with the Nationals earlier this season, many believed Strasburg would consider a return to Southern California as a free agent this winter. If the Nationals rotation holds, Strasburg would be on six days' rest for the game Tuesday night.
Strasburg, who has an 11-0 record this season, could end up starting the game, since the Giants' Madison Bumgarner could end up not pitching in the contest since he is scheduled to start at home against Arizona on Sunday, just two days before the Midsummer Classic.
Strasburg became the Nationals' all-time strikeout leader earlier this season and is the only qualified starter in the majors with a winning percentage of 1.000. The Nationals have won 17 of the last 18 games he has pitched.
The National League is loaded with starting talent — much of it, it seems, on the disabled list. Strasburg's statistics stand up against the league's elite: His 2.71 ERA is 11th among NL starters. His 123 strikeouts are fifth despite missing two starts. He is holding opponents to a .208 batting average against him, tied for seventh best.
Strasburg is 65-38 over his seven-year career with a 3.05 ERA with a near  5-to-1 strikeout-to-walk ratio for his career.
He also pitched for the United States in the 2008 Summer Olympics, where he won a bronze medal with the squad. He also won a gold medal with the team at the World University Baseball Championships. Later that year, he won the USA Baseball player of the year award. In 2009, he won the Dick Howser Award as the national collegiate pitcher of the year with the Aztecs.
He was drafted No. 1 overall by the Nationals in the June 2009 MLB Draft, subsequently signing a four-year $15.1 million contract with Washington. On May 9, 2016, Strasburg agreed to a 7-year, $175 million extension to remain with the Nationals.
He notably had Tommy John surgery just a few months into his major league career in 2010.