Musgrove returns Trevor's call, delivers for USA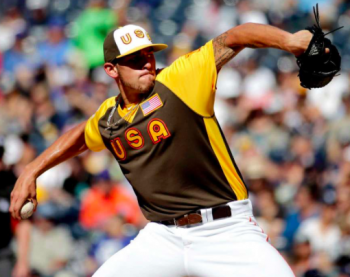 2016 LOCAL BASEBALL PROS
From staff and wire reports
SAN DIEGO – Enjoying dinner with family and friends Saturday night in San Diego's Gaslamp Quarter, Joe Musgrove let a phone call from a number he didn't recognize go to voicemail.
Upon listening to the message, the Astros pitching prospect called back immediately. The voice on the other line was that of former San Diego Padres closer and all-time great Trevor Hoffman, who had phoned to congratulate Musgrove on garnering the start for the U.S. team in Sunday's All-Star Futures Game at Petco Park.
As if his selection to a game reserved for baseball's best prospects wasn't enough, Musgrove enjoyed an especially memorable Sunday starting the annual exhibition at a ballpark that molded his passion for the sport.
The 23-year-old righthander grew up 20 minutes inland of Petco Park in El Cajon, where he attended and played his prep ball at Grossmont High. A few hours before first pitch, he pointed toward the section in the right-field seats where his family used to own season tickets.
"This is where I really developed the dream of playing," he said. "It's Very cool. I'm very excited to be here, especially in my hometown. To be selected to the Futures Game is a big accomplishment. On top of that, to have it in San Diego and to get to play in front of friends and family, it's very special.
Musgrove, the sport's 32nd-best prospect according to Baseball America, tossed a perfect first inning Sunday, needing only 11 pitches. He soaked in the rest of the afternoon from the dugout.
As a kid, Musgrove's first exposure to major league baseball came via Padres games at Qualcomm Stadium. Hoffman and 2007 Cy Young Award winner Jake Peavy were his favorite pitchers for his hometown team. On Sunday afternoon, he spoke with excitement about the prospects of picking the brain of Hoffman, who managed the U.S. team in the game.
"Unless you were here to experience Trevor Time, no one really understands when the lights go out in the stadium and (AC/DC's) 'Hells Bells' comes on," he said. "As a kid, I couldn't wait for the ninth inning with the lead because I knew Hoff was coming in to shut it down."
Eight starts into his tenure in Class AAA, Musgrove (3-3, 4.60 ERA) arrived in San Diego from Fresno on Friday and will stay through Thursday.
"It's an honor just to be invited to the game," Musgrove said. "And then on top of that, it's in my hometown and the place I grew up watching the game and falling in love with it."
Musgrove doesn't have the electric arm of some of the other pitchers in the event, but he has terrific command of his three-pitch repertoire with a 1.1 BB/9 rate over the course of his minor league career.
He sat in the 92-94 range with his fastball and mixed in some good sliders, inducing a trio of weak groundballs for a quick 1-2-3 inning against three of the world's best prospects.
Three Padres prospect also played in the game and showed well in front of their future home park fans.
Outfielder Manual Margot was at the top of the class, scoring two runs and driving in another, but he'll be remembered more for his glove.
In the sixth, Carson Kelly (Cardinals) unloaded on a 94-mph Ricardo Pinto (Phillies) fastball, which seemed destined to land over the 396-foot marker in right-center. Margot had other ideas, however, racing over and reaching over the wall to rob Kelly of a homer.
"He catches the ball like no one else," said fellow Padres prospect Hunter Renfroe. "His ability to cover ground — he's gliding and easy. It's like: 'How the heck did you get to that ball?'"
Carlos Asuaje, of Venezuela, entered the game at third base in the fifth inning and ended up going 2-for-2 with a walk at the plate, scoring a run.
Renfroe, who started in right field, went 0-for-2 with a walk for the U.S. team.