More history for Astros' rookie Musgrove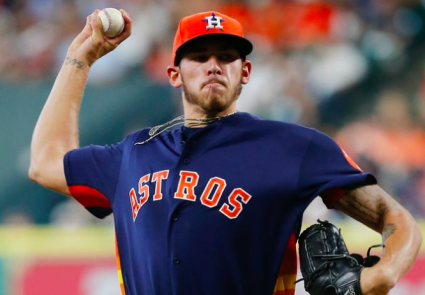 EastCountySports.com staff report
HOUSTON – Rookie Joe Musgrove made Houston Astros' history in his first major league appearance last Tuesday, setting the team record for most strikeouts in a relief debut with eight.
And the tall righty from El Cajon (Grossmont High) turned in another first for the 'Stros franchise on Sunday in his first major league start.
Musgrove became the first hurler in team history to record at least six strikeouts without allowing a walk in his first-ever start.
He turned in his second straight sterling performance, pitching seven strong innings, allowing only one run on five hits. Musgrove now has 14 strikeouts in 11 1/3 innings pitched in the majors.
Overall, for 2016, pitching at Double-A Corpus Christi, Triple-A Fresno and now, the Astros, Musgrove has allowed just 11 walks in 96 1/3 innings, while striking out 101 batters.
Musgrove left the game trailing 1-0 to Toronto, which scored a lone run in the fifth inning, the only run he has allowed in those two appearances. He ended up dueling a pretty good tosser in his own right in Texas' Yu Darvish.
"He's not relying on just his fastball, he has some effective secondary pitches," Houston manager A.J. Hinch said. "He's not gonna back down, he's got some competitiveness to him."
The Astros' offense failed to provide Musgrove with the run support, but they tied the game in the bottom of the ninth to get him off the hook for the loss. Houston fell to the Blue Jays, 5-3, in 11 innings.
Musgrove took the place in the rotation of injured starter Lance McCullers. Musgrove has a 2.74 ERA, 1.04 WHIP, and 87/10 K/BB ratio through 85 1/3 innings this season before being recalled by Houston.
Musgrove is expected to make his next start Friday in Toronto. Word has it Musgrove had to buy his first suit for the road trip.