Highlanders out to make own history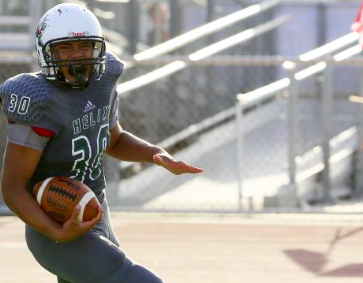 HELIX SENIOR EZEKIEL NOA
2016 EAST COUNTY PREP FOOTBALL – PREVIEW
HELIX HIGHLANDERS
By Ramon Scott
EastCountySports.com
LA MESA – Expectations are always high for the Helix Highlanders.
Sometimes, because of the Scotties' historical reputation, a very successful season for some teams can seem to fall short of the hopes of students and fans at the La Mesa charter school.
Well, make no mistake for this year's group at Helix. The bar has been set not only by the experts, but by the confident Highlanders themselves.
Helix, the defending San Diego CIF Open Divison champions, are the nearly-overwhelming No. 1 choice in the preseason polls around the county.
This despite losing plenty of senior championship talent to graduation and installing a new system under recently hired coach ROBBIE OWENS, who comes in from Colorado, where he led Grand Junction High to a 47-8-1 record over the last eight seasons. He takes over for TROY STARR, who was 83-18-1 with the Highlanders before resigning last season.
"I'm not here to make wholesale changes," Owens said. "You don't have to fix what isn't broken. I want to add value to the tradition that already exists at Helix."
Still, Owens brings with him a no-huddle, power pistol-style offense that shredded defenses in the seven-man passing leagues over the summer, amassing a 36-1 record with four tournament titles.
"There is always going to be some changes with a new coach in town," Owens said. "But I think they've accepted me and we've had a great summer. I think that was the first building block in getting ready for fall.
At the helm of the attack is junior quarterback CARSON BAKER. Baker was the backup last season as a sophomore to MICHAEL AUSTIN, making four appearances, going 21-for-34 for 358 yards with six touchdowns and no interceptions.
Despite the limited varsity experience, Baker is a sure contender for top offensive awards in 2016.
"It was a little slow at first just getting the offense down, "Baker said. "With a whole new system, it took awhile, but it felt like we clicked in summer and we've got it down good."
Two-way star SCOTTIE YOUNG, already bound for the University of Arizona in 2017, had 30 receptions last season for 394 yards and two touchdowns, and is an All-CIF first team performer from last season as a shut-down defensive back, picking off four passes last season.
Junior RASHAD SCOTT caught 20 passes last season as a sophomore, good for 12.8 yards per catch and four touchdowns. He is also a standout defender and was a honorable mention all-league player last season.
Protection up front is led by another two-way star in lineman BLAYKE DE LA ROSA, who had 4.5 sacks last season on the defensive side.
However, the Highlanders undeniable star and immovable force is senior EZEKIEL NOA. The senior was a MVP at The Opening LA enters the season uncommitted and is attracting the attention of college including Wisconsin, Colorado, Illinois, Boise State, Washington State, Nevada, Colorado State and San Jose State.
The 6-foot-6, 220-pounder was a blow-up star – literally – at the The Opening regional camp in Los Angeles this spring and had 6 1/2 sacks last season for the Highlanders and two interceptions. He capped the Scotties' title game win last Dec. against St. Augustine with a pick late in the fourth quarter.
"The bond we have with (Owens) is pretty strong already," Noa said. "There is always room to improve. People are going to say we lost a lot of players from last season, which is true, but they just don't know."
Also returning as a key starter on last year's championship squad is senior defensive back EVAN PERKINS.
Other Highlanders expected to be major contributors this season including two-way lineman WILLIAM PAYNE (Sr., 6-2, 250).
On the offensive side, senior running back KAMERON TIUMALU (5-7, 180) can be expected to shoulder the running load, while senior tight end JAYLEN ARNOLD (6-4, 215) gives Baker a tall target.
Other top defenders include junior defensive back JAYDEN TAUANUU and sophomore MICHAEL SHAWCROFT (6-1, 220) at linebacker, as well as, newcomer LB TYREECE PATANE (5-10, 190), who comes in from Eastlake after catching the Highlanders' attention in a early-season meeting last year.
Senior JONATHAN MILSAP (6-0, 201) is a wide receiver that also plays linebacker.
Senior kicking duties are handled by PK MATTHIAS LAYTON and P KEATON CHASE.
Helix's non-league schedule includes Timpview (Utah), Clayton Valley, of Concord, Eastlake, Cathedral Catholic and Bonita Vista.
The matchup with the Ugly Eagles will be played at Mission Viejo High as part of the 2016 Honor Bowl.