No let up expected for Foothillers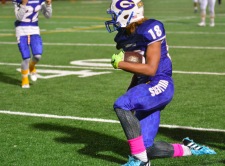 Grossmont senior DOMONIQUE GUEVARA
2016 EAST COUNTY PREP FOOTBALL – PREVIEW
GROSSMONT FOOTHILLERS
By Ramon Scott
EastCountySports.com
LA MESA – Motivation will not be an issue for the Grossmont Foothillers in 2016.
Not following the Hillers stunning exit from the San Diego CIF Division I playoffs at the hands of the Steele Canyon Cougars last November, as the visitors overturned Grossmont's seemingly in-the-bag victory for the second time in a less than a month.
There will be no look ahead to the Oct. 21 meeting between the two teams for 14 returning starters. The experience was too shocking to limit their focus to just one opponent this season. The Foothillers know they have the team to compete deep into the Division I playoffs this season if they can maintain their focus on each and every series.
One main reason Grossmont is primed for success is its up-tempo, spread offense led by returning senior quarterback HUNTER GAINES. Gaines, a 6-1, 190-pounder, threw for 2,100 yards and 22 touchdowns in 10 games last season and is attracting interest on the Division I level.
"If you have a returning starter at QB, you're one-step ahead of the rest of the guys, and fortunately for us, we have Hunter," Grossmont coach TOM KARLO said. "We're going to continue to do what we've done here with our tempo. We want to continue our progression and get deeper into the playoffs.
Grossmont was 7-4 overall last season, but surely felt the sting of a fourth-place finish in the Grossmont Hills League. Karlo, a former Foothillers great under center, is 31-16 (77-46 career) in four years on the summit.
"We have 68 guys and a good mix of returnees and young guys," he said. "Our kids say the most important game is 'the next one.'"
Gaines top target this season will be senior DOMINIQUE GUEVARA (6-2, 195), a second-team All-Hills performer last season, after catching 39 passes, including 10 for touchdowns.
"We plan on working really hard and playing to the best of our ability," Gaines said. "It's a really big family here and we plan on keeping that tradition that we've had over the years."
His protectors include returning senior starters OTTO TALATAINA (6-3, 310), JUSTIN SMITH (5-8, 215),  TOMMY MLYNICE (5-9, 235) and JAMES ROGERS (6-4, 265). Talataina, who doubles on the defensive front, as well, is considered a Division I prospect, according to Karlo.
JAILEN BAILEY, a senior, is expected to be a main part in the Hillers' WR corps, along with junior JOSH MOALA. Bailey had 297 yards of total offense last season, including a pair of touchdowns.
Defensively, senior LB NATE TIAPULA (6-0, 230) and DB RILEY HAVIRD (5-11, 170) lead a veteran squad keen on learning from those quick-turning experiences from late last season.
Tiapula was second in the East County last season with 112 total tackles, while Havird had 85 tackles and four interceptions.
The Foothillers also boast plenty of experience up front with other returning starters ANDREW MINK (6-2, 225) and BRANDON ARMS (6-4, 264), both of whom were honorable mention all-league players as juniors. Also back is starting defensive lineman LUKE MORSE (6-1, 195).
Tiapula's partner at linebacker is returning senior starter CHRIS LAETHEM (5-7, 165), while returning senior starter RAY PERRAULT (5-9, 165) joins Havird in the backfield.
"We've been working really hard, we have our team in the weight room every day," Leather said. "We had a tough loss in the quarterfinals last year and we just want to get back at it."
Mink and Laethem both had 45 tackles and five sacks last season. Mink also recovered three fumbles. Perrault had 42 tackles and three interceptions in '15.
Senior linebacker HAIASY KENDALL (6-0, 215) has transferred over from Helix, while junior DBs ANDREW LIRA (5-11, 160) and ZACH JONES (5-11, 185) are top defensive newcomers, according to Karlo. Grossmont's JV went 8-2 overall last season.
Grossmont's non-league schedule includes Morse, Otay Ranch, Sweetwater, Lincoln and Olympian.