Vaqueros on fast track back to success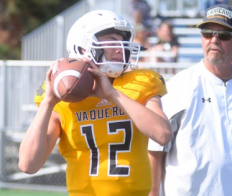 QUARTERBACK PHOENIX CATES UNDER THE EYE OF COACH RON BURNER / CHRISTOPHER SMITH-MBA SPORTS
2016 EAST COUNTY PREP FOOTBALL – PREVIEW
EL CAPITAN VAQUEROS
By Ramon Scott
EastCountySports.com
LAKESIDE – The El Capitan Vaqueros felt the after-effects last season that a lot of teams have suffered after reaching an unprecedented playoff run the previous season.
El Cap crashed hard to a 2-9 record overall and failed to record a Grossmont Hills League win after its incredible CIF state playoff run in 2014, but they way things work nowadays in Lakeside, the Vaqueros are set to re-embark on its winning ways under coach RON BURNER (12th year, 76-53-2) and his staff.
There was no way El Capitan wasn't going to take a hit after losing 14 All-East County players from the State finalist team. Now, in 2016, the Vaqueros should have the experience to be far more of a competitive entity game-in-and-game-out with 12 players back from last season and a healthy program behind them
Led by senior linebackers OSCAR VALENZUELA (6-3, 218) and DYLAN HELMHOLTZ (6-2, 212), El Cap should turn the tables somewhat this season after being on the wrong end of four shutouts in 2015.
Valenzuela had 48 tackles, seven for loss, and five sacks last season, while Helmholtz had 43 tackles, 11 for loss, and also recorded five sacks. Helmholtz is getting attention from SDSU, Idaho, Boise and San Jose State, while Valenzuela is getting looks from the Aztecs, Northern Arizona, Sacramento State and Colorado, according to the coach.
"We have two of the best linebackers in the county," Burner said. "That group is going to be one of our strengths."
Versatile junior returnee CONNOR ROOSA (5-10, 205) is also in that group, as well as, junior newcomer COLE ROELOFZ (5-10, 175) and junior CHRIS MCDONOUGH (5-9, 190).
Junior JARED STONE (6-4, 264) heads a young group up front of the defensive side.
Stone, a two-way performer, is already good enough following his sophomore year which saw him named honorable mention all-league, that San Diego State, San Jose State and USD have already inquired about him, Burner noted.
Junior returnee ANTONIO OLIVIERI (6-3, 210) and junior newcomer ISAIAS MANCILLAS (6-2, 180) bolster the D-line, which will try to utilize their speed and aggressiveness to make up for their relative youth, Burner says.
A young, but skilled defensive secondary is led by returnee COLTON SANDOVAL (6-2, 185), a safety, and junior STAR IULI, who also shined offensively at the SDSU Passing League.
Center DOMINICK SALAZAR (5-10, 225) leads a veteran offensive line, which returns four three-year starters.
Seniors JEFF ABBOTT (6-4, 26) and TANNER DONAHUE (6-3, 235) also provide the protection up front for senior quarterback PHOENIX CATES. Joining them is senior ROMAN VILLA (5-11, 255).
Cates threw for over 1,100 yards last season and his top target – senior JAVIER VIDALEZ (6-1, 175) – is one of the leading returning receivers in the East County after hauling in 34 catches last year for 470 yards.
Senior receiver RYAN DUMAS (6-3, 185) also handles the punting duties.
Meanwhile, Roosa, a hard-nosed runner who made honorable mention all-league last season, and senior slotback STEVEN HOSAKA (5-9, 165), combined for 687 total yards from scrimmage last season.
Sophomore back YAPHET YOKLEY is an exciting prospect, according to Burner, while junior slot JOHNNY HAYNES and FB Olivieri also see time in the backfield.
The Vaqueros participated in the SDFNL Kickoff Classic scrimmage on Saturday night, taking on Lincoln, at La Jolla Country Day.
El Cap led 22-8 at halftime behind the starting unit, then still led 22-14 after three quarters before the Hornets earned a 26-22 win in the highly-attended practice session.
The highlight for the Vaqueros may have been a 38-yard touchdown pass from Cates to Dumas, that the senior went up for  on a fade down the left side, only to slide in front of the off-balance defender, coming down with the aerial for the final yards into the end zone.
Starting the season looking up at the teams ahead of them in the Grossmont Hills League, the Vaqueros' non-league schedule is of utmost importance as a sure playoff contender in Division 2.
El Cap faces Mater Dei, Valley Center, Patrick Henry and Chula Vista on the non-conference schedule.
"We're going to shock a lot of people," Burner said.