Pack is back in rugged Hills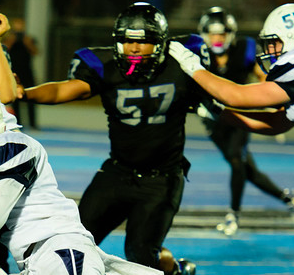 West Hills senior lineman Oscar Morales
2016 EAST COUNTY PREP FOOTBALL – PREVIEW
WEST HILLS WOLF PACK
By Ramon Scott
EastCountySports.com
SANTEE – Welcome back to the Grossmont Hills League, West Hills.
The biggest off-season news for the Wolf Pack came with their inclusion in the noted tougher group of the Grossmont Conference.
It's not like the school from west Santee hasn't been here before. There were last seen in this circuit just as recently as 2013, when the Pack finished third at 3-2.
But coach CASEY ASH (29-18 career record at West Hills) knows that a successful start in the non-league games are crucial to the Wolf Pack's confidence and chances for the Division 2 postseason, since West Hills took a graduation hit at the skill positions from last year's 5-6 squad, which finished second in the Valley League.
The Wolf Pack's strengths to open the season are in the trenches, as three all-Grossmont Valley League players return to the front lines for their senior season, including second-team All-East County two-way performer OSCAR MORALES (5-10, 255), a menacing nose guard.
Two-way man KEVIN AH KEY (5-11, 225) and OL ZACHARY WEAVER (6-3, 262) were both second team all-Valley players in 2015.
"West Hills Wolf Pack football in 2016 is going to be a real thrill," Morales said. "It's going to be a ride that no one else is going to experience. We're here and we're going to bring it."
Senior RB/DB JOVAN BEA (5-7, 175) is one of the notable returning offensive pieces, rushing for 209 yards last season and a touchdown.
Expected to guide the Wolf Pack is junior HAYDEN ROACH, up from junior varsity. He does have the luxury of a few specialists that played a role on last year's productive offense.
Junior RYAN JEWELL (6-0, 170) caught 13 passes for 120 yards, while seniors TYLER WILSON (6-1, 185) and MITCHELL CARLIN (5-11, 168) combined for six receptions. All three also line up in West Hills' defensive backfield. Carlin had an interception last season.
Also in the backfield is senior GRIFFIN GUINN, who rushed for 107 yards and scored a touchdown rushing and receiving.
Top newcomers PHILIP CORNELIUS, a senior transfer from the Southern Section power West Torrance, and LUCAS AH KEY, a junior, are two-way lineman, while junior AUSTIN DILL (slot/DB) ran exceptionally well with the ball in a four-team scrimmage last week.
"We have a lot of tenacity and we want to win, That's one of our great attributes as a team," Bea said. "We work out real hard in the weight room and try to maximize our effort every day."
West Hills' non-league schedule includes The Mayor's Trophy game against Santana on Sept. 2, as well as, early-season games against Mount Miguel, Southwest (El Centro), Mission Bay and Serra.