Wolf Pack falls in desert on last-second field goal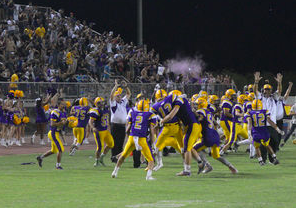 The Southwest High Eagles and their fans celebrate following the game-winning field goal Friday night against West Hills.
2016 EAST COUNTY PREP FOOTBALL
SOUTHWEST (EL CENTRO) 24, WEST HILLS 21
© EastCountySports.com staff report
EL CENTRO (8-27-16) — The West Hills High Wolf Pack took a trip to the desert on Friday (Aug. 26) to start their 2016 prep football campaign.  Head coach CASEY ASH had high expectations but knew he would be in for a fight.
He would be right.
The Wolf Pack stood toe-to-toe with the equally game Southwest Eagles for 3 quarters, seemingly taking the momentum late in the final stanza.
But the Pack's hopes would be dashed by a last-second Eagle field goal by senior kicker George Carvajal to fall 24-21 in El Centro.
Senior JOVAN BEA started the festivities with a quick dart left and a burst up the right hash. Thirty two yards later he finished with a flip into the end zone. While the referee didn't seem amused, the West Hills faithful were on their feet.
West Hills 7-0.
But with 51 seconds left in the half, Southwest managed to tie the knot at 7-7. Time would prove to be a big factor in this game.
At the 8 minute mark in the 3rd quarter, Southwest took a 14-7 lead. The Wolf Pack response was a 13-play masterpiece led by QB HAYDEN ROACH – running, passing and directing his team to a 14-14 draw.
Who would blink first? Wasn't Southwest.
The Eagles struck quickly on a 67-yard bomb from Cameron Jungers to senior wide receiver Tyler Saikhon to go up 21-14.
But Bea wasn't quite through. He danced and darted his way through what seemed like hundreds of defenders into the end zone to tie this one up 21-21 with only 1:42 left in the 4th.
But Jungers had other ideas. He rambled the better part of 70 yards on a keeper and the Eagles were in shouting distance of a win.
With time expiring, the last-second field goal was successful, giving the Eagles a 24-21 win.
"It wasn't the two big plays really," Ash said. "Physically, we got handled. We expect to be better than this and we will be."
With about 6 minutes left in the game, the Eagles were leading 21-14 with fourth down and 1 yard to go to score against the Wolf Pack. The Eagles elected to go for the touchdown and were stopped by the Pack defense.
With about 20 seconds left in the game, the Eagles marched to inside the Wolf Pack's 5-yard line.
While the Wolf Pack opened the scoring in the second quarter, the Eagles answered with a 5-yard quarterback sneak by Jungers to tie the game in the first half.