Eagles' cash in with big-play defense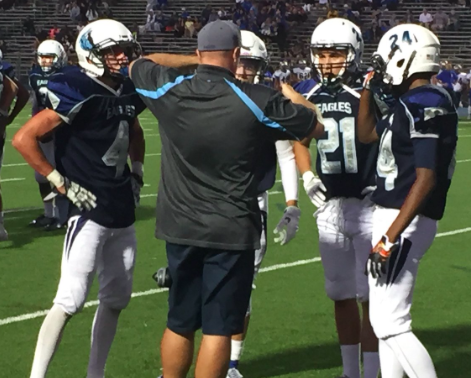 Eagles players listen to coach KELLEN COBBS during a time out Friday night.
2016 EAST COUNTY PREP FOOTBALL
GRANITE HILLS 14, SAN PASQUAL 12
By Bill Dickens
EastCountySports.com
EL CAJON (8-27-16) — Granite Hills turned to its defense to shut down visiting San Pasqual 14-12 in a battle of ground-oriented teams in Friday's (Aug. 26) season opening game at Valley Stadium.
The East County-based Eagles counted on its defense to bring home the victory over the birds of the same feather.
In recent seasons Granite Hills has relied on its offense to produce victories. That may not be the case this year.
Mediocre offense that produced only 160 yards would not have been enough to sideline San Pasqual. That's why coach KELLAN COBBS banked on his defense to carry Granite Hills to the victory circle.
Linebacker DERADE AQILI intercepted a pass and returned it 11 yards for a touchdown. It was a combination effort as the pass was batted by RICKY GAMINO and fell into the hands of Aqili.
The Granite Hills theft brigade came away with interceptions by ELYJAH PALOMERA, who returned the ball 20 yards, and CAMERON BARNES as well as Aqili.
"Our defense was key to the game for us," said Cobbs.
In addition to the three interceptions the Eagles got a key defensive rush from TYLER GONZALEZ, who forced two fumbles. One of those loose balls was recovered by MATT FAUBEL.
"It's always great to get the first win off our chests and move on to the second or third game," said Gonzalez. "We're running good this year."
With 10 seconds left, Gonzalez sacked San Pasqual quarterback Nick Hurst, forcing a fumble, which Faubel covered.
"I just saw the ball there and did what I am taught to do at practice, just get to the ball," said Faubel. "I came up with it and it was the best feeling ever."
On the offensive side, sophomore quarterback CHRIS OSTRENG sparked the Eagles. He rushed for 75 yards on 4 carries including a 42-yard TD scamper with a great downfield block from CHANCE ALM.  The score was set up by a 33-yard run from Gonzalez on a draw play.
"It's a really great feeling with our team going out there, doing our best, putting in work," said Ostreng, who was 4-for-7 passing. "It was a team effort."
JAKE SIEGFRIED, who has played quarterback as well as running back, rushed for 65 yards on 8 carries.
The Eagles' track meet continued as KOLLIN MENZIES sprinted for 34 yards on 6 carries, and Gonzalez piled up 34 yards on 2 carries.
SETH ALLISTER, who capped the rushing game with 4 yards on one carry, also returned a kickoff for 20 yards.
The longest play of the night for the Eagles was a pass completion for 50 yards from Ostreng to MASHAL WASIMI.
NOAH JOUBERT had a blocked field goal attempt in the third quarter for the host Eagles. Granite Hills also blocked the PAT after San Pasqual's first TD of the game.
After a San Pasqual 26-yard touchdown pass cut the lead to 14-12, a pass on the two-point conversion attempt sailed out of the corner of the end zone.