Pats have the goods to turn back 'Cats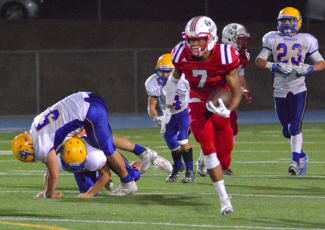 CHRISTIAN'S THEO GOODWIN RETURNS A KICKOFF 88 YARDS FOR A TOUCHDOWN AGAINST BRAWLEY SATURDAY NIGHT. / EASTCOUNTYSPORTS PHOTO
2016 EAST COUNTY PREP FOOTBALL
By Ramon Scott
EL CAJON – Christian High's THEO GOODWIN had a momentum-halting 88-yard kickoff return after visiting Brawley had closed a three TD lead to within 28-21 midway through the third quarter, as the Patriots went on to win the season-opener, 42-21, over the Wildcats at Granite Hills Stadium Saturday night.
In the first half, Goodwin was on the receiving end of the Patriots' other crowd-roaring score – a TD on double pass of 70 yards from ETHAN CONTRERAS, as Goodwin ran right under the lofted aerial from the back and sprinted down the left side 40 yards after short back screen from BRADLEY JEREMIAH. The PAT was good to tie the game at 7-7.
Brawley had a 55-yd interception return for TD at 9:17 of the first by George Mickle for a 7-0 lead to stun the eager hosts.
After the Patriots' gadget TD, they moved down to the 'Cats' 16 after completions to Goodwin and Contreras. Then JOEY MORONES banged his way down to the 3 before he crashed in for the score at 6:01 of the first. The PAT was good for 14-7 lead.
GARRETT NIELSEN had a TD reception from Jeremiah with 1:46 left in first quarter to put the Pats up 21-7.
End of 1 – Christian 21, Brawley 7 … Garrett Nielsen TD reception with 1:45 left in first makes it 21-7. pic.twitter.com/1pCR4pdq4c

— Ramon Scott (@RamonScottPoker) August 28, 2016
TSHOMBRE CARTER picked up a first with a rush on fourth down to the 20 of Brawley, then had a TD run with 5:34 left in first half. The PAT good for 28-7 lead.
Tshombre Carter carries it 9yds. for another PATRIOT TD!!! 28-7 Christian!!! 5:34 left in 2nd Q.!!! pic.twitter.com/fjZPXfIB76

— CUSSDPatriots (@CUSSDPatriots) August 28, 2016
Brawley's Austyn Gutierrez had 79-yd TD at 4:47 of the second, bringing the Wildcats to within 28-14.
Brawley moved past midfield on their first series of the third, and had a 4th down conversion to the CHS 34.
The 'Cats then converted another 4th down try, as Gutierrez went 22 yards down to the 6, then on the ensuing play, ran a QB keeper for a score at 6:28 of third. The PAT was good and now just 28-21 Pats.
That set up Goodwin for his first of who knows how many returns for touchdown this season for the elite speed burner. It's tough enough to put a body on Goodwin, much less catch him from behind, forget it. A few of the Wildcats were actually bowling over each other.
"Adrian Petty returned the opening kickoff back against Brawley last season, so the first time I got it, I had to do the same thing for the big bro," Goodwin said. "We had a lot of tempo and our defense set the tone. We were physical. We showed what we we're about."
Brawley had shown enough resiliency to possible eke back into the game with a fourth quarter stop, but a roughing penalty on a punt extend a Christian drive at their own 39, then the Patriots beautifully worked a clock-chewing drive that resulted in a short touchdown run by ALEX GONZALEZ with just over two minutes to go.
Christian RB Alex Gonzalez with TD run with just over 2 min. left to give Patriots a 42-21 lead over Brawley. pic.twitter.com/W3tMNg6ZQJ

— Ramon Scott (@RamonScottPoker) August 28, 2016
On the series, Jeremiah hit Goodwin with a short pass to their own 48, then he later found Contreras to take the ball down to the Brawley 35 with 7:41 remaining.
Jeremiah called his own number on a fourth-down try to keep the ball and clock moving, then hit Nielsen with a short pass for a first-and-goal with 3:15 left.
JONATHAN STINE had a sack with 12 seconds before halftime. AUSTIN MANION and Stine combine for third down sack in the first quarter.
"We just need to keep to keep working on our conditioning to we can fly to the ball all game," Stine said. "We gotta little gassed towards the end of the first half and a little bit in the second half."
Seniors CHASE HANDLEY and JAMIR HAILEY teamed with Stine and Manion for a pretty strong night on the offensive line.
"I was a little worried they night beat us," Manion said. "They just kept coming at us all game.
Carter had six carries for 62 yards before leaving early in the second half with a turned ankle.
Morones pounded his way for 58 yards on 13 sorties.
Jeremiah was 13-for-16 throwing for 143 yards, while Contreras who also threw a 20-yard completion, had three catches for 36 yards.
Goodwin racked up 101 yards on four catches, while Nielsen had six receptions for 70 yards.
Sophomore LB BRYCE RIEPL was super impressive with four tackles and a sack.
The Patriots were hampered by three personal foul penalties in first half.