Cagle is back, and apparently so are Griffins
Updated: September 4, 2016
2016 GROSSMONT COLLEGE FOOTBALL
By Bill Dickens
© EastCountySports.com
SAN DIEGO (9-4-16) — Grossmont College opened the season with an offensive eruption led by freshman quarterback BRAD CAGLE who helped the Griffins produce nearly 500 yards Saturday night (Sept. 3) and a 49-21 knockout of host San Diego Mesa College.
This was Cagle's first game since leading El Capitan to a 14-1 record and the California State Bowl Game finals in 2014. He was coming off an injury of two years ago but did not appear to have lost his marksmanship as he completed 19 of 31 passes for 355 yards and 4 touchdowns in his Grossmont College debut.
"I was a grey shirt last season but I'm pretty pleased about helping out team to a good start like this," said Cagle. "We were a little shaky and committed too many penalties in the early going, but once we got clicking in the second half we were able to put the game away."
Overcoming a bevy of penalties, Grossmont managed to take a 15-0 first quarter lead. PERRY AFATO scored on a 1-yard plunge with 8:20 remaining in the first period.
Then Cagle took to the air. He fired a 7-yard touchdown pass to QUINTON VINZART that was capped by a 2-yard pass conversion to DAN JOHNSON to end the quarter.
After that the game turned into an offensive ping-pong match. Cagle hit SEBASTIAN SMITH for a 51-yard TD score and JABRIL CLEWIS for a 9-yard scoring strike.
It wasn't until the fourth quarter when the Griffins went on a 21-0 scoring spree to put the game on ice. After Cagle fired a 15-yard scoring strike to ADRIAN TOLBERT, the Griffins put the game away on a 105-yard interception return by freshman JORDAN ELLIS (Valhalla), electrifying the crowd.
It was a Grossmont College record interception return. Ellis stepped in front of the intended Mesa receiver and broke into an end-to-end sprint with the Olympian receiver in hot pursuit. Not only was it a school record, it was the second interception of the night for Ellis.
"No question that was the key play of the game," observed Cagle.
Back-up quarterback SPENCER MOYER added a stinger at the end of the game as he connected with Tolbert for an 83-yard touchdown strike. Tolbert finished the night with 4 catches for 157 yards and 2 touchdowns.
Not to be overlooked was multi-talented running back NEHEMIAH BROWN, who rushed for 62 yards on 16 carries in a game that was a penalty fest. Brown had two touchdowns nullified by the officials despite garnering 136 total yards.
"It was pretty frustrating," Brown admitted.
He had a punt return wiped out on a block to the back call, and a screen pass for a touchdown erased on a holding infraction. Had Brown reached the end zone without flags flying Grossmont would have won in a rout.
Brown missed most of last season with a hamstring strain but believes he's back at full strength and will be "fit to play every game."
"We have a great bunch of guys and I think we should have an outstanding season," he added.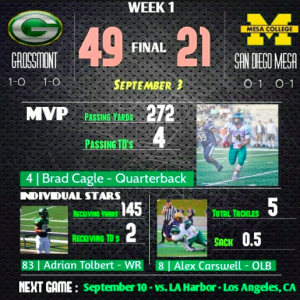 GAME 1:            Sept. 3 – Grossmont (1-0) 49,  San Diego Mesa (0-1) 21
                                      1st             2nd             3rd                  4th         TOTAL PTS         AVG
GRIFFINS                    15                6                 7             21                49                    49.0
SAN DIEGO MESA     0                7               14               0                 21                    21.0
SCORING SUMMARY 
1st Qtr                                                                                                                                                    GC     SDM
GC             Perry Afato 1 Run; Richard Estevez  kick                                                                        7            0
                       (drive: 10 plays, 74 yds)
GC             Michael Ledesma 7 Pass from Brad Cagle; Dan Johnson pass from Cagle                  15           0
                     (drive: 7 plays, 56 yds)
2nd Qtr
GC             Sebastian Smith 51 Pass from Cagle; Estevez kick failed                                                  21          0
                     (drive: 5 plays, 78 yds)
SDM         Darryl Dave 55 Pass from Nick Plum; Bryce Pasky kick                                                   21          7
                     (drive: 6 plays, 77 yds)
3rd Qtr
SDM         Michael Green 7 Pass from Plum; Pasky kick                                                                     21        14
                     (drive: 1 play, 7 yds)
GC            Jabril Clewis  11 Pass from Cagle; Conner Erwin kick                                                     28         14
                     (drive: 8 plays, 60 yds)
SDM         Tyler Crayton 13 Pass from Plum, Pasky kick                                                                  28         21
                     (drive: 7 plays, 40 yds)
4th Qtr
GC            Adrian Tolbert 16 Pass from Cagle; Erwin kick                                                            35         21
                        (drive: 6 plays for 81 yds)
Gro            Jordan Ellis  105 Interception Return; Erwin kick                                                         42          21
Gro            Adrian Tolbert 83 Pass from Spencer Moyer; Erwin kick                                             49          21
                         (drive: 3 plays, 87 yds)
TEAM STATISTICS                 GC            SDM
FIRST DOWNS                             18                14
Penalty by/Yards                    14-130          11-133
Sacks by/Yards                            2-7              3-33
Rushing TDs                                    1                   1
Fumbles                                        2-2                1-1
Time of Possession                   23:32            20:10
2016 Grossmont College Football Schedule & Scores
2016 GROSSMONT COLLEGE FOOTBALL
SCHEDULE
Date      Opponent                      W/L       Rec. / NSL
Sept. 3   Grossmont 49, Mesa 21         W        1-0
Sept. 10  at LA Harbor, 6
Sept. 17  El Camino at Grossmont, 3
Sept. 24  Chaffey at Grossmont, 3
Oct. 1    Grossmont at Canyons, 6
Oct. 8    Bye
Oct. 15  *Grossmont at Fullerton, 1
Oct. 22  *Orange Coast at Grossmont, 1
Oct. 29  *Saddleback at Grossmont, 1
Nov. 5   *Grossmont at Golden West, 7
Nov. 12  *Palomar at Grossmont, 1
Bold = Home games
* = National Southern League
RUSHING               GP   NO   YG    YL  NET        AVG          TD            LG      YPG
Nehemiah Brown         1     20     77       3      74            3.7             0            8           74
Nolan Minfield             1       3     14       0      14            4.7             0            7           14
Marshall Faulk, Jr.       1       2       7       2        5           2.5             0            7             5
Brad Cagle                   1       5     42    -23       -4            —             0            7           —
Perry Afato                   1       1       1       0        1            1.0             1            1             1
Austin Smith                 1      -1       0      -1       -1            —             0            —          —
Totals                           1     30   141    -19      89            3.0             1            30         94
PASSING                GP    PA    PC         PI    P CT. YDS        TD        LG       YPG
Brad Cagle                   1     31     23          1     .742    359            4          51         359
Spencer Moyer             1       3       1          0     .333      83            1          83           83
Totals                           1     34     20          1     .588    442            5          83         442
TOT OFFENSE      GP          Rush    RTD    Pass   PTD      Plays     YDS       YPG
Brad Cagle                   1               -4          0        19        4          36        355         355
Spencer Moyer             1                1          1          1        1            3          83           83
RECEIVING           GP   NO          YDS          AVG       TD       LG          YPG
Adrian Tolbert             1       4            157              39.3       2        83            157
Nehemiah Brown         1       4              74              18.5       0        22              74
Sebastian Smith            1       2              84              42.0       1        51              84
Jabril Clewis               1       4              39              19.5       1        30              39
Marshall Faulk, Jr.       1       2              33              16.5       0        25              33
Michael Ledesma         1       3              26                8.7       1        12              26
Marcelluz Smith           1       1              22              22.0       0        22              22
Quinton Vinzart            1       1                7                7.0       0          7                7
Totals                           1     18            442              24.7       5        83            442
PUNT RET.             GP   NO     YDS         AVG   TD    LG           YPG    
Nehemiah Brown         1       2     27            13.5        0     16          27
KICK RET               GP   NO YDS         AVG        TD      LG        YPG
Nehemiah Brown         1       2     45           22.5            0          30        22.5
Kurtis Brooks               1       1     20           20.0            0          20         20.0
PUNTING               GP   NO          YDS                 AVG      LG       BLK     In 20
Blake Lester                 1       3            113                  37.7        40           0           1
Team                            1       1              26                  26.0        26           0           0
KICK Scoring          GP    XP XPA    FG    FGA    11-25    26-35    36-40      41+
Connor Erwin               1       4       4       0        0             0            0        0           0
Richard Estevez           1       1       2       0        0             0            0        0           0
SCORING               GP    TD    FG   FGA   XP   XPA   2Pt     Saf          TOT PTS
Adrian Tolbert             1       2       0       0       0       0       0        0                 12
Perry Afato                   1       1       0       0       0       0       0        0                   6
Michael Ledesma         1       1       0       0       0       0       0        0                   6
Sebastian Smith            1       1       0       0       0       0       0        0                   6
Jabril Clewis               1       1       0       0       0       0       0        0                   6
Jordan Ellis                  1       1       0       0       0       0       0        0                   6
Richard Estevez           1       0       0       0       1       2       0        0                  1
Conner Erwin               1       0       0       0       4       4       0        0                   4
Dan Johnson                 1       0       0       0       0       0       1        0                   2
ALL PURPOSE         GP    RU          REC      PR        KR          YDS            TD       YPG
Nehemiah Brown         1     74              74      27          45             220              0        220
INTERCEPTIONS          GP  INT            YDS    TD     LG
Jordan Ellis                           1       2             110      1       105
Luqman Barcoo                     1       1                 0      0           0
Perry Sherrod                        1       1                 0      0           0
FUMBLE RET        GP   NO YDS         AVG      TD     LG              YPG
None