Griffins, Seahawks may play football in between penalties
Updated: September 9, 2016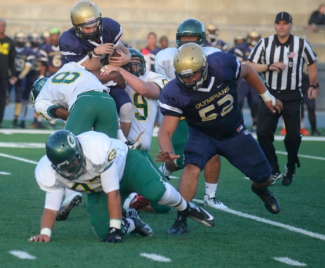 Grossmont's Alex Cardwell (8) and Dominic Lewis-Juarez sack the Mesa quarterback last Saturday. / photo by Christopher Smith - MBA Sports
2016 GROSSMONT COLLEGE FOOTBALL 
By Bill Dickens
© EastCountySports.com
WILMINGTON (9-9-16) — A pair of 1-0 teams meet on Saturday afternoon (Sept. 10) when Grossmont College travels to Wilmington to face L.A. Harbor College.
The Griffins opened the season with a 49-21 win at San Diego Mesa College, while the Seahawks pummeled ECC Compton, 38-6.
The win lifted Grossmont back into the JC Athletic Bureau coach's poll after the opening weekend. The Griffins debuted at No. 30 following the win. L.A. Harbor also attracted enough attention to garner votes to rank 37th in the initial rankings.
Former El Capitan star BRAD CAGLE, coming off a broken leg two years ago in the CIF state championship game, completed 19 of 31 passes for 355 yards and 4 touchdowns in his Grossmont College debut.
Meanwhile former Valhalla High star JORDAN ELLIS thrilled the crowd with a GC-record 105-yard scoring interception return that locked up the victory. He had two picks on the night.
The performance earned the 6-foot-1, 165-pound freshman Southern League Defensive Player of the Week honors.
PERRY AFATO scored a touchdown for Grossmont, as did QUENTIN VINZART.
Cagle threw a touchdown to SEBASTIAN SMITH for a 51-yard score and JABRIL CLEWIS caught a 9-yard scoring strike from the quarterback.
Cagle also threw a 15-yard scoring pass to ADRIAN TOLBERT.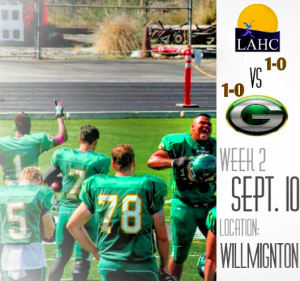 Back-up quarterback SPENCER MOYER, from West Hills High, entered at the end of the game and connected with Tolbert for an 83-yard touchdown strike. Tolbert had 4 catches for 157 yards in the opener.
Grossmont running back NEHEMIAH BROWN rushed for 62 yards on 16 carries in the game. Brown had two touchdowns nullified by penalties, including a punt return. He missed most of last season with a hamstring injury.
L.A. Harbor opened the season with a 38-6 win over ECC Compton.
The Seahawks played a plethora of players in the contest, as the Seahawks spread the ball among eight different receivers and seven different running backs.
L.A. Harbor had 417 yards of total offense, but allowed 383 yards despite not allowing a touchdown until under five minutes left in the game.
The key in the Seahawks' victory was the seven turnovers they forced, including four fumble recoveries. However, Harbor was penalized a ridiculous 27 times for 299 yards.
Griffin Graffiti:  Grossmont leads the all-time series against the Seahawks 3-1.