Things got Ugly in Helix Honor Bowl win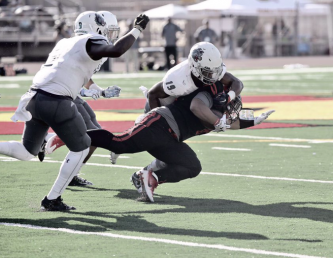 HELIX'S SCOTTIE YOUNG MAKES A TACKLE AGAINST CLAYTON VALLEY SATURDAY. / photo by Patrick Takk - OCSidelines.com
2016 EAST COUNTY PREP FOOTBALL
2016 HONOR BOWL
HELIX 13, CLAYTON VALLEY 0
By Ramon Scott
EastCountySports.com
MISSION VIEJO – One would think it would be a joy and a privilege to participate in an event such as The Honor Bowl football game at Mission Viejo High School.
However, thanks to the defenses of both Helix Charter and Clayton Valley Charter Saturday afternoon, the team's offenses made it look like a pain-staking chore.
How defensive-minded was the Highlanders' 13-0 win over the Ugly Eagles, of Concord?
Consider that Clayton Valley trusted their stoppers so much against Helix's vaunted attack that they elected to go for a fourth-and-eight from their own three with just under two minutes to go before halftime.
They were stopped.
Helix managed a 19-yard field goal from veteran MATTHIAS LAYTON to take the 10-0 lead late in the first half.
Did we say special teams?
Let the record show that Helix superstar defender EZEKIEL NOA was named the game's Most Valuable Player, but more likely the award could have gone to the Highlanders' junior punter KEATON CHASE.
But barring maybe a last-second, booming field goal, who's going to give an MVP award to a kicker?
And it was a special teams play – or rather, non-play, that may have been a turning point in this one, too.
Clayton Valley had apparently blocked a field goal attempt late in the first half and returned it for a touchdown, but there was a clear reason that some of the Highlanders had already dropped the pursuit.
A rather obvious flag against the Ugly Eagles for running into Layton was going to bring the ball back.
That set up the senior for a second attempt at a 35-yarder and he converted this one for the 13-0 halftime advantage.
After a roughing the kicker call @HelixFootball gets a 35yd. FG. It's 13-0 at the half. @SDFNLMagazine #HonorBowl pic.twitter.com/8mV5LWE7M5

— Eric Williams (@WBKsports) September 4, 2016
Helix couldn't even use a "regular" offensive play to score the game's only touchdown, having to resort early to a well-designed flea flicker that resulted in a long pass from quarterback CARSON BAKER to RASHAD SCOTT.
That was before the Ugly Eagles realized that they were able to stop nearly every Helix offensive play, much less, every series.
With Baker split out to the left as a receiver, ISAIAH WOODEN took a pitch for an apparent reverse, which he flipped to Baker in a perfect throwing position. By then, Scott has slipped behind a confused defender and ran under the easy score, as Helix eventually led 7-0 after the first quarter.
@HelixFootball gets on the board first with a flea-flicker from @Cbakess9 to @Rvficki. 7-0 early 1st. @SDFNLMagazine pic.twitter.com/K2PP2ygeSG

— Eric Williams (@WBKsports) September 3, 2016
Chase sliced a punt that went out of bounds at the 8-yard line in the second quarter to set the field position for a most-bizarre sequence late in the first half.
After Clayton Valley stopped Helix with some impressive defensive work on four near-goal line tries, including a goal line stop of a plunging Noa on fourth down, the Ugly Eagles tried mightily to work their way out of the jam against the Highlanders' suffocating unit.
A shifty pacific wind had already put Clayton Valley's punting unit likely on the shelf for most of the game, which made Chase's feats for the Scotties even that much more impressive.
Helix was certainly going to get good field position with under two minutes to go before halftime, although the offense was showing no signs of progression against CV's D, either.
No fear from Clayton Valley coach Tim Murphy, as he kept his wing-T offense on the field for a fourth-and-8 from its own 3-yard line.
Sure enough, the Ugly Eagles kept Helix out of the end zone again when Baker missed a wide-open target on a quick out on third down.
That was when Layton chipped through his short field goal.
TYREECE PATANE was super impressive, especially in the first half. He also was honored with the game's sportsmanship award.
In the second half, Helix couldn't even take advantage of CVCHS' most-obvious mistakes.
A fumble recovery by the Highlanders' Noa on the second play of the third quarter resulted in a missed field goal.
Sophomore MICHAEL SHAWCROFT also had a strong first half with a sack and a hurry against the Ugly Eagles' limited passing game. He bagged the quarterback again on the last play of the third quarter.
Clayton Valley did finally start to put some pressure on the Helix defense, especially along the left side, as sophomore back Thomas Alatini not only found some running room, but also escaped a few of Helix's most experienced tacklers, including Noa.
Helix, however, would continue to make the stops despite the lack of support from the offense.
But Chase made one of his best kicks midway through the third quarter with a boot that trickled out of bounds at the 3.
Noa made yet another tackle for loss on the ensuing series, as all kidding aside, he was the game's most dominant performer despite coming off for a series late in the first half with a bit of an ankle tweak.
"Definitely the physicality because of the type of offense they ran," Noa said. "We knew they were a downhill run team, so from the start we knew we had to be physical. We had to finish and that's what we did."
However, unheralded hero Chase not only was successful in his ability to pin Clayton Valley, but also to clear the ball out of danger from his own end zone on more than one occasion, including getting off a modestly-hit 40-yard roller after fielding a one-hopper.
Clayton Valley were poised to maybe finally strike pay dirt to close the game, getting down to the 5, but SCOTTIE YOUNG recorded a 5-yard loss for a turnover on downs.
Helix was thankfully able to take a knee with 1:06 left.
Maybe knowing what they were in store for, the Ugly Eagles even tried an unsuccessful onside kick to start the game.
Heck, we might as well call them Ugly Highlanders after this one.
And @HelixFootball brings back that hype @EmChuuBee led them with last season. @honorgroup @SDFNLMagazine #HonorBowl pic.twitter.com/3QdGQv8pru

— Eric Williams (@WBKsports) September 3, 2016