Patriots leave no rest for weary Monarchs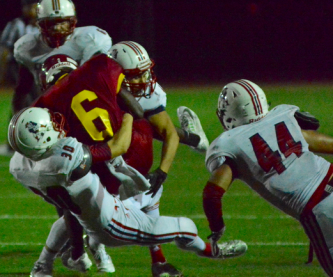 Christian's GARRETT ROSENTHAL (30) wraps up Monte Vista's JAMEZ MCCLENDON Friday night. / photo by Ramon Scott
2016 EAST COUNTY PREP FOOTBALL
CHRISTIAN 20, MONTE VISTA 10
By Bill Dickens
© East County Sports.com
SPRING VALLEY (9-3-16) — Christian High's JOEY MORONES never leaves the field, whether it be on offense or defense. The four-year Patriot is ready to go on every snap, whether as a fullback or a linebacker.
"It's games like this that are physical from end to end," said Morones.
Morones finished with 60 yards on 13 carries and 2 touchdowns. He scored on runs of 1-yard in the first quarter, 2 yards in the second quarter and 1 yard in the third quarter that clinched the victory.
Morones realized that Monte Vista was going to attack the Christian running game.
"We knew what was coming," he said. "It was a very physical game because Monte Vista is very stout in the middle. But we knew what they were going to do and we knew, by sliding to the inside, we'd get at least 5 yards per carry."
Joey Morones scores a TD for Christian Friday night against Monte Vista. pic.twitter.com/8CS3LUmxQn

— Ramon Scott (@RamonScottPoker) September 3, 2016
It's a good thing, since Monte Vista is 0-for-8 on passing over the last two weeks.
BRAD JEREMIAH completed 106 yards passing for Christian and THEO GOODWIN caught four passes for 75 yards. Hard-nosed GARRET NEILSON caught three passes for 51 yards and ERIC CONTRERAS caught 3 for 9-yards.
"This team plays with more heart," said Morones. "We have a short roster so we have too many players go both ways."
Monte Vista (1-1) avoided the shutout when RASHAUN WILLIS BROWN took the second half kickoff 99 yards for a touchdown to pull the Monarchs to 13-7.
The Monarchs continued the surge on a field goal by SANTIAGO FIGUEROA, who cleared the goal posts on a 28-yard boot.
Morones put the game away in the third quarter for Christian on a 1-yard plunge with 2:16 remaining.