Efficient Sultans score early, often against Aztecs
Updated: September 17, 2016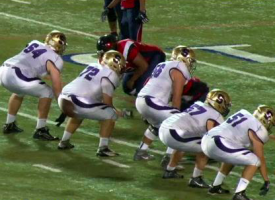 2016 EAST COUNTY PREP FOOTBALL
SANTANA 59, MONTGOMERY 8
By Bill Dickens
© East County Sports.com
SAN DIEGO (9-17-16) — The visiting Sultans scored the second-most points in school history as they mauled Montgomery 59-8 on Friday night (Sept. 16) in a non-league blowout to roll their record to 2-2.
Santana ground up Grand Prairie of Canada 70-0 in 2011 to set the Sultans' scoring standard.
BOBBY WALLACE, with his 158 yards rushing, becomes only the second player in Santana history to rush for over 2000 yards in a career. He now sits at 2,060 and is 177 away from breaking the Santana all-time record.
He also scored 18 points Friday, which puts him at 144 for a career and in 5th place by himself, passing ZACH BREIDT, DREW PALMER and JERRAD SCHNAUTZ. He needs 33 points to break the career scoring record of 176 set by JONATHAN TIPPIN from 2004-06.
BROCK ELLIS, with his 90-yard kickoff return for a score, ties for 6th on the all-time list for longest kickoff returns in school history with SEAN CAPLAN, who did it against Sweetwater in 2006, and TYLER AUBREY (vs. El Cajon Valley in 2007).
The Sultans, with their 59 points in a contest, tie for second on the all-time list for most points in a game in school history. It was previously done against El Cajon Valley in 1993 and Kearny in 2015.
Sultans junior quarterback JOSH OEDEWALDT was 4 for 9 passing for 48 yards and 3 touchdowns. He has delivered 11 TD passes while completing 47 of 87 attempts for 563 yards.
Santana has scored 101 points and allowed just 8 in their last two games.
ONI SABANDIT also threw a touchdown pass for the Sultans.
On the receiving end of the aerials from the Sultan QBs were ANDERS TOLHURST (8 yards), CAMERON KANE (30 yards), AIDEN RASMUSSEN (15 yards) and Ellis. Ellis' 3-yard TD reception in the first quarter put the Sultans ahead 21-0.
DOMENIC DEHOYOS led the Santana defense with a sack and two tackles for loss, while juniors COLE KINCADE and LANDON WOOD both had two tackles for loss, as did senior SPENCER GULIHUR. Wood also had a fumble recovery.
Wallace's 20-yard run in the first quarter helped Santana jump out to a 28-0 advantage after one period.
The Sultans' offensive line, led by seniors ADAM VARGO, TRENT FORSTER, BRYCE MARTIN and DYLAN BROWN opened big holes early.