3-0 Patriots have Warriors saying 'uncle'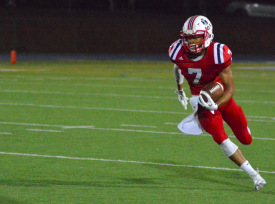 Christian High's Theo Goodwin turns up field after a reception Saturday night against Fallbrook. / EastCountySports photo
2016 EAST COUNTY PREP FOOTBALL
CHRISTIAN 48, FALLBROOK 7
By Ramon Scott
EastCountySports.com
EL CAJON – The Christian Patriots made quick work of the Fallbrook Warriors Saturday.
After leading 28-7 at halftime and 48-7 in the fourth quarter, the game was declared over by mutual consent with five minutes to go. Christian is now 3-0 to start the season.
The Patriots held the Warriors to a three-and-out on the game's opening series then put together a 66-yard drive to take a 7-0 lead midway through the first.
JOEY MORONES and TSHOMBRE CARTER did the bulk of the rushing work on the ground march, but quarterback BRAD JEREMIAH took it into the end zone with a QB sneak behind AUSTIN MANION and JONATHAN STINE.
The Warriors appeared ready to counter the first-quarter drive with a series of gains aided by a third-down encroachment penalty on Christian.
However, the Pats' ETHAN CONTRERAS intercepted a pass at the Christian 10 and returned it 32 yards with 1:17 left in the first quarter.
Christian then got a pair of sizable gains from THEO GOODWIN and Morones as part of a drive to get inside the Fallbrook 5.
Carter ran off the left side and smashed into a Warrior defender into the end zone, as Christian went up 14-0 with 10:33 to go before halftime.
"As a team, we were playing in concert," Christian offensive coordinator David Beezer said.
After another good defensive series for Christian, Morones had a 34-yard reception and then a 23-yard touchdown run for a 21-0 lead with 8:03 left in the first half.
Fallbrook put together a couple of good gains on completions to get inside the Christian 5-yard line, then Warriors' QB Jack Grantham hit Kobie Stallings with a short pass with 2:16 to go in the second to make it 21-7.
Christian quickly answered in just over a minute when Morones picked up 30 yards on a run to the Fallrbook 30, then Jeremiah hit Goodwin on a timing fade inside the 5 in front of the left front corner of the end zone for a touchdown with a leaping catch over a defender and a 28-7 halftime advantage.
Then, on the opening kick off of the second half, BEN GOODWIN electrified the home crowd with a 88-yard TD return.
#7 Theo Goodwin returns it 90yds for the touchdown to start the 2nd half!!! 34-7 PATRIOTS!!! pic.twitter.com/cxxwWEDotp

— CUSSDPatriots (@CUSSDPatriots) September 18, 2016
Later, Morones had yet another big run, rumbling 24 yards to the Fallbrook 28 with 7 1/2 minutes left in the third.
Morones finished with 112 yards rushing on 9 carries. He also had two receptions for 47 yards.
Jeremiah would cap the drive with an 8-yard TD pass for Contreras for a 41-7 lead.
Jeremiah threw for another score when he hit tight end GARRETT NIELSEN for a 6-yard score with 2:57 left in the third.
Goodwin had five receptions for 76 yards overall.
Jeremiah was super-efficient with his throws once again, going 11-for-12 for 157 yards and the three scores.
GARRETT FLETCHER, a senior linebacker, had an interception for Christian.
Carter had 59 yards on 11 carries, as Christian outgunned Fallbrook, 351-187.
Joey Morones 23-yd TD run in second quarter against Fallbrook Saturday night… CHS won, 48-7… pic.twitter.com/olZsTjbNOc

— Ramon Scott (@RamonScottPoker) September 18, 2016