Undefeated Griffs resume series with Panthers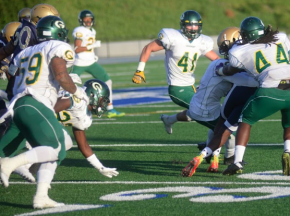 Grossmont's Roderick Woods (44) wraps up a ball carrier, while teammate Cole Kidd (41) pursues. / photo by Christopher Smith - MBA Sports
2016 GROSSMONT COLLEGE FOOTBALL 
By Bill Dickens
© EastCountySports.com
EL CAJON (9-23-16) — It might be too early to call this a turning point game, but it is a contest that Grossmont needs to win.
The Griffins (3-0), who are holding down a No. 12 ranking in Southern California, will host Chaffey (1-2) on Saturday (Sept. 24) at Mashin-Roth Field at 3 p.m.
Grossmont is off to its best start since rolling to five straight wins in the 2010 season that resulted in a disappointing 6-5 finish. The Griffins, who are averaging 40.3 points per game on offense but surrendering just 20.7 ppg on defense, are seeking a better finish this year.
In contrast Chaffey is producing 34.7 ppg but allowing a generous 35.7 ppg on defense.
Thus far Grossmont has rolled over Mesa 49-21, Los Angeles Harbor 37-27 and El Camino 35-14. Chaffey was clubbed in its first two games by Bakersfield 45-35, and Citrus 48-41. The Panthers put the brakes to the skid against Golden West, pounding out a 28-16 win last week.
The Griffins seek to put together a complete game as their offense and defense have switched leadership roles on a weekly basis.
Against Mesa the Griffins intercepted four passes and the defense held its ground as quarterback BRAD CAGLE completed 23 of 31 passes for 359 yards and 4 touchdowns.
At LA Harbor, the Griffins had to rely almost exclusively on their defense.
Without question the Griffins played their strongest game to date in knocking off El Camino in their home opener a week ago. After falling behind 7-0 and 14-7, Grossmont slammed the door by scoring the final 28 points to send the Warriors reeling. Grossmont's quarterbacks threw the ball 47 times, completing 23 in that game.
One of the clutch plays of the afternoon was a flea flicker delivered by MICHAEL LEDESMA, who lofted a 77-yard scoring strike to JABRIL CLEWIS, which at the time tied the game 14-14. Of course, Grossmont coach MIKE JORDAN has a folder full of offensive tricks, as he proved on that throw.
In the upcoming duel against Chaffey it appears that it should be a high-scoring contest. It's a matter of whether the Griffins will be ready to meet the challenge.
GRIFFIN GRAFFITI:  Sophomore outside linebacker COLE KIDD received defensive honorable mention by SCFA for the El Camino game won by the Griffins 35-14 with 13 tackles, 10 of which were solos and 2 for loss. He also had a sack. . . In 2010 the Griffins went on to play in the Beach Bowl where they lost to Santa Ana 52-43 . . . Grossmont owns a 16-9 series advantage over Chaffey . . . the last time these teams met was in 2009, with the Griffins prevailing over the Panthers 28-27. . . Chaffey claimed a 7-0 victory over Grossmont in the Griffins' inaugural season in 1962.