Griffins smother El Camino in second half, move to 3-0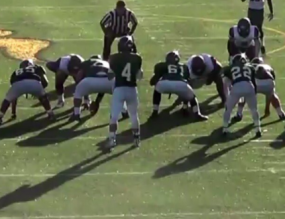 The Griffins and QB Brad Cagle size up El Camino on Saturday afternoon.
2016 GROSSMONT COLLEGE FOOTBALL
GRIFFINS 35, WARRIORS 14
By Bill Dickens
© EastCountySports.com
EL CAJON (9-16-16) — The visiting El Camino Warriors couldn't get Grossmont College outside linebacker COLE KIDD out of their collective faces.
Every time the Warriors turned around it seemed like Kidd was present. He logged 13 tackles including 10 solo and 2 for losses. He also notched a sack as the Griffins handcuffed El Camino 35-14 in a non-conference encounter Saturday (Sept. 17) at Mashin-Roth Field.
"They started out really fast," Kidd said of El Camino (2-1), which took a 14-7 lead with 12:53 remaining in the first half. "But as the game went on we got much more aggressive. The thing our coaches preach is the 11-1 Theory – we're great as a whole and not as individuals."
That proved to be true as the Griffins scored 28 unanswered points to roll their season record to 3-0.
"We had a lot of big plays on offense," continued Kidd, a 6-foot-2, 220-pound sophomore graduate of Point Loma High. "And our defense was as good as it's been all year. We've been consistent on that side of the ball in all three games."
LUQMAN BARCOO had 5 solo tackles and an interception for the Griffins. Barcoo's theft came on the final play of the first half with the Griffins leading 21-14. HUNTER CLARK also picked off a pass, giving the Griffins 11 interceptions for the season.
El Camino attempted to challenge Grossmont's JORDAN ELLIS with three passes and the freshman DB broke up two and recovered a fumble on the third. Guess El Camino hadn't heard that Ellis had 4 interceptions and two lengthy touchdown returns in the first two games.
Safety KURTIS BROOKS recorded 5 tackles, forced 2 fumbles and broke up 3 passes.
#Darkside baby 3-0 😈 pic.twitter.com/KLBgIusYvX

— Taetafe Tuia (@UsoSick_) September 18, 2016
"Very proud of (No. 7 Brooks) as he impacted every series on D," said Griffins secondary coach BRETT HUDSON. "Pass breakups, tackles and a HUGE forced fumble. He's the glue of our secondary.
"Quality over quantity . . . every single dressed player got reps in the secondary," Hudson added. "Proud that they went in there and did their job."
El Camino put the ball in the air 34 times and came away with 238 yards. Despite all that aerial action the Griffins did not give up any long passes.
Grossmont's defensive lineman GABE OILAR had 2 tackles – both for losses – one sack and a pass batted down.
The Grossmont offense mustered 530 yards including 350 passing. Freshman quarterback BRAD CAGLE completed 16 of 33 passes for 168 yards and one touchdown.
"We beat them deep and beat them short," Cagle said. "I had really good protection from the O-line. They have improved every week and this was their best effort yet."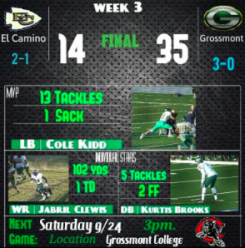 SPENCER MOYER came off the bench to complete 4 of 10 passes for 74 yards, including a 44-yard touchdown pass to DAN JOHNSON that tied the game 7-7 in the first quarter.
"We ran the no huddle for the first time," Moyer said. "It was really effective considering we had the El Camino guys near exhaustion at the end of the first half. Our defense is phenomenal, and as long as they keep doing what they've been doing and we improve our offense every week, it should be a great year."
A dozen Griffin receivers caught passes, led by DYLAN SPRADLING's 5 grabs for 24 yards. JABRIL CLEWIS was a deep threat, catching 3 passes for 102 yards and a touchdown.
The most spectacular play of the night was a flea flicker by the Griffins' southpaw MICHAEL LEDESMA. He hit a wide open Clewis for a 77-yard touchdown that tied the game at 14-all early in the second quarter.
In the final minutes of the first half the Griffins completed a 10-play, 80-yard drive which culminated in a 12-yard scoring junket by KEITH FULTON to take a 21-14 lead into the locker room.
Grossmont tacked on second half touchdowns on a 1-yard plunge by PERRY AFATO and a 31-yard strike from Cagle to SEBASTIAN SMITH to put the game away.