5-0 Braves off to best start since '97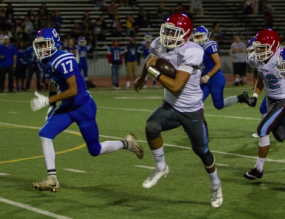 TYSON SMITH is off and running again for El Cajon Valley against Orange Glen Friday night. / photo ECVBraves.com
2016 EAST COUNTY PREP FOOTBALL
EL CAJON VALLEY 44, ORANGE GLEN 28
By Bill Dickens
© East County Sports.com
ESCONDIDO (9-24-16) — The El Cajon Valley Braves posted their 5th straight win of the season Friday night (Sept. 23), which is the best start by an El Cajon Valley team since 1997, with a 44-28 victory over host Orange Glen.
The Braves, leading 22-20 at halftime, used a rugged running game to overpower the Patriots. Quarterback TYSON SMITH was the chief mailman for El Cajon Valley, as he delivered scoring runs of 15, 25, 6 and 8 yards as well as a pair of 2-point conversions for 28 points.
"Tyson is really special," said El Cajon Valley coach PARRIS PISIONA. "He's taking quite a beating out there (but keeps on running)."
LUIS MORALES scored on a 46-yard dash in the second quarter. He also tacked on the first of a pair of 2-point conversion runs.
The Braves pulled away in the third quarter on a 17-yard run by MAQUEL GARNER for a second half touchdown.
El Cajon Valley scored the final two touchdowns on runs by Smith, who also added 2 points on a conversion run.
Cornerback GREGORY JONES intercepted three passes for the Braves and FAAMAMA LAUIFI recorded 12 tackles.
"I guess the big thing about this team is we never envisioned to be a 5-0 start," said Pisiona. "We actually thought it was going to be a rebuilding year. We have five sophomores who are playing key roles for us."
Pisiona went on to say that none of his players are ineligible at the first grade check. "We didn't lose a single player to eligibility. We're getting four back, and three of them are starters."