Vastly improved Vaqueros are back… to-back winners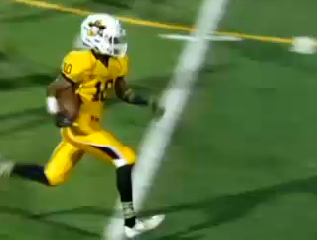 YAPHET YOKLEY returns a kickoff 83 yards to open the second half Friday night against Chula Vista.
2016 EAST COUNTY PREP FOOTBALL
EL CAPITAN 33, CHULA VISTA 13
By Bill Dickens
© East County Sports.com
LAKESIDE (9-24-16) — El Capitan unleashed its ever-improving offense Friday night (Sept. 23) as the Vaqueros clubbed Chula Vista 33-13 in a non-league contest before a home crowd.
Once again, PHOENIX CATES was at the helm and seemingly in total control, completing 11 of 21 passes for 202 yards and 4 touchdowns. Two of those scoring aerials wound up in the hands of RYAN DUMAS, each for 5 yards.
The first score came when Cates fired a tight spiral to Dumas who was standing between his defender and the left front pylon for a secure connection and a 7-0 lead.
YAPHET YOKLEY scored on an 83-yard kickoff return in the second quarter, staking El Capitan to a 20-6 lead by intermission.
Junior RONNIE MILLER and seniors DYLAN HELMHOLTZ and OSCAR VALENZUELA provided the blocking on the spectacular special teams score.
Cates then connected with CONNOR ROOSA for an 11-yard touchdown run in the third quarter.
Roosa paced the Vaqueros' running game with 83 yards on a dozen carries.
JAVIER VIDALEZ grabbed 3 aerials for 73 yards and a score, while Dumas had 3 receptions for 22 yards.
Vidalez had the second score of the game when he easily slipped by his defender when El Cap's Cates' hid behind a sweeping line to the right side. Cates lofted an easy aerial to the wide open wideout who caught the ball in stride at the 10 and went into the end zone.
CHASE LOVATO intercepted a pass for the El Capitan defense as the Vaqueros posted their second win in a row.
Providing the ample protection up front for the Vaqueros were senior captain DOMINICK SALAZAR, juniors KEVIN WESTBROOK and FISHER OVEROSS, and seniors TANNER DONOHUE and JARED STONE
The Vaqueros improve their record to 2-2, while Chula Vista fell to 3-2.