Foothillers take drive out of Hive with 'W'
Updated: September 24, 2016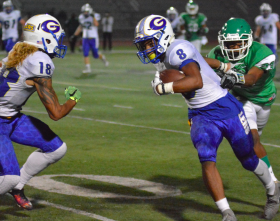 Grossmont's JAILEN BAILEY strives for yards against Lincoln as teammate DOMONIQUE GUEVARA looks to block. / EastCountySports.com photo
2016 EAST COUNTY PREP FOOTBALL
GROSSMONT 27, LINCOLN 19
By Ramon Scott
EastCountySports.com
SAN DIEGO (9-23-16) – A bizarre touchdown by the Lincoln Hornets stung Grossmont High early, but the Foothillers, despite five turnovers, cut through the comb in the second half for a 27-19 victory in a hard-hitting battle of unbeatens at Player Stadium Friday night.
After the Hillers' first drive of the game stalled on fourth down near the red zone, Lincoln's Reggie Brooks ran around the left side for a 79-yard touchdown run.
After the Hornets stopped another fourth-down try when Grossmont (4-0) took a shot at the end zone, Lincoln picked up a first down, but were forced to punt from their own 39 with just over three minutes left in the first.
The Hornets' punt was shanked and bounced backward behind the line of scrimmage where it was fielded by Lincoln's Micha Edwards at the 36.
Edwards stood there dumbstruck as what to do, while the Foothillers trotted off to the sidelines thinking the ball was downed for a change of possession.
However, the Hornets' bench correctly screamed for Edwards to run with the ball, which he did, all the way for a 64-yard score, giving Lincoln a stunning 12-0 lead.
Grossmont's next possession resulted in yet another fourth-down attempt deep into Lincoln (3-1) territory, but this time the Hornets recorded an interception in the end zone.
The Foothillers' ANDREW LIRA started to right Grossmont's ship with a defended pass on a fourth-down try near midfield.
Grossmont TD – Gaines to Guevara with 3:24 to go before HT. Lincoln leads, 12-7. pic.twitter.com/6wm0OCecsh

— Ramon Scott (@RamonScottPoker) September 24, 2016
The Hillers capitalized with a 45-yard drive, capped by an 18-yard slant pass for a touchdown from HUNTER GAINES to DOMONIQUE GUEVARA, who secured the bullet and kept it away from the strip try by a falling defender to make it 12-7 with 3:24 to go before halftime.
JAILEN BAILEY scored the first of his two touchdowns to give Grossmont the lead just inside midway through the third quarter.
Bailey came in motion for a handoff and easily skipped past a helpless Hornet for an 8-yard score. The drive was aided by a Bailey reception down to the Lincoln 32, followed by a run-and-catch to the 10 by senior running back JAMES MACKEY.
After the Foothillers made a stop on downs, Grossmont's ZAK FARRIS scored on a 25-yard slant from Gaines with 1:12 left in the third to make it 20-12.
Early in the 4th quarter, Bailey scored on a 7-yard end around that ended with the junior flying through the goal for a 27-12 lead following the successful PAT.
Grossmont's 27-straight points seemed to solidify the win, but Lincoln built some late momentum with under four minutes to go.
Grossmont's Jailen Bailey TD run with 5:07 left to n third gives Grossmont 13-12 lead over Lincoln. pic.twitter.com/zJ35HoZYFg

— Ramon Scott (@RamonScottPoker) September 24, 2016
Late in the fourth, a 1-yard QB sneak by Asante Hartzog made the final margin.
With under a minute to go, Grossmont forced a game-ending fumble as Lincoln mounted a last-ditch drive into Foothiller territory.
Gaines was 15-for-39 with 221 yards and 2 touchdowns, while SHEVELL STERLING, JR., motored for 138 yards on the ground for the Foothillers despite a few nicks and bruises along the way.
Grossmont earned their victory with depth and persistence. However, they'll still have to clean up the turnover mess that occurred against the hard licks Lincoln put on them if they are to remain unbeaten.
"We worked hard every day in practice and this is the way it ended – with a victory," Bailey said. "We just come out and work and then play hard. All of our guys on this team are equal. We're comin' for Olympian next."
Lincoln's George McCorley had a field day against the Foothillers with 12 catches for 128 yards, but the Foothillers striped him of the ball on the Hornets' final offensive play on a fourth-and-four try.
McCorley was running through traffic deep into Hillers' territory on a completion with :30 left but Grossmont defenders ROBERT MCDONALD and Lira smashed him together and DAISEAN CRAWFORD came out of the mixup with the ball.