2016 EAST COUNTY FEARLESS FORECASTER – Week 5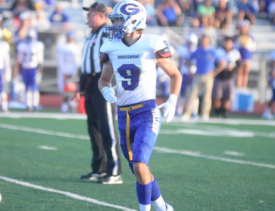 GROSSMONT DB RILEY HAVIRD / photo by Christopher Smith - MBA Sports
2016 EAST COUNTY PREP FOOTBALL FEARLESS FORECASTER
Week 5
By Bill Dickens
© East CountySports.com
EL CAJON (9-22-16) — In one of the county's early-season shootouts, Lincoln High (4-0) will host Grossmont (3-0) in a non-league contest on Friday (Sept. 23) in the Hornets' nest.
Across the board, pundits predict this will be a high-scoring affair, considering Lincoln is averaging 40 points per game and Grossmont 35.
"We're an offensive team, no doubt about it," said Foothillers coach TOM KARLO. "We started slow on offense but our defense kept us in the game."
Although the scores don't indicate such, Grossmont's defense was stable in the three-game sweep (Morse 31-12, Otay Ranch 35-21 and Sweetwater 41-8).
"We're nothing flashy, we just maintain our focus," Karlo added.
As far as Karlo sees it, it's a game of turnovers. His defensive unit has forced an average of three takeaways per game, allowing only 8 points per outing.
"We're a workmanlike team," Karlo said. "We do what it takes to win games and this should be a statement game for us."
The mainstays of the Grossmont defense are free safety RILEY HAVIRD (25 tackles, one sack, interception), linebacker CHRISTOPHER LAETHEM (20 tackles, 5 for loss,  sack, fumble recovery), ANDREW LIRA (15 tackles, 2 interceptions, 2 fumble recoveries), linebacker NATHANIEL TIAPULA (21 tackles) and defensive linemen BRANDON ARMS (19 tackles) and ANDREW MINK.
Grossmont must stop Lincoln's potent weapon of Micah Edwards, a running back who has amassed 288 yards on 26 carries and 3 touchdowns and also caught 4 passes for 153 yards and 3 touchdowns.
"Edwards is the guy that we have to stop," Karlo acknowledged. "They like to throw him the ball. They like to throw him screens and throw it downfield."
Grossmont relies on their offense led by SHEVELL STERLING who has bolted for 338 yards on 35 carries for a 9.7 average and 4 touchdowns. JAMES MACKEY (205 yards on 30 carries, 3 touchdowns) leads the supporting cast.
The Foothillers have not abandoned their passing game led by quarterback HUNTER GAINES who has completed 45 of 78 passes for 632 yards and 6 touchdowns.
DOMONIQUE GUEVARA is Gaines' leading target with 20 catches for 296 yards and 4 touchdowns.
Look for the Foothillers to win this offensive shootout . . . Grossmont 29-27.
EL CAJON VALLEY (4-0) at ORANGE GLEN (2-2) – Not an easy road task for the Braves, but their performance so far should make them the favorites in Escondido Friday night in a matchup of possible Division 4 playoff foes.
The Braves are in the process of making history once again with a 4-0 start following last week's 34-21 home win over Crawford.
The Patriots, meanwhile, are coming off a 62-31 loss at San Pasqual.
Orange Glen – just like every other Braves' opponent this season – will have their hands full with quarterback TYSON SMITH, the county's leading rusher with 727 yards.
Braves back MAQUEL GARNER is no slouch, gaining 277 yards this season for 6.8 yards per carry.
El Cajon doesn't really pose much of a threat in the passing game, but when they do take to the air, Smith is highly efficient. He has completed just 7-of-10 aerials, but four of them have been for touchdowns.
The main man there for the Braves is LUIS MORALES, who has four catches this season, including three of the scores. Last week, the QB-WR duo hooked up three times last week for 93 yards and two touchdowns – all in the first half.
As exciting Smith is to watch on offense, maybe more impressive has been the El Cajon Valley defense, led by star LBs FAAMAMA LAUIFI and OMAR GARCIA. The top two tacklers in the East County have combined for 93 tackles, including 13 for loss.
Smith is also a standout defensively with a pair of interceptions this season from his safety spot and he could be busy in this one.
The Patriots certainly can move the ball through the air behind senior QB Blaine Bailey. He has completed 60 percent of his passes and has 11 touchdowns with just three interceptions. He averages over 15 yards per completion and is second in the county in total yards behind LJCD star Braxton Burmeister.
Pats' junior Malachi Russell already has 35 receptions for 564 yards to lead all of San Diego County in both categories. He has six touchdowns.
Senior Billy Mercado must be watched, as well, as he has 20 catches this season and a pair of scores.
Senior back Tyrone Hickson gives Orange Glen some balance out of the backfield with 410 yards this season, averaging nearly eight yards per carry.
Senior Nikola Kresovich has main tabs on Smith, as he has four sacks this season for the Patriots.
The Braves' Smith has seven two-point conversions this season and that could be the difference here… EL CAJON VALLEY, 32-30.
OTAY RANCH (0-4) at STEELE CANYON (2-2) – Last season, a 2-2 Cougars' team beat Otay Ranch in a week 5 matchup, 17-6.
It shouldn't be that close this time around.
The Mustangs are off to their worst start since 2009, when they began 0-3-1.
The Cougars opened a tough schedule with road losses at two of the county's top teams. They've bounced back with a pair of dominating victories at home.
Junior quarterback THOMAS FISHBURNE got his stats back on track over the last two weeks and has thrown seven touchdowns this season with just two interceptions.
Senior BRENDEN WILLIS has 11 catches this season and three touchdowns for the Cougars, while senior wide-out JACOB JONES has eight catches, with four of them going for scores.
Running back DEONTAE McKINNEY rushed for 115 yards and a touchdown on 12 carries last week.
Steele Canyon senior linebacker WAYNE BARELA has a team-high 20 tackles, including six for loss this season. Junior JHAELON BRAZILE has had nine tackles over the last two wins and snagged an interception last week, as did JAVON WOODBRIDGE.
Otay Ranch has no touchdowns from its wide receiver corps this season
Two seasons ago, the Cougars handled the Mustangs at home handily and this game should resemble that one… STEELE CANYON 31-14.
SERRA (1-2) at WEST HILLS (3-1) – Despite being the second newest school in the Grossmont Conference, homecoming is already a big deal in west Santee.
In other words, get there early for this one.
The game should provide a beatable opponent for the Wolf Pack, but the Conquistadors are no pushover.
The Wolf Pack had a thrilling 29-28 overtime win against Mt. Miguel last week and rallied from behind against Mission Bay at home two weeks ago. They will be playing their fourth-straight home game.
Junior quarterback HAYDEN ROACH is turning into a dual threat, while running back JOVAN BEA is the workhorse back, with six touchdowns and a 6.3 yards-per-carry average. Senior GRIFFIN GUINN is a bruising goal-line carrier. Junior receiver RYAN JEWELL has a team-high nine receptions this season, as the Wolf Pack are predominantly a rushing team.
The Wolf Pack workers up front include senior linemen OSCAR MORALES, AUSTIN MCCARTNEY, ZACHARY THOMAS WEAVER and PHILIP CORNELIUS.
West Hills features an unheralded defense led by senior linemen KEVIN AH KEY and CADEN KULAS, along with LBs CHANCE HAEMMERLE and TANNER SUTTON
The Wolf Pack's secondary is led RICKY WILSON, DEREK POTVIN, TYLER WILSON and MITCHEL CARLIN.
Serra junior running back Bryan Pratt (192 yards rushing in last two games) and senior quarterback Joaquin Quintana-McKinney pace the offense. Senior receiver Zach Rohde has a team-high seven receptions.
The Q-Dogs won just one game last year and are playing their fourth-straight road game to open the season, which should result in a happy homecoming… WEST HILLS, 34-21.
CHULA VISTA (3-1) at EL CAPITAN (1-2) – The Vaqueros and Spartans have a different formula for success this season, which doesn't necessarily mean that El Cap has been doing it wrong.
It appears the fortunes could be turning around in Lakeside, after the Vaqueros got a confidence-boosting win at Patrick Henry last Friday.
The Vaqueros' passing combo of QB PHOENIX CATES and WR JAVIER VIDALEZ are quickly becoming one of the top tandems in the East County.
The pair hooked up eight times against the Patriots for 185 yards, including a 57-yard touchdown reception late in the first half, as Cates completed 24 of 39 passes for 380 yards on the night, including a touchdowns to STAR IULI.
Cates has thrown for 705 yards this season, which ranks second among East quarterbacks.
RYAN DUMAS, who had this spectacular play ruled no catch last Friday (see video), is also a viable target for Cates.
Ryan Dumas play ruled no catch. EC FG followed by 78-TD reception by Tyjhay Reid gives Pats 7-3 lead in 1st. pic.twitter.com/Um13EtqAnB

— Ramon Scott (@RamonScottPoker) September 17, 2016
Junior running back CONNOR ROOSA averages just over 64 yards per game and has four TDs on the ground for El Capitan.
The Spartans are a strong rushing team led by senior Sergio Figueroa, who averages just over 72 yards per game. Chula Vista averages over 220 yards on the ground this season.
The Vaqueros will count on senior linebacker OSCAR VALENZUELA and junior DT CAMERON PHILLIPS to make the stops as they have so far this season. Junior ANTONIO OLIVIERI is emerging as a two-way star for El Cap, which will no doubt have its hands full.
Will the Vaqueros take the next step Friday night and pick up a second-consecutive win? … EL CAPITAN, 29-28.
VALLEY CENTER (3-1) at GRANITE HILLS (1-2) – The Eagles are steaming after a pair of road blowout losses to east rivals Valhalla and Steele Canyon.
Now the battle-tested Cougars come to Granite Hills Stadium. Valley Center has won three-straight, all in close fashion, including that wild 31-28 OT win at home over El Capitan two weeks ago.
To say the Eagles have been a slow-starting team would be an understatement, but give Granite credit, as they have played their best football coming out of the locker room in the second half.
Granite will need to avoid falling behind against the Cougars.
Rikki Mazzetti is at quarterback for VC. The impressive sophomore is averaging nearly 200 yards per game through the air.
His top targets – Keith Vazquez and Brock Moffitt – both average over 17 yards per catch.
Jags' RB Daniel Belcher averages 18 yards per reception out of the backfield and had rushed for 546 yards this season. VC rushes for over 175 yards per game.
The Eagles have some impressive defenders in junior TYLER GONZALEZ and senior NOAH JOUBERT, while senior LB DURADE AQILI is the ultimate support man.
Senior defensive back BRENDEN QUILL will certainly get his chance to make an impact in this one. He is one of just four DBs in the East County with two picks so far this season. He is also second on the Eagles in tackles.
Granite Hills' woes have come on the offensive side of the line. Injuries and inexperience have slowed the Eagles growth.
But a bye week should allow for some time to work out the kinks and try to find an identity offensively.
The moment still may just be a bit too much to chew for the Eagles… VALLEY CENTER 19, GRANITE HILLS 14.
UNIVERSITY CITY (2-2) at MOUNT MIGUEL (0-4) – You have to feel for the Mount Miguel Matadors.
They played well enough to win in last Friday night's thriller at West Hills, only to fall in overtime.
The University City Centurions started the season off with two wins against Sweetwater and Mission Bay, but lost to Scripps Ranch and La Jolla Country Day. A respectable resume that should make Friday night's contest a near toss-up.
Mount Miguel junior SHEMAR GREENE has developed into an exciting threat out of the backfield. He leads all East County running backs in yardage per game with over 120 per game.
The Matadors have yet to get their passing game fully on track, but that could be just a matter of time for veteran BENNY VALADEZ and his formidable receiving duo of RICHARD MOORE and MARIO COKER.
The Centurions have a true superstar defender in junior LB Jake Jones.
Senior quarterback Kees Van Daelen has 905 passing yards and four rushing touchdowns this season for UC.
He has the luxury of four veteran receivers in Gavin Rasmussen, Steven Weiss and Casey Grantors, who have already combined for 52 receptions so far this year.
But Mount Miguel has a rapidly-improving defensive trio in seniors DAMIEN YERENA, CAMERON HANSON, ROY CORLEY and ANTHONY YARBOROUGH.
Still, there should be a bit of a class difference here for the hosts, and the hungry Matadors will be looking to feast… MOUNT MIGUEL 31-28.
SAN DIEGO (0-4) at SANTANA (2-2) – The Sultans might be giving out a standard line about giving respect to their opponent and that it could be a close game on Friday night.
But the Cavers will be seriously overmatched when they come to Santee to face the red-hot Sultans.
Santana has outscored its previous two opponents 101-8, while San Diego is coming off a real barnburner… a 3-0 home loss to Central.
The Sultans' JOSH OEDEWALDT has developed rapidly and looks to keep the line of Sultan slingers going. He now has 11 TDs and just three interceptions this season.
He can thank his awesome corps of receivers.
ANDERS TOLHUST is as sure-handed as they come in the East County this season with his 20 catches, second most in the area. More impressive though is his six touchdowns so far. He is a terrific man-on-man receiver in the red zone.
Veteran AIDEN RASMUSSEN has 13 receptions, while slot man BROCK ELLIS has 12 catches, including three for touchdowns.
Uh, did we mention, BOBBY WALLACE.
Keeping the balance in tact is the senior star runner, who has the most yards of any East County running back this season with 407 (although still 320 behind El Cajon Valley QB Tyson Smith). And he's crossed the goal line six times.
His assault on the Sultans' rushing record book looks to continue on Friday night. With 177 yards, Wallace would become the Sultans' all-time leading rusher.
It's just a matter of how much work the senior will get in what could be a lopsided game. With another home game next week, setting the mark at home is a sheer certainty either this week or next.
It will not only be an accomplishment for Wallace, but for his senior linemates, as well, as ADAM VARGO, TRENT FORSTER, BRYCE MARTIN and DYLAN BROWN have made a career out of opening big holes for the playmaker.
San Diego's best performance was a home loss to Horizon, 36-23.
Fullback Indae Gammon is the team's leading rusher with 201 yards this season, as the Centurions average 6.1 yards per carry with four touchdowns.
The Cavers have just one touchdown pass this season.
DOMENIC DEHOYOS leads the Santana defense, along with senior SPENCER GULIHUR. NOAH JACKSON is tied for the East County lead with two interceptions.
Juniors COLE KINCADE and LANDON WOOD stood out on defense in last week's win.
It could be Bobby Wallace night on Friday… SANTANA, 48-6.
CHRISTIAN (3-0) at IMPERIAL (0-4) – The Tigers have had a rough and tumble start to the their season, so they'll be licking their chops to try and pull off an upset in the desert.
But the Patriots appear to be clicking on all cylinders and are unlikely to break down on the side of the highway Friday night.
Senior BEN GOODWIN is getting overlooked in the county as one of the section's top big-play performers. It's not a matter of 'if' Ben breaks off another coast-to-coast play, but 'when?"
Last week, 'when' was right out of the locker room in the second half when the elite speedster returned the kickoff for an 88-yard touchdown as the Patriots roughed up Fallbrook. He also has the highest yards-per-catch of any receiver in the East County with a 19.1-yard average.
Meanwhile, quarterback BRAD JEREMIAH is becoming more-and-more efficient in the pocket every game. He leads East County quarterbacks with a mind-boggling 78 percent completion percentage, although it is fair to say that the Patriots run a controlled and balanced attack.
Running combo JOEY MORONES and TSHOMBRE CARTER average over six yards per carry combined.
The Tigers surely fall under the 'better than their record indicates' department, as they are coming off a 34-31 OT loss at home to Valley Center last week.
Sophomore QB WYATT RODRIGUEZ looks promising with his 200 yard-per-game average so far, while junior running back BRANDON HUESO averages nearly 100 yards per game on the ground along with 15 catches out of the backfield.
Imperial has a top receiving threat in senior Raymond Beamon, who has 21 catches this season.
Christian's defense is led by DAVID MORENO, JONATHAN STINE, BRYCE RIEPL, GARRETT ROSENTHAL, GARRETT FLETCHER and ETHAN CONTRERAS.
These teams should keep heading in the same direction… CHRISTIAN, 31-17.
PATRICK HENRY (1-3) at VALHALLA (4-0) – The Valhalla Norsemen are still looking for respect.
The Norsemen have allowed just 14 points in four games, yet can't crack the county's top ten poll.
They'll look to rack up a resounding victory on Stuck in the 90s Homecoming Friday night.
The Norsemen have a dominating defense that puts a full emphasis on team.
Not that they don't have a star defender. They have so many good ones, it's hard to say who is going to make the big plays on a week-to-week basis.
However, DYLAN MARSH, JACE MANNING and BRENT BURNETT all can be considered among the top defenders in the area. Marsh and Manning have combined for an incredible 20 tackles-for-loss already this season.
JOSH MCNISH-HEIDER, along with Manning, have combined for nine sacks.
And the Norsemen feature one of the best secondaries in the county led by ANTHONY PORTILLO and CONNOR MOSER.
Valhalla quarterback BRYAN MADRIZ is completing over 60 percent of his passes and has five TDs with just one interception.
Norsemen senior running back JEROME JOHNSON is sixth in the East County in rushing with over 95 yards per game, along with seven touchdowns.
Valhalla's JACOB PAAPE has 12 receptions this season, including a pair of touchdowns.
The Patriots feature a big-play man in the speedy Dominick Silvers. They were on the short end of that loss to El Capitan last week in San Carlos despite two kickoff returns and two rushing touchdowns, including another long-distance run, from the senior in an incredible performance.
Senior QB Bryan Pace and WR Ryan Savage have had some success, hooking up 19 times with three scores, but should find it difficult to navigate against Valhalla this week.
Always schedule someone you can beat on Homecoming, but right now, Valhalla could beat almost anyone at home… VALHALLA 42-14.
MONTE VISTA (2-1) vs. CRAWFORD (3-1) (at Hoover High, 4 p.m.) – Don't miss this early start between teams with winning records.
Crawford had their win streak snapped by the El Cajon Valley Braves, 34-21, last Friday, while the Monarchs, fresh off a bye, shut down potentially dangerous Patrick Henry the week prior, 29-6.
What the Monarchs have done so far this season has been impressive.
Monte Vista has one of the shortest rosters in East County, but their two-way stars seem to have endless energy.
Led by brothers JAMEZ and JAHMON MCCLENDON, the Monarchs have outscored their three opponents 100-26. Monte Vista's loss was a hard-fought home effort against Christian.
Other guys that rarely leave the field include JOSE GONZALEZ, TORREY MACK, BLAKE SCHMIDW, DAVID YBARRA, DAVON OULDS, RASHAUN WILLIS BROWN and CURTIS STEVENS.
Monte Vista does 95 percent of its work on the ground, while the Colts aren't much for the friendly skies either.
Still, Crawford throws five times as often as Monte Vista, which isn't saying much.
Colts running back Kwali Purvis average nearly 100 yards per game on the ground. Crawford also possesses a star defender in junior Jaden Sanders, who has 47 tackles this season, including 10 for loss.
This one will be over quick, but the outcome could be in doubt 'til the very finish… CRAWFORD, 16-14.
MOUNTAIN EMPIRE (1-2) at SOUTHWEST (SD) (1-3) – This actually turns out to be a key early season game in terms of the playoff battle in Division 5.
With both teams expected to be scrambling for one of the last spots, a win here could bolster their chances come Nov.
The Red Hawks have got to get their ground game going in order to take the pressure off veteran QB VICTOR PARRA.
When Parra has had time, he has found a connection with junior WYATT MANN, who averages over 20 yards per reception on six catches this season.
Defensively, the Hawks rely on CAMERON WILL, BLAKE JARRELL, SAWYER ERNBARGER, GABRIEL HYDORN, MICHAEL STODSGILL and JONATHAN PENUELAS.
The defense will carry the day for… MOUNTAIN EMPIRE, 20-12.
Fearless saw his two-week perfect streak come to an end last week and this interesting schedule is no easier.
Fearless Forcaster's Record
Last week:  8-1 (.889)
Season:      32-9 (.780)