Patrick steps up as Utes turn up offense on USC
Updated: September 27, 2016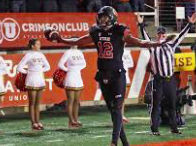 Tim Patrick celebrates following his game-winning touchdown against USC Friday night.
2016 EAST COUNTY FOUR-YEAR FOOTBALL STANDOUTS
By Bill Dickens
© East County Sports.com
EL CAJON (9-27-16) — University of Utah junior TIM PATRICK collected the winning 18-yard touchdown pass against USC in Friday's (Sept. 23) 31-27 thriller over the Trojans with 16 seconds remaining Friday night in Salt Lake City.
It was a typical Patrick game these days as he caught 6 passes for 100 yards against the Trojans. The 6-foot-5, 210-pound Grossmont College alum ranks second among Pac-12 receivers with 385 yards and 5 touchdowns.
–
BYU's 6-foot-6, 215-pound NICK KURTZ reeled in 6 passes for 78 yards as the Cougars dropped a 35-32 decision at West Virginia. During his career in Provo the Grossmont College/Valhalla alum has caught 57 passes for 783 yards and 4 touchdowns.
–
USD sophomore quarterback ANTHONY LAWRENCE (Grossmont HS) completed 26 of 34 passes for 371 yards and 2 touchdowns as the 2-1 Toreros grounded the Dayton Flyers 34-22. For the season Lawrence has completed 58 of 84 passes for 709 yards and 5 touchdowns.
–
Grossmont College/El Cajon Valley graduate ANTHONY JACKSON caught 5 passes for 72 yards for Bethany Kansas which lost to Ottawa, Kansas 46-25. During his career the 5-foot-11, 180-pound senior wide receiver has caught 33 passes for 444 yards and 3 touchdowns.
–
Six-foot-3, 188-pound sophomore wide receiver SETH COLLINS (Granite Hills/Oregon State) caught 9 passes for 106 yards as the Beavers lost to Oregon State 38-24.
–
Defensive back SPENCER HAVIRD (Valhalla) had 6 tackles, 4 of them solos for the Gardner-Webb Bulldogs lost to Ohio University 37-21. The 6-foot-2, 202-pound junior has 20 tackles and one interception for the season.
–
Six-foot, 210-pound senior linebacker MAURICE PAYNE (Mount Miguel/Grossmont College) recorded 6 tackles, 5 of them solo as the Tabor College Blue Jays beat St. Mary 21-10.
–
Six-foot-1, 240-pound defensive lineman GARRETT MEAD (West Hills) made 6 tackles as the Crookston Minnesota Golden Eagles succumbed to Southwest Minnesota State 47-13.
–
Five-foot-11, 225-pound linebacker JABRION BURNSIDE (Helix/Azusa Pacific) had 3 tackles for the Cougars as they smothered Simon Fraser 64-14.
–
Linebacker KENNY KEYS (Helix/UNLV) had 7 tackles, one for loss as the Rebels lost in overtime 33-30 to the Idaho Vandals. The 6-foot-4, 200-pound junior had 7 tackles, one for loss in the 33-30 overtime loss to Idaho. He has rolled up 17 tackles, 13 solo for the season.
–
Five-foot-8, 170-pound RAYON OWENS, a senior defensive back from Christian, collected 6 tackles for Willamette as the Bearcats beat Cal Lutheran 28-24.
–
Five-foot-11, 192-pound junior defensive back KEITH ROGERS (Valhalla) had 4 tackles as the Jamestown Jimmies lost to Dakota State 36-17.
–
Six-foot, 225-pound freshman linebacker WILLIE FAIR (Steele Canyon) chalked up 5 tackles as the Azusa Pacific racked up a 64-14 of Simon Fraser of Canada.
–
Six-foot-1, 185-pound freshman wide receiver NICK SEXTON (Christian/Humboldt State) caught one pass for 17 yards as the Jacks lost to Western Oregon 48-42.
–
Junior wide receiver SERGIO BAILEY (Grossmont College) caught 5 passes for 66 yards helping Central Michigan upset Wyoming 27-24.
–
Senior defensive end GARY THOMPSON (Helix) notched one tackle for Marshall as the Thundering Herd was crushed by Louisville 59-28.
–
Junior wide receiver VIRNEL MOON (El Cajon Valley) of Colorado Mesa caught 2 passes for 28 yards but made a major reception with 4:31 remaining to help the Mavericks knock off Fort Lewis 34-28. For his career Moon has 69 receptions for 1, 176 yards and 13 touchdowns.
–
Five-foot-9, 213-pound sophomore running back NOAH YLAGAN (West Hills) is a multiple threat for Briar Cliff University, rushing 21 times for 75 yards as the Chargers lost to Northwestern College 42-6. He also handles the punting and kickoffs for the Chargers.
–
Freshman defensive back MIKE JONES (Mount Miguel) rolled up 5 tackles, one for a loss as Dixie State fell to Central Washington 40-18.
–
Six-foot-1, 312-pound senior offensive lineman DARRIEN OLIVER, a product of Helix, is rated the centerpiece of the offensive line by the Chadron State coaches. He moved to center from guard this season.
–
ADRIAN PETTY (Christian) had 5 carries for 42 yards rushing, and also caught a pass for 7 yards for Hastings College. He also returned 4 kickoffs for 52 yards and scored a touchdown for the Broncos.
–
Six-foot-6, 300-pound junior offensive lineman JORDAN FAGAN (Grossmont College) is becoming a key cog for the University of Illinois in the line of blockers. He started the season as a backup on the depth chart, but played with the first string at guard on multiple series of the opener against Murray State and against North Carolina after Gabe Megginson was injured. He then made first career start against Western Michigan in place of Megginson.