Hillers trio in historical starts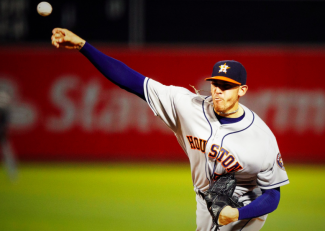 Houston Astros pitcher Joe Musgrove delivers to host Oakland Tuesday night.
2016 EAST COUNTY BASEBALL – LOCAL PROS
By Bill Dickens
© East County Sports.com
EL CAJON (9-21-16) — It's unknown whether records are on the official books for this, but three pitchers from the same high school – Grossmont – started major league games on Tuesday (Sept. 20).
The Houston Astros' JOE MUSGROVE pitched 5 1/3 innings against the Oakland As, allowing only 2 hits and 1 run, walked 3 and struck out 4, lowering his career ERA to 4.42. The 6-foot-5, 265- pound right-handers's major league record is 6-8 with 61 strikeouts in 55 innings. The Astros beat the A's, 2-1.
On another front, Pittsburgh Pirates' pitcher STEVEN BRAULT pitched four innings, allowing 5 hits, 3 runs, 3 walks and struck out 4 against the Milwaukee Brewers as he lowered his season ERA to 4.20. The Pirates went on to beat the Brewers 6-3 although Brault had no decision.
It was a rocky road for Texas right-hander AJ GRIFFIN, who surrendered 3 runs and 3 hits, walked 4 and struck out one in 1 2/3 innings as the Rangers edged the Angels 5-4. He had no decision but his season ERA is 4.94. His career record is 28-15 including 7-4 with the Rangers.  Career ERA is 3.99.