Fearsome Foothillers reckoned force now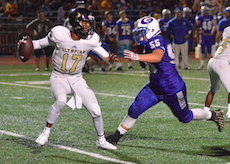 Grossmont junior COOPER ZOELLNER tracks down the Olympian quarterback Friday night. / photo by Ramon Scott
2016 EAST COUNTY PREP FOOTBALL
GROSSMONT 49, OLYMPIAN 13
By Chris Davis
© East County Sports.com
EL CAJON (10-1-16) — The FEARLESS FORCASTER predicted a 28-25 Foothillers victory. The Forecaster was like many others in the County that said it was going to be a close game… OOOOPS!
The Foothillers (5-0) took control of the game in the first quarter and never allowed the game to be in doubt as they defeated Olympian (3-3) 49-13 at Jack Mashin Field on the campus of Grossmont High School.
"Very very proud of our guys," head coach TOM KARLO commented after addressing his team.  "Olympian is a very good team and have players that are ranked high on MaxPreps.  Rarely do you get up on a good team like that 35-7.  Our guys played physical, fast and emotional."
HUNTER GAINES went 19-of-31 for 344 yards with 3 touchdowns in the second 300+ yard game of the season for the senior.
Fellow senior DOMONIQUE GUEVARA was the recipient of eight of Gaines' 19 completions for 181 yards and pair of touchdowns. "We had a lot of hard work in practice this week," Guevara said after the contest. "Our offensive line protected our quarterback, that gave Hunter time to throw and make plays. That is all we can ask for."
Another one of the 38 seniors on the Foothillers roster, JAMES MACKEY, carried the ball 11 times for 48 yards and a pair of touchdowns.
The 'Hillers got things going early with Guevara taking a 21-yard pass from Gaines.  CRISTOPHER GARCIA kicked the first of his seven extra points on the night for a 7-0 lead.
Guevara liked the feeling so much, he decided to take it to the house from 9 yards out on the ground. After the extra point by Garcia it was 14-0.
A 65-yard run for a score by Olympian's Trey Curry cut the lead to 14-7 with 4:47 remaining in the opening quarter, and that would be as close as the Eagles would get all night.
Gaines took care of the next score by himself as he took it from 10 yards out making it 21-7 with 2:42 left in the first quarter.
The second quarter started slow, but the 'Hillers ended up capping a 91-yard drive with a 4-yard Mackey rush to make it 28-7.
Right before halftime, Gaines threw a 23-yard scoring strike to JAILEN BAILEY.
Olympian attempted to cut into the Foothillers lead, but a 32-yard field goal attempt rang off the left upright.  Some four minutes later, the Eagles would tack on a 36-yard score, but the extra point was blocked to get them to within a 35-13 count.
Mackey would add on an 8-yard rushing touchdown before the end of the third quarter.
Guevara would add his final 52 yards to his total and end up in the endzone for a 49-13 lead with 4:35 left in the game.  Under CIF-SDS rules, that dictated a running clock situation.
Grossmont will host El Capitan (3-2) to kickoff Grossmont Hills League play next week.